Wednesday Double Feature – French Films Within French Films
on
January 17, 2018
at
8:48 am
I started this week's selection with a sub-genre I love, the show within a show. Or in this case a film within a film. This quickly changed to films about filmmaking and by sheer coincidence, French films about filmmaking.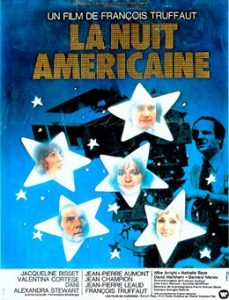 The first on my list was Day for Night,(or La Nuit Américaine} by the great Francois Truffaut. It tells the story of Ferrand, played by Truffaut, a director who is the middle of making his latest film, Meet Pamela.
Unfortunately, nothing is going right for the production, his celebrity lead is in the middle of a nervous breakdown, while another of his actresses is being consumed by her alcoholism, and, since the backers refuse to change the production schedule, Ferrand is fighting a losing battle with his deadline.
This was a fun film, which is even more fun if you know anything about the film industry. It is full to the brim with in-jokes and fun scenes. My favorites include a rebellious stunt kitten and the aforementioned alcoholic actress repeatedly walking into a closet by mistake.
All and all this kind of made me think of a live-action Muppet Show with Truffaut as Kermit.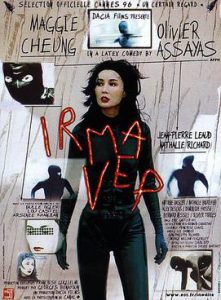 I'd been familiar with the character Irma Vep, the star of the film Les Vampires for a couple of years. I was intrigued enough by this iconic cat burger who inspired DC's Catwoman and others, that I wanted to see if there had been other films about the character. All I found was the next film on my list, Irma Vep, by Olivier Assayas, which while being about our title character, really isn't.
What it is about is a film crew that is making the titular film as a low budget remake of Les Vampires. And when I say that I am not talking about an up to date thriller. I'm talking about a strange avant-garde, art for art's sake silent film.
Hired to play the title role is Hong Kong star, Maggie Cheung, played by herself. Maggie finds herself a stranger in a strange land, unable to speak the language (everybody else can speak English to her but it still feels off-putting) and continually confused by the crew's lack of professionalism (in comparison to what she's used to, back in Hong Kong) To make matters worse her costume consists of a latex catsuit, that literally started out as fetish wear.(There's a fun scene with her being fitted for it by the customer, Zoe, (played by Nathalie Richard)  at a sex shop.
All and all this was a fun film, showing the horrors of producing a low budget film through the eyes of an outsider.