Friday Sketch
on
November 9, 2012
at
10:59 am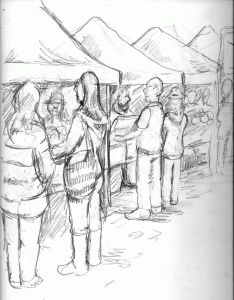 Recently one of my regular Sunday afternoon activities has been to bike down the Burke-Gilman Trail and check out the Markets in Fremont and Ballard.
I'm finding myself enjoying the Ballard Farmer's Market the most. I like all of the Farmer's Markets in Seattle but set in the middle of historic old Ballard this one feels like traditional market day in a european town. (something they make a point of putting in their advertising)  It is a fantastic place to go people watching.
Based on that it is almost embarrassing that it only occurred to me to bring my sketchbook there for the first time last week.