on
February 25, 2011
at
7:00 am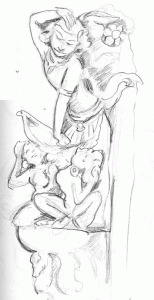 Okay for this week's museum sketch we take you to the the Seattle Asian Art Museum and their wonderful Indian Sculpture gallery. I always like drawing in this room. First of course because of the great selection of Greco-Indian Sculpture from northern India, and second, since the room doubles as the museum's bistro. I have the luxury of sitting down with my sketchbook resting on a table when I draw which yields a much better image.
So what we have today is a statue of Kama, the Hindu God of Love (more accuratly Kamadeva, aparantly Kama also refers to the concept.
The statue is from Orissa in the 11th Century and done in sandstone. More details here.