on
January 13, 2015
at
8:58 am
I'm embarrassed to say I only heard about this just now. And as a cartoonist I can not ignore it. I'm ashamed to say I didn't know much about the magazine Charlie Hebdo beyond the headlines, and frankly any opinion I would have about them right now is irrelevant. At the moment I don't care whether they were brilliant topical satirists who made us think or just trolls that were getting off on the shock value. This was murder and this was evil.
Anyone who wants to shout persecution when criticized should look at what the real thing looks like.
So let's give them a moment of silence and please as we think about this assault on the freedom of the press and these dead cartoonists also remember this was an office of 12 people who were murdered by monsters.
For this week's selection I decided to look back at two films from the eighties that, while I certainly enjoyed at the time, never felt I liked them as much as their cult status suggested that I should. I figured that since I was in my mid teens at the time, that would explain this. So I decided I'd check and see what my older more informed eyes would make of them.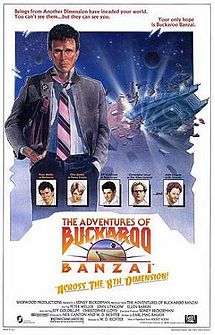 The first on my list, The Adventures of Buckaroo Banzai Across the 8th Dimension!, was about the same as I remembered in a mostly good way, that is to say it was, what I heard one person say, "a modern day Doc Savage on acid." A really fun blend of deliberately stupid technobabble, Rock and Roll and an invasion by aliens from the 8th dimension named John. All of this with a cast of names who would become household names in just a couple of years.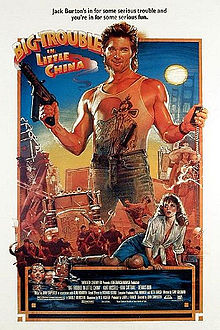 The second was sort of Buckeroo's spiritual successor in that I hear they recycled a lot of the script for a planned sequel , John Carpenter's Big Trouble in little China. It was much better than when I first watched it. At the time I completely missed the point that Keith Russell's Jack Burton was a complete parody of the eighties action hero. I pretty much saw what the poster showed me, a macho white guy waving a machine gun. I completely missed how he has to be told to turn off the safety, nearly drops it from the recoil and then can't hit the broadside of a barn. It's funny watching him desperately fumble around for the entire movie while Dennis Dun saves the day.
This was pretty much what I look for in an urban fantasy with a wonderful centuries world hidden beneath the streets of San Francisco. And frankly I think that Victor Wong owned this movie.
For our first Rhapsody let's start with a Hungarian Rhapsody, but not Liszt, honest! This one is opus 68 by David Hopper performed by Victoria Simonsen.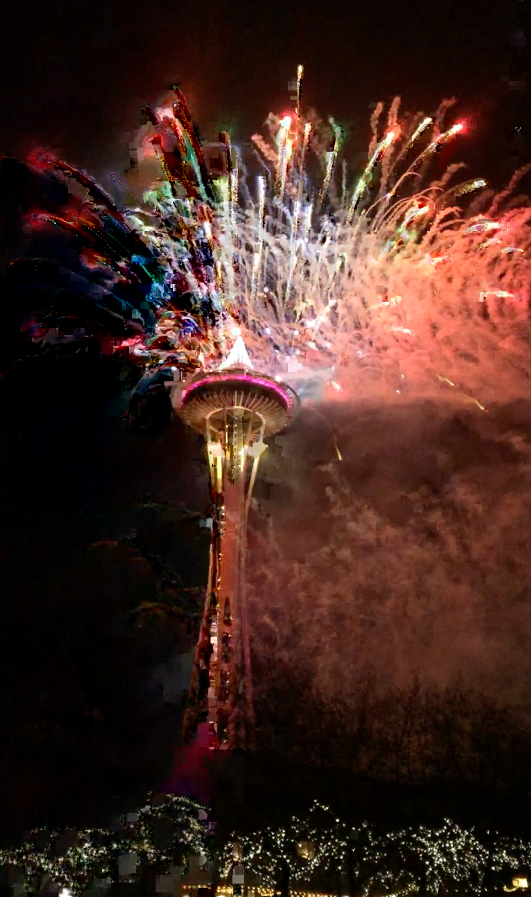 Well I have to confess that New Year was never that much of a big deal for me. For quite a while until my teens I didn't even "believe" in New Year's Day. (Not that I didn't believe there was a new year, just that it was an arbitrary choice and that technically every day is a New Year)
Sure I liked being invited to a nice party, but otherwise my celebration usually consists of staying up to listen to the countdown on the radio. However I frequently feel a little guilty about just blowing it off, and like to do something. Back when I lived in Rhode Island, Providence had a very nice First Night celebration (they still do but the last time I visited my folks for Christmas what it is now was just not as good) I'm told there's a nice one in Tacoma but that's a little bit out of my range for something to do.
So rather than go to a bar and get drunk with 100 0f my best friends (and I didn't want to blow a work day with a hangover) I decided to go check out New Year's at the Seattle Center.
So I worked until ninish, bundled up, and headed out. It was crowded when I got there and this was not helped by the fact that for whatever reason there was only one entrance into the center which meant, among other things I couldn't park my bike where I planned. But after that I realized I probably headed out a lot later, since I had an hour and a half before the fire works started.
Not to say I did not enjoy myself. The people watching was as fun as always, there was an ice rink, music, a neat train display with a model of a nineteenth century town, and people protesting police murders. (I heard they would be pressent having read about it in the news. I just assumed they would have been better organized. Frankly they were barely as visible as the traditional batch of obnoxious evangelists.)
Anyway when the time came the fireworks were great. I'm finding it amusing that now that I have a recording device on me at all times It's an effort not to watch what you are recording on the little monitor and watch the actual event!
Anyway it took a little while to get home partially due to the crowds and traffics but also from being steered through the single exit which was NOT the exit I had strategically stayed close to so I could get a head start.
Anyway I got home at one and slept VERY well.
Hope everyone else had a great night and Happy New Year!
As part of my list of Christmas Traditions I finished my Christmas Eve with a quick jaunt to Candy Cane Lane (aka n.e Park Rd) one of the most popular Christmas Displays in the city.
I'v always been a fan of winter lights (I'm not being Culture Warrior/PC when I say this… When people start taking theirs down by Epiphany, I'll start calling them Christmas Lights again) and regard them as one of the last true American Folk arts.
Personally I prefer a slightly minimalist approach accenting the shape of the house and yard, but I don't mind garish and over the top as long as they are well done and these were very nice…. Enjoy!