For today's Sketch I was assigned to do Gorgons. For this I confess I went pretty straight pretty much sticking to the original story though I have a sneaking suspicion I was slightly influenced by the take on them in Jim Henson's Storyteller. 
So here are the three Gorgons at their rock at the end of the world preparing to go to bed. Who knows? Maybe Perseus is on his way.
It occurs to me that Medusa comes off slightly more innocent when we know her big sisters Sthenno and Euryale are there to watch over her.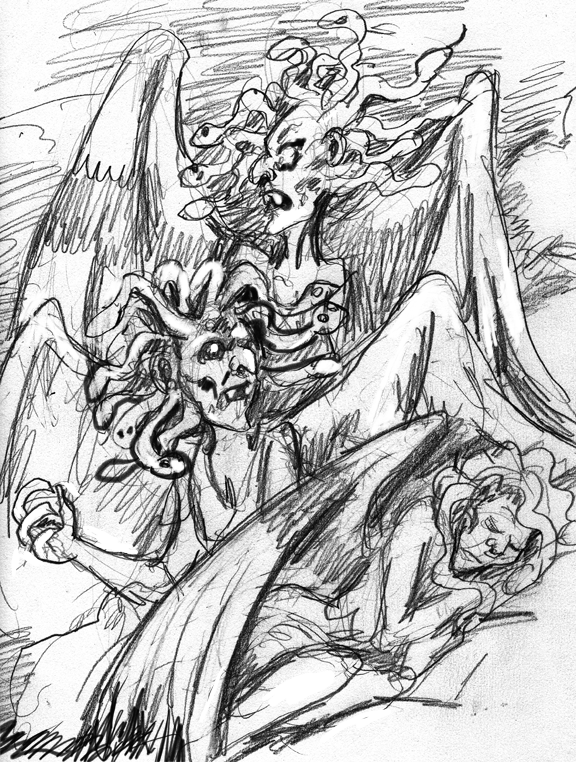 I had really mixed feelings about including this one on the list. It was definitely one of the songs that while it had the subject matter didn't have what I considered the Halloween vibe. But I've had a busy day so it will do….
Here is Stevie Wonder playing "Superstition" in the only performance of it that matters.
by wpmorse
on
October 25, 2014
at
10:54 am
When the little box of paper told me I had to draw zombies I was very reluctant because let's face it in the past decade zombies have been done (sorry!) to death.
At first I thought I'd go with "real' zombies. That is to say the ones from voodoo. A lot of the time I like to make a distinction between those and shambling carnivorous corpess (not out of being a pedant (at least not this time) but because I don't want there being any confusion if and when Voodoo makes a comeback in I don't want there to be any confusion.) The big problem there is in a pencil sketch how can you tell the difference between zombies working the plantations in the middle of the night and your standard menial laborer… It get's kind of… problematic.
So I went with the shambling corpses… but to keep things interesting I made them cheerleaders.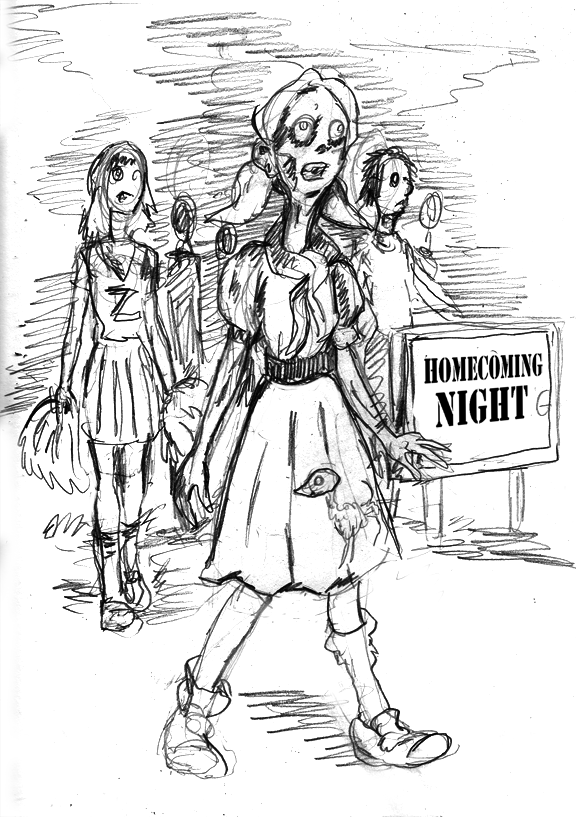 I used up most of usual selection for classical Halloween music last year so I was so glad that I was pointed towards this one this is the overture to Heinrich Marschner's opera Der Vampyr. A work written well before Bram Stoker's Dracula and Vampires being cool.
This one was a challenge mainly because drawing horses has never been one of my strengths.
But anyway for doing the Headless Horseman I tried to keep away from that everybody knows, that being the one that appears in Washington Irving's story. Or at least do it without Pumpkins. There are so many stories of headless riders out there so there was need  to do the Hessian.