on
December 10, 2014
at
9:38 am
For this week's theme I decided to take a break and do some lighter fare and watch some movies based on French comics.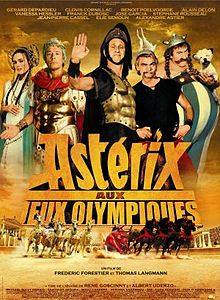 I'd seen the first of the live action adaptation of Asterix staring Christian Clavier and Gerard Depardieu as Astérix and Obélix and enjoyed. I had intended to watch the second one Asterix and Cleopatra but got things a little mixxed up and ended up picking up the third Asterix and the Olympic Games.
LIke the first one this one was an enjoyable peice of fluff that doesn't pretend to be a fun hour and a half it for anyone who is going in as a history buff don't bother… The place name's are the same and Julius Ceasar was a real person   but other wise everything is pure fantasy what I like to call a "Flintstones" setting. But don't let that bother you it's one big live action cartoon that was never intended to be taken seriously.
My biggest problem with series as a whole is  because Depardieu is a bigger name, Obelix gets much more screen time than Asterix the title character (Now played by Clovis Cornillac). It's even more so in this film where Asterix and Obelix are virtually background characters in their own movie.
But it makes up for it with Depardiieu making fun of his own Cyrano role by providing romantic lines for the romantic lead minutes he does the same thing for his dog who is trying to get a poodles attention.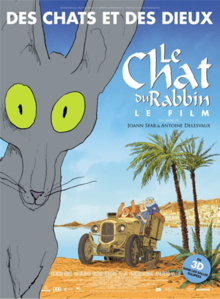 The next film I watched was The Rabbi's Cat an adaptation of the series of the graphic novels by Joann Sfarr of the same name (also directed by Sfarr). I've been a fan of Sfar's work for some time, and this is a glorious adaptation of the material providing a wonderful portrait of life in 1920s through the eyes of talking cat.
This is a glorious film beautifully animated recreating Sfar's art perfectly. My only problem with it is that it is very much just a piece of the Graphic novels and while it is a very tasty slice of the cake you still miss the rest.