on
July 5, 2011
at
8:49 am
Well I had a great time at the Family Fourth celebration. This year despite promising myself I would treat the holiday like a holiday I ended up having a relatively unproductive office day in which I never truly got into my grove.  Considering my current July 4th tradition (having a drink at Dad Watson's while waiting for the sun to set) was no longer an option, I headed out at 8:00 having checked to see that sunset was at 9:09. It's been my experience that fun as crowd watching is, the crowd at Gasworks on the 4th is just overwhelming and the shorter the time between getting there and the fireworks the better.
This year it wasn't half bad, for one thing the weather was much better. The Dusty 45s were performing and I actually got some sketching while waiting for it to be dark enough at 10:15. As always the fireworks were spectacular. Also as usual my main nitpick was the accompanying sound track. Normally I'm not big on over the top flag waving, but if there is a night to pull out the "this country is great" soundtrack it is the fourth and let me put it this way, Sousa's Stars and Stripes Forever at the very end of the show just doesn't cut it! Give me some Copeland! But despite that they did pick some good music which the fireworks were nicely synced to.  All and all a nice night.
Now for the sketches.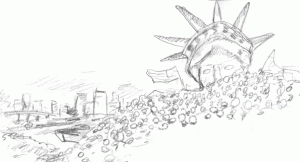 They've had this blow up Statue of Liberty head at the display for years. It always looked kind of silly to me. This year from the angle I was looking at it, it looked like a kind of patriotic version of Kilroy.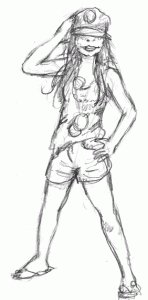 Next a very special thanks to Chantelle who thought she was kidding when she asked me to draw her. Did a halfway decent ten minute pose considering how off my game I was.
Anyway, that's my report. Hope everyone had just as good a night for this country's 235th birthday.