on
January 12, 2011
at
10:23 pm
Well I just got back from the Signing of Phil & Kaija Foglio's new prose novel Agatha H & the Airship City. I haven't had the chance to do more than scan a couple of chapters, but what I've seen is excellent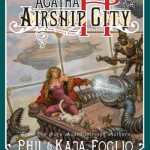 adaptation of their original webcomic. I'm finding it interesting that having seen many a novel condensed into comics or film, seeing the process in reverse is quite fascinating. I look forward to reading it all in its entirety.
Phil & Kaija will also be appearing tomorrow on the 13th at Night Kitchen at 216 Stewart Street in Seattle, and on the 14th At University Books at 4326 University Way NE also  in Seattle and finally they'll be signing at Rustycon on the fifteenth.
Phil will also be participating in a panel on Graphic Novels on Febuary fifth.