on
December 7, 2016
at
8:23 am
In a desperate attempt to cheer myself up, a little bit more, I decided to pick some comedies. To make for a more specific theme I picked comedies about musicians.
All that I knew about the first of my selection, Frank, was "that film about the guy with the papermache mask." So naturally I'd been curious about it for a while.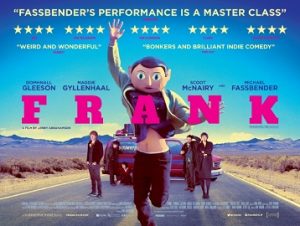 It tells the story of a completely ordinary guy named Jon, played by Domhnall Gleeson, who joins an Indi band called Soronprfbs (we are never told how to pronounce it) led by the aforementioned Frank played by Michael Fassbender, as their latest keyboardist (their last one had a nervous breakdown and tried to drown himself in the beach) Soon he abandons his job and joins them on a seemingly endless retreat to record the bands new album while becoming as  enamored by Frank's apparent musical genius. But this soon goes nowhere with Jon blowing his life savings to pay the bands rent and the band manager killing himself. But every thing changes that due to Jon documenting the band on social media they are invited to an indy rock festival in Austen Texas,
I'm not sure what I thought of this film. I think it was aimed more for the indy music scene and I was not it's target audience. My biggest problem with it was that when it was funny it was sweet and whimsical… when it was being dramatic it was depressing as hell.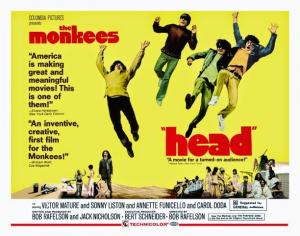 If I wasn't sure what to make of Frank, I didn't have a clue about the next film on my list, Head, better remembered as The Monkees Movie.
I'm very sentimental about the Monkees since I remember watching it in the Saturday morning cartoons lineup and listening to their music (back then I still thought they were a real band) but since I didn't watch it that much I only learned to appreciate them as a guilty pleasure on reruns in cable years later.
Head starts with the Monkees interrupting a ribbon cutting ceremony, running onto a bridge then jumping off and then the film starts. It's all over the place in ways that cannot be explained. THere's just enough plot to hold some of the skits together but otherwise it can almost Dada as comedy.
One minute it's a war scene in the trenches (which is suddenly invaded by a football player) and the next minute the band is doing a dandruff commercial on top of Victor Mature's head (later they are chased by a giant Victor Mature.) Soon after they find themselves touring a bizarre factory only to find themselves trapped in a black box. Later one of the band members finds a giant eyeball staring out of the medicine cabinet of a public lavatory. The sky's the limit and the only way to truly enjoy it is not to think about it.
As a cow led by Frank Zappa says (yes, really) "Monkees is the craziest people."