on
July 7, 2014
at
5:52 pm
For whatever reason be it being obsessed with the need for ritual or being part of the community it just doesn't feel right to treat national holidays like just another work day. (Trust me, when you're self employed working out of a home office this is a really easy thing to do.)
This is very easy thing to do on the Fourth of July. Unless you're invited to a picnic or if there's a parade it's pretty much just waiting for the fireworks. Sure there are parties but they tend to be overcrowded madhouses that while are fun for the people watching can be a bit overwhelming after say a half hour. So in the past I've treated it like a work day leaving the house at sunset so I could be there just in time for the fireworks. (Or leave a bit earlier and go to my favorite brewpub and have a few pints while waiting)
This year I decided to do something different and went to watch the Naturalization ceremony. It's one of those things thats always on the front page of every blog and newspaper on July 5th partially as a photo op for VIPs and part of reporting on the enduring traditions that make this country great. It's also one of those things you always feel a little guilty about forgetting.
So I figured if, as I've often argued, the true American religion is America, than citizenship is our baptism, and going to watch was a good way to prove to myself I was  taking my faith seriously.
I arrived right on time for when my information said I should have, though actually the 11:00 time was for the festivities themselves, the actual ceremony was at 12:15. The festivities consisted of a band performing patriotic marches. A lot of Sousa and several others (I found myself feeling just a little guilty immediately thinking of "How I saved Roosevelt" from Stephen Sondheim's Assassins when they performed Sousa's Washington Post March instead of… Sousa's Washington Post March.)  The people watching was interesting and a very nice crowd was there and I got given a flag by a veteran who was passing them out.
The ceremony finally arrived with just about everyone there, the Mayor, congressman, governor, both senators and several consulates. There were 429 new citizens from over 70 different countries. The Mayor had them stand up as countries were mentioned. The largest number were from india with the People's Republic of China coming in a close second. I was very interested when the Judge had them give their oath. It seemed very dated almost archaic. (to spell it out I'm pretty sure there aren't any principalities in the world left to renounce.) But at the same time it fascinated me that how high a standard of responsibilities it placed on the people making it and wondering how comfortable all of us people nor here would be taking the same oath. The ceremony ended with a Native American performance and I left soon after.
On my way home I checked out one of the celebration by the Center for Wooden Boats It was a little bit of everything Music, boatbuilding, National Guard PR and overpriced food. (It was almost  a shame I'd already eaten. The footlong barbecued sausages looked tempting.) Afterwards I got home for a few hours of downtime. My main reason was to stow my bike. From my past experiences the crowd are too thick to ride though until you get past the University District and now that I live in the U-District I felt it was better to walk.
I headed out the door again sixish. When I arrived the crowd was beginning to pick up. I walked around to people watch and listen to the music, in this case a surfer band. After a while I decided I wanted my traditional pint. I had been planning to try a new brewpub I had passed numerous times on my way to Fremont but it was too crowded and for whatever reason they weren't serving full pints only those small plastic party cups. As I continued on my way to Fremont hoping to find the right place In most of the places I went to they were either serving the party cups or the bar was full (unless I'm with someone I prefer to drink at the bar it's how I rationalize I'm not drinking alone.) I finally decided to try Hale's which was a little far but probably worth it. When I finally got there they were closed. At that point I was annoyed and probably too picky to drink.
I arrived back at Gasworks with about a half hour to spare. I spent the time waiting in line at the Port-a-johns. Finally it was time. This year's display was as good as always and a good chunk of the music was actually patriotic, (I especially liked the funk version of Woody Guthrie's "This Land Was Made For You and Me") It still annoys me that they don't play a lot of the "traditional" music. Perhaps that's me nitpicking and obviously unfair of me to think even for a second that music isn't patriotic if it doesn't have brass.
It was exactly as crowded as I feared getting home probably even worse since I was walking I didm't have access to the slightly less crowded cyclists' exit and was sucked into the bottleneck of the regular exit which was a crowd of human traffic I hadn't witnessed since I was in Venice during Carnival. I certainly slept well last night.
All in all a wonderful day with my only concern being that since this is the first year I've had an I-phone I was a bit worried that recording the display distracted from actually watching it. But I got some great footage.
Hope everyone has a fun and safe Fourth of July! I'll report mine later. Anyway here's some music to start things off. For whatever reason Aaron Copland is the first person I think of when I think "American Composer" and for me Fanfare for the Common Man is the best thing to start a firework display with.
Enjoy
Well, for this week I went with two Scandinavian dark fantasies. It's interesting for the last few months I've found myself drawn to Swedish pop media including Let The Right One In, Girl With A Dragon Tattoo and the Wallander mysteries. Perhaps this is a continuation of the trend. Anyway let's get started.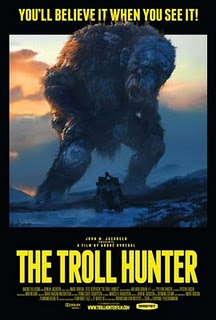 The first film, Trollhunter, is the story of a of students trying to interview a supposed poacher who may have been hunting bear illegally what they find is the only government liscenced Trollhunter who's job is to keep Norway safe from these legendary creatures while making sure they stay "legendary". This is all done in a documentary found footage style which makes the whole premise wonderfully convincing and sometimes even scary.
I'd somehow managed to miss most of the found footage films, despite it being a bit of a fad for the last couple of years,  so this was the first one I've ever seen. For the most part it works provided you ignore all of those niggling questions like why does the camera man keep filming when they're driving (yes I know the arctic landscape is amazing but still….) or why don't they drop the camera and run (having said that the scene where Kalle the cameraman is separated from the group and trying to avoid the three headed forest troll is probably the most intense scene in the film for me.)
All in all the effects are convincing. I like a cryptozoological approach in my fantasy and a lot of the "scientific" explanations about troll behavior and biology were grade A bullshit. All in all there was only one thing that I had a problem with.
Suspension of disbelief is an interesting and fragile thing and it's abasing just what effects it. While you can be willing to accept rubber suits that you can see the zipper on you can paradoxically not be convinced by some of the most sophisticated effects. In Trollhunter the trolls were as convincing as they needed to be (admittedly this is one of the advantages of the found footage style, dim light, infrared and grainy shots forgive much) In this case what drew my attention were the bears. One of the running gags in the film is that after a rouge troll is dealt with the government blames it on a bear attack going so far as leaving a dead bear at the scene. Said bears which the camera lingers on far too long all look like something out of a costume party.
Still Trollhunter does what it set out to do and does not need to worry about me being hypercritical about tiny details .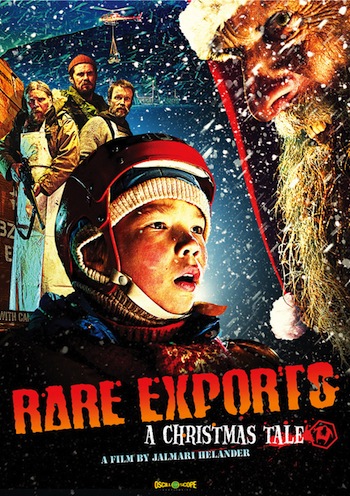 Since I decided to stay on that theme for this week's viewing I went from Norway to Finland to watch Rare Exports: A Christmas Tale. I'd enjoyed the two shorts of Rare Exports and to be honest hadn't heard many good things about the feature length version.
I'm happy to say I was wrong at that front and it was dark fun. There were several genuinely frightening scenes most notably the life sized straw dolls Santa's helpers exchange the children they steal with and the feral predatory look that a captured helper keeps giving the film's child protagonist.
But for the most part I liked how the movie was very character driven focussing on our less than nobel protagonists who find themselves in an impossible situation and use their less than nobel skills to get out.
I can't believe I'm using this one.
But since the Michael Bay version just came out (a movie I have no intention of seeing) that's as good an excuse as any. I was probably too old to ever really get into any of the Teenage Mutant Ninja Turtle cartoons, but I was a fan of the indie comic so I was happy for Eastman and Laird's success. I also enjoyed the first movie mostly due to Henson Studios doing the turtle suits and some fairly good fight choreography… in hindsight all of the subconscious racist bits drag it down a lot.
Anyway this week's Rhapsody is the Turtle Rhapsody.
Enjoy.
Well after a mostly uneventful day the end of it was very "interesting" indeed. I'd finished the quota for the day and had headed out to run some errands and gone to Ravenna Park which is just a handful of blocks away from my apartment. It had been recommended to me by a colleague as a good change of scene, something that was reinforced for me the other day when I found that someplace pastoral with no wifi was extremely therapeutic.
So that was where I went and it was most pleasant. Unfortunately i had forgotten my pencils so all I could d was relax for a bit and then I headed first to the Dreaming, to say hi to some friends, the good will where I found a good looking green shirt for a steal and finally to browse at University Books. All fun except I was feeling the beginning of a funk possibly triggered by certain news events I'd been following much of the day so I was thinking about going to bead relatively early… It was then I realized I didm't have my keys.
This of course led to an immediate panic attack and grasping at straws and being VERY temperamental. After ascertaining they were not on my person or backpack I began a frantic and probably hopeless retracing of my footsteps up the Ave. It began to feel more and more hopeless as I went along. After I had asked at two of my stops I figured I was most likely to have dropped them at a place I had been relaxing at, otherwise I would have heard the distinct clink of keys landing on pavement. This meant either the park or the Dreaming, and since at the Dreaming they'd say "Oh look, Bill's keys lets keep them safe" I went to the park first, all the way figuring out the logistics of having to call the building manager for a new set and borrowing some clippers to free up my bicycle.
Fortunately there they were lying under the tree as I had hoped and I thanked the lords of causality loudly.
The only downside to this to me is one of my little personal superstitions is applying newtonian physics to luck. That means I frequently worry about wasting it on something trivial. Make no mistake I'm glad I found them, but I was also annoyed about loosing them in the first place. Wouldn't this luck be better served on something more substantial? Like walking away from a nasty bike accident or a lottery ticket.
On the bright side there's nothing like an adrenaline rush to burn out a funk.