on
February 6, 2014
at
1:45 pm
I have a confession to make. I had a fanfic phase. I'm not particularly ashamed of it. I improved as a writer doing them (and one of my major side projects is a former fanfic with all of the anime and fanfic bits taken out) but the thing is I think working on stories that are mine are a much better long term investment and based on this writing fanfiction is a waste of time. Regrettably, however I keep getting ideas for them. Some with interesting possibilities, others that are just silly. I try to forget them as quickly as I come up with them but most of the time they just linger.
So I figured I'd share them as as a way of venting and who knows someone might actually use the ideas.
So here are some of my current batch I think I'll put them in order of how sensible they are be warned most of them are rather embarrassing. So enjoy and try not to judge.
1. Game of Thrones: Tyrion Delayed.
For whatever reasons Tyrion's stay at Castle Black lasts longer than expected. Perhaps as little as a couple of days or maybe long enough for him to be a witness to the whole wight incident. At the very least it means he doesn't meet up with Caitlyn Stark and is not taken to the Eyrie which means among other things, Jaimie and Ned don't fight so Ned isn't injured and Tywin's attack on the Riverlands do not occur perhaps delaying the War of the Five Kings.
Perhaps if Tyrion is delayed long enough that it is he who is the messenger who takes the Night Watch's evidence and warning of the Others returning.
2. Sleepless in Ponyville: Epilogue.
This one I've actually done sket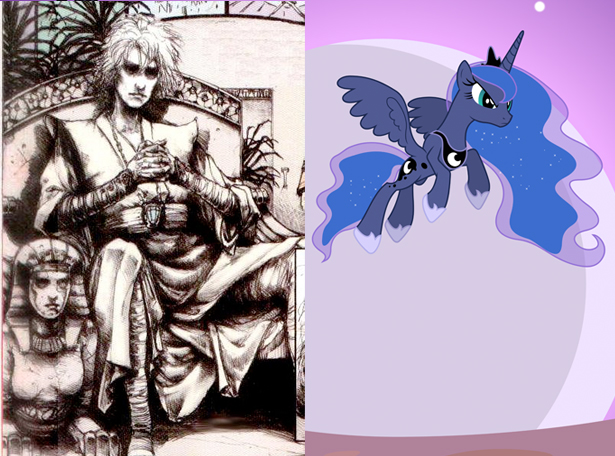 ches for as a comic book exercise and potential Deviantart material. The idea is that right after Luna watches Scootaloo's dream at the end of the Sleepless in Ponyville she encounters an Alicorn version of Dream of the Endless (or more likely Daniel) who welcomes her back to the Dreaming.
3. Emberverse/MLP Crossover
For some reason this one just won't go away and I keep adding notes to it. Instead of Nantucket's transportation to the Bronze age, the event that begins Dies the Fire is a large chunk of the southwest being replaced by Equestria caused by Rainbow Dash's first Sonic Rainboom. Most of Stirling's first trilogy and the first few seasons of MLP go on as schedule as Celestia tries to keep her subjects in the dark until she can do something about it. So far the biggest ideas I've had for this is a scene where a CUT army is taken out by a weaponized sonic rainboom and a reference to the Pony's fanatical human followers… the Bro-Neigh.
4. Game of Thrones/MLP Crossover.
Okay, this one's really stupid. What happens is the Starks find the Mane Six instead of the Dire Wolves. Happily I managed to stop myself before I could decide which pony each Stark got. (Well okay, Bran's pony warned him about climbing anywhere near where the Lannisters were staying)