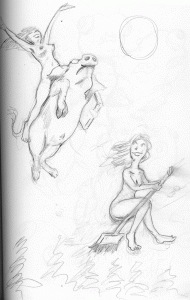 Since Halloween is right around the corner I figured I'd go with a sketch from one of favorite novels, Mikhail Bulgakov's Master & Margarita that I seriously plan to do a finished version of. I love Bulgakov's writing. Going back and fourth between the brutal reality of Stalinist Moscow and the blatant fantasy of the chaos created by the Devil and his retinue (trust me, you have to read it) he churns out a seemingly endless number of fantastic imagery that demand to be drawn.
The scene here occurs after Margarita, the heroine is given a magic cream that turns her into a witch. In a cry of ecstatic freedom she flies from the city. While flying over the moonlit forest she encounters her maid, Natasha, who tried some of the cream as well…
A heavy noise of ripping air came from behind and began to overtake Margarita. To this noise of something flying like a cannon ball a woman's guffaw was gradually added, audible for many miles around. Margarita looked back and saw some complex dark object catching up with her. As it drew nearer to Margarita, it became more distinct – a mounted flying person could be seen. And finally it became quite distinct: slowing down, Natasha came abreast of Margarita.

 Completely naked, her disheveled hair flying in the air, she flew astride a fat hog, who was clutching a briefcase in his front hoofs, while his hind hoofs desperately threshed the air. Occasionally gleaming in the moonlight, then fading, the pince-nez that had fallen off his nose flew beside the hog on a string, and the hog's hat kept sliding down over his eyes. Taking a close look, Margarita recognized the hog as Nikolai Ivanovich, and then her laughter rang out over the forest, mingled with the laughter of Natasha.

 'Natashka!' Margarita shouted piercingly. 'You rubbed yourself with the cream?'

 'Darling!!' Natasha replied, awakening the sleeping pine forest with her shout. 'My French queen, I smeared it on him, too, on his bald head!'

 'Princess!' the hog shouted tearfully, galloping along with his rider.

 'Darling!  Margarita  Nikolaevna!'  cried Natasha, riding  beside Margarita, `I confess, I took the cream! We, too, want to live and fly!

 Forgive me, my sovereign lady, I won't go back, not for anything! Ah, it's good, Margarita Nikolaevna! … He propositioned me,' Natasha began jabbing her  finger into  the neck  of  the abashedly huffing hog, 'propositioned me! What was it you called me, eh?' she shouted, leaning towards the hog's ear.

 'Goddess!' howled the hog, 'I can't fly so fast! I may lose important papers, Natalya Prokofyevna, I protest!'

 'Ah, devil take you and your papers!' Natasha shouted with a brazen guffaw.

 'Please, Natalya Prokofyevna, someone may hear us!' the hog yelled imploringly.

 Flying beside Margarita, Natasha laughingly told her what happened in the house after Margarita Nikolaevna flew off over the gates.

 
Well I had another night at the Seattle Opera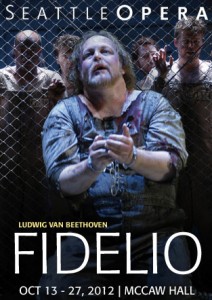 last night. This time it was Beethoven's Fideleo and it was good.
I confess that before this week all I knew about Fideleo was one, the only opera Beethoven ever wrote, and two it was something about a woman working in a prison.
Obviously there were gaps in my knowledge. What Fideleo is about is a woman who infiltrates a prison in disguised as a young man to find her husband who is in prison as a political prisoner. Complications, like her bosses' daughter falling in love with her, and the prison warden having a serious vendetta against her husband, occur. Obviously there is more to it than that but that pretty much sums it up.
While I certainly liked it, I don't think this will ever be my favorite opera. Much as I love Beethoven's work I don't think the format of opera plays to his strengths. And as for the libretto… while I don't expect every opera to end with a pile of corpses, the happy ending felt heavy handed and tacked on. (I kept expecting Marzelline, the jailer's daughter, to hit Fideleo when she discovered she was really Lenore in  disguise).
But this is not the Seattle Opera's problem. This was a incredible well performed production done in a modern dress which made it feel eerily topical.
Today's Rhapsody is Brigg Fair by Frederick Delius. This performance is by the  Orchestra of the Welsh National Opera conducted by Sir Charles Mackerras.
A very happy birthday to the great Dizzy Gillespie. To cellebrate lets enjoy his wonderful "Night in Tunisia."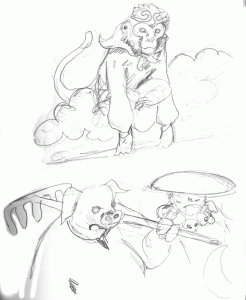 Today's sketch is some concept designs for Sun Wukong aka Monkey and all of his companions from Journey to the West. I've always liked Journey to the West from a beautiful children's book version called "Magic Monkey" (Can't find a reference for it. It's probably been out of print for ages) to finally reading the Anthony Yu translation very recently. It's a story with seemingly endless material for doing great images.
Even though the source material generally describes Monkey as mostly human shaped, I usually prefer to keep him as monkey like as possible usually going with a Macaque as my starting point though I suppose I could just as easily go with a Golden Monkey.