on
September 4, 2012
at
7:40 am
Well one fun thing that made an otherwise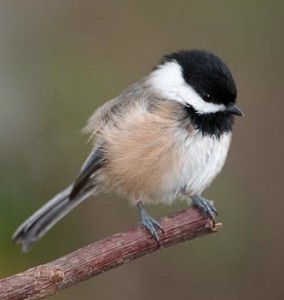 uneventful labor day weekend was a chickadee flying into the social hall of University Friend's Meeting. I was there early taking care of the coffee hour. The little thing had gotten itself trapped from a combination of getting scared by the crowd and  being attracted to the lights of the roof windows.
To a certain extent this was sad to watch. I grew up reading Throton Burgess's Nature stories.  "Tommy Tit the Chickadee" was one of the smarter characters in his cast. While I certainly am not going to mistake a real animal for the witty character from a children's book it was still a little disillusioning to see the poor thing do no better than the sparrows and starlings you normally see in this situation.
Several people tried to help it out by opening all of the windows and trying to give it hints. But all of the windows that would actually open were bellow where it was flying and it would not come down. In the mean time the way it was frantically flitting around one couldn't help wondering when and if it would burn out.
Anyway after the crowd had died down it finally went and hid behind a brace that was holding up an air duct. This allowed for two things. One it was low enough that I could reach it standing on a chair, and two was it was cornered in such a way that it had no room to maneuver if some one tried to catch it by hand.
Remarkably it worked (I confess I had my doubts) And cupped in my hands I carried it to the window and let it fly away outside.
It's the little things.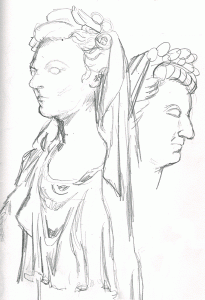 Today's sketch is more Roman sculpture from the Louvre. This one is a portrait of the Empress Livia, wife of Augustus, as the goddess Ceres.
Here's a new one that I had never heard of before my ongoing research for new material. Wilson Osborne's Rhapsody, also known as "Study for Bassoon", one of the most commonly performed solo pieces for Bassoon. It is also commonly altered to be played by the clarinet but I find myself preferring it in the deeper "woodier" register of the bassoon. Enjoy.