on
April 5, 2017
at
8:53 am
I decided to go with something lighter this week so I went with a few comedies on the theme of Holidays.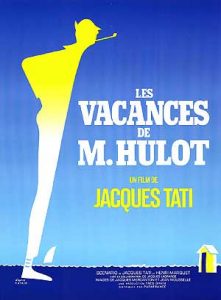 The film that had inspired this idea was Monsieur Hulot' Holiday by Jacques Tati. I was familiar with Tati's work from the Illusionist, which was based on one of his scripts, and Traffic the last of his Monsieur Hulot film which I only saw a bit of.
Tati plays Monsieur Hulot. Hulot, who has been described as a French Charlie Chaplain, Is a tall, clumsy and all around nice guy who is having a vacation on the beach. Plot white that's about it with us getting to watch people staying at the resort going about their vacation with Hulot virtually existing in everyone's peripheral vision going about mostly unnoticed accidentally and unintentionally causing chaos. (To a certain extent he kept reminding me of the Pink Panther)
This was an absolutely beautiful with all comic bits being beautifully composed. While it certainly is slapstick its difficult to call it that. It's softer more lyrical pantomime.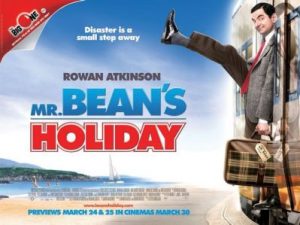 I had heard that Rowan Atkinson's Mr. Bean had been mostly based on Hulo and that the second Bean Movie. Mr. Bean's Holiday was a remake of Monsieur Hulot' Holiday. I was just a little worried I'd be watching an English language version of what Id watched the night before.
Happily it was very much it's own thing.
Mr. Bean wins a vacation in Cannes. Unfortunately he misses his train while in Paris which forces him to make his trek through France by any means necessary. In the mean time he helps a young boy find his parents and interferes with a  prima donna of a director, played by Willem Dafoe in a brilliant self parody.
Much as I enjoy Atkinson's work elsewhere and his physical comedy is magnificent I'm afraid I never really get into Mr. Bean. Still it was nicely done and very fun.