Wednesday Double Feature – Boxing Scams
on
March 15, 2017
at
9:01 am
I confess this week I was kind of scraping the barrel for ideas this week (that and one of the films for my plan A list was out) But I still thought that my idea for films about boxing scams had possibilities. Besides since the whole point of this exercise is to force me out of my film viewing comfort zone, the phrase "they can't all be winners is a feature not a bug. Though considering the "tradition" of boxing being crooked, I'm surprised I couldn't find more of these. (Though in hindsight I suppose Pulp Fiction counts, even though Bruce Willis's scam is a subplot that occurs offscreen.)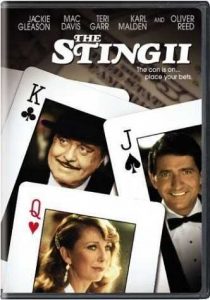 Despite never hearing anything good about it I'd been curious about the sequel to the Sting for some time, because Jackie Gleason was in it. So I decided to chance it.
It's seven years after the last film and the mark from the last film, Doyle Lonnegan (played by Oliver Reed), is out for revenge huning down the grifters who scammed him before. While trying to avoid this grifter Jake Hooker (Mac Davis) is summoned by King of the Conmen Fargo Gondorff (Gleason) to get back at Lonnegan as well asother financier using a crooked boxing match based on pretending that Hooker is going to take a dive in the ring.
This film was pretty much a mess. I went in expecting Gleason to be playing a variation of his Minnesota Fats character from The Hustler instead he was mostly flat and whatever classiness he might have had was spoiled by bursts of broad slapstick. The rest of the film, regrettably wasn't much better. In the original film half the fun is the anatomy of the Sting itself which challenges us to notice everything that they're not telling you with the final reveal still coming as an amazing surprise. In the sequel the reveal comes off something they just pulled out of their ass.
I'd been aware of our second film, Diggstown when it first came out mainly because I'd been a fan of  Louis Gossett, Jr. at the time and while I certainly made a note of it's existence the description didn't pique my interest enough to actually watch it.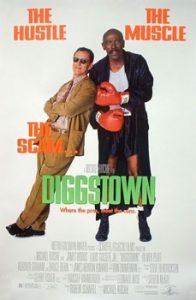 James Wood stars as Gabriel Caine a con man who's just getting out of prison with a plan to travel to the town of Diggstown  and bet the man who owns and controls most of the town, John Gillion (Bruce Dern)  that his guy can beat ten boxers in twenty four hours. To do this he first has to get his guy, Honey Roy Palmer (Gosset)  to agree to come along. He does and then the action ensues with each side doing everything they can to rig the proceedings (and even then this is the ultimate endurance test for Palmer)
While this was no great masterpiece, this was an enjoyable film with good performances from Wood and Gossett with Dern turning smarminess into an art form. If anything my biggest problem with it was there were just a few too many variables in Caine's plan to make this feel like a true sting.