Wednesday Double Feature – Cary Grant Comedies
on
January 3, 2018
at
10:13 am
To start up the new year in a slightly optimistic note I decided to watch a few comedies and check off a few more items on my Cary Grant list.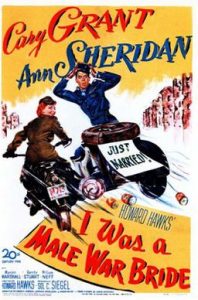 The first film on my list was one I'd been meaning to see for a while, Howard Hawk's I Was a Male War Bride. Grant plays a French army officer Henri Rochard who is sent on an intelligence mission in post-war Germany with American lieutenant Catherine Gates played by Ann Sheridan. They bicker all the way through the mission. Its the process they are drawn to each other, finally falling in love.
Once they get back to base they get married but on their wedding, Ann is tent back to America. The only way to accompany. Henri has to register as a war bride under  which while the gender of the spouse is assumed to be female, in the actual paperwork it isn't actually stated. This leads to a comedy of errors and red tape.
This was a fun film with some great dialogue. But by the standards of Hawks and this screenwriter, Charles Lederer it was subpar, and a bit choppy. The bits were all there and they were great bits, I enjoyed all of the verbal sparring with Grant and Sheridan were great, and Grant's night trying to find a place to sleep for the night is hilarious. However, it all feels rushed and doesn't seem to hold together.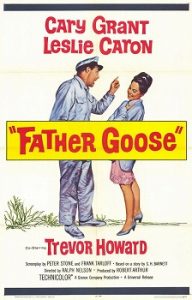 In the next film Father Goose, Grant plays Walter Eckland an American beachcomber living in the south pacific in the outbreak of a Japanese invasion in February 1942. He's  has been drifting with no purpose in life and enjoying every minute of it.
His routine is broken when an old friend of his Commander Frank Houghton (Trevor Howard) coerces him into being a coast watcher for the British navy. (That is to say, someone left on an island to watch for enemy planes.) To make sure he stays on the island, Houghton sinks Walter's boat. He also bribes him with the location of hidden bottles of whiskey for every confirmed sighting of Japanese planes.
Things go about as you expect for a couple of weeks until Houghton offers Frank a replacement, the only catch is he has to pick them up from a nearby island. Instead of his replacement Frank runs into the Frenchwoman Catherine Freneau (Leslie Caron) who has been left on the island with seven school girls she's been caring for. (Franks replacement was killed) Frank has no choice but to take them back with him.
What this leads to is a battle of the sexes with the fastidious and proper Catherine (and her entourage of seven adorable moppets) versus the surly drunken Walter.
This was a sweet little fun with Grant clearly having fun playing against type.