Wednesday Halloween Double Feature – Eighties Vampires
on
September 27, 2017
at
9:00 am
Halloween starts earlier every year doesn't it? And why not? If we can stretch the Christmas season out for two months why not stretch out the really fun season for a couple of weeks? So to get things going I thought I would start with sheer kitsch that is eighties vampires (I originally planned to call this vampire comedy, but I was REALLY misinformed about my selection.)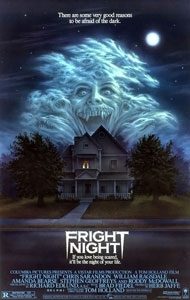 I'd been hearing about Tom Holland's Fright Night for years and the way it had been described to me made it sound like a comedy, though when I saw the trailer for the remake I started to have my doubts on that front.
Fright night tells the story of teenager, fan of b rated horror films Charley Brewster, played by William Ragsdale, who sees the new neighbors moving a coffin into the basement. Makes immediately makes the assumption (after a few murders in the neighborhood) that there's a vampire living next door.
His attempt at investigating this quickly draws the attention of the vampire, Jerry Dandridge, played by Chris Sarandon, who makes it clear that he will not tolerate this anymore. In fear for his life. He seeks the help of former horror actor turned late night movie host Vincent, played by Roddy McDowall
I had mixed feelings about this film, with a lot of the plot being dependent on everybody being idiots. The vampire makes almost all of the mistakes that most horror fans love to point out, most notably the maxim "don't &#*$ where you eat"
This is saved, however by Chris Sarandon's performance who exudes an arrogant confidence, as well as casual sadism that is far scarier than anything he actually does as a vampire.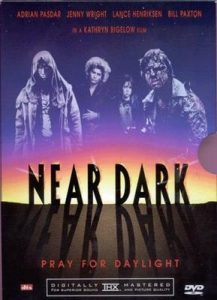 My next film to watch was Katheryn Bigelow's Near Dark. Despite fitting into my eighties description if I'd known more about it I definitely paired it with something else… Probably under the category of what Tvtropes calls New Old West, though I can't think of any other horror films on the list. (Scary as Anton Chigurh is, No Country For Old Men does not count.)
Near Dark tells the story of Caleb (Adrian Pasdar) a nice boy from Oklahoma who meets the Girl of his dreams alone at the side of the road in the one night. The girl, named Mae, played by Jenny Wright, turns out be a vampire, and the feeling is mutual, which is why she only turns him into a vampire rather than kill him.
Caleb soon finds himself captured by the rest of her vampire clan consisting of the dangerously psychotic Severen (Bill Paxton), their leader Jessie,(Lance Henriksen) his lover Diamondback (Jenette Goldstein) and the ancient child vampire, Homer () who drag him along on killing spree across Oklahoma. With his life forfeit if he doesn't join in.
This was a good, though flawed film but is still one of the more interesting takes on the modern vampire. I heard one person claim that this is required viewing for players of Vampire the Masquerade and I can see that. By Masquerade standards our band of vampires would be a roving Sabat pack.
For the most part, I thought it did a good job touching on the allure of immortality for the vampires, as they are isolated due to being constantly on the run due to their murderous "life" style. And there were some solid performances from Paxton and Hendricson. But at the same time, it suffered from the problem that a lot of these movies have with how beings with centuries of experience can make the end of mistakes these ones do… Not to mention vampirism shouldn't be cured by something as simple as a blood transfusion.