Wednesday Double Feature – Film Noir Comedy
on
March 1, 2017
at
10:21 am
This week I decided to return to one of my favorite genres of film noir. Only this time I decided to touch on the lighter side of it with Film Noir comedy and parody. In hind sight this may not be one of my better ideas but here we go.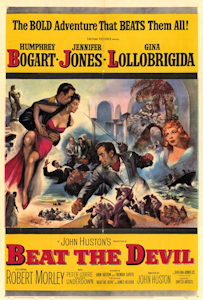 The first one on my list, Beat the Devil, was one that piqued my interest almost immediately, being a a John Huston film starring Humphrey Bogart with a script by Truman Capote.
It didn't disappoint. Bogart plays Billy Dannreuther, a impoverished business man who is helping fur a group of shady individuals, (consisting of Robert Morley, Peter Lorre, Ivor Barnard and Marco Tulli)) in buying land in East Africa with uranium deposits. While he and his wife lovely wife Maria ( played by the lovely Gina Lollobrigida) wait for the boat to africa to be ready they run into a Brattish couple, Harry & Gwendolyn  (played by Edward Underdown and Jennifer Jones),who will be on the same boat. They quickly hit it off with Gwendoly falling in love with Billy and Maria falling in love with Harry. On top of this the crooks overhear many of the things that Gwendolyn, a compulsive lier, tells about Harry's background and what he is planning to do… and from there hilarity ensues.
While I won't consider this one of John Huston's best film this was a fun ensemble piece with most of the humor based on character interactions as well as the way. It's also great to see how great character actors true star power every time as Lorre and his three companions steals the show in every shot they're in.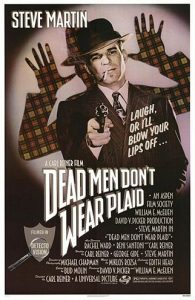 Dead Men Don't Wear Plaid was one of those films that I first became are of when my family got our first video players and I became aware of the joys of browsing a video rental collection. (As well as learning that Steve Martin did films as well as standup)
So when I doing this weeks selection this was one that I had on my list before I even started researching my research.
We open with hardboiled detective Rigby Reardon (Martin) in his office when mysterious woman, Juliet (Rachel Ward) walks in and faints… She wants to hire him to find her missing father a famous cheesemaker) and so on.
Seriously,  if you're remotely familiar with the film noir genre you've seen this movie. The whole film is a mosaic of film clips from old classics. Martin goes to talk to James Cagney  in prison from White Heat, shares a train seat with Cary Grant, from Suspicion, answers phone calls from "Marlowe" Humphrey Bogart in The Big Sleep (except when he's from Dark Passage and Rigby tells "Marlowe" not to stop messing with him when Bogart identifies himself with a different name) and he visits old flames Ava Gardner and Barbara Stanwyck. Pretty much any of the original material is a way to sew all of the clips together, and while the editing and some effects to merge Martin and Warden into the scenes make this work quite well, it gets old fast.