Wednesday Double Feature – Frank Sinatra Action Hero
on
November 15, 2017
at
1:10 am
Well for this week' selection I decided to go with films starring that legendary action hero, Frank Sinatra… yes really. Sinatra's career in film was a lot more than just musicals. Having first only seen him in such films as Can Can and High Society, this came as a pleasant surprise to me.Especially when I saw him kick ass in The Manchurian Candidate.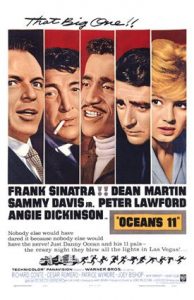 The first film on my list is Ocean's 11. Sinatra plays Danny Ocean a former paratrooper who recruits fellow members of the 82nd Airborne to rob five Las Vegas casinos during the New Years celebration. They believe that since they are not connected to the mob, they will be invisible to casino security allowing them to do their heist with military efficiency.
Ocean's 11 is a film I'd been curious about ever seen I saw the 2001 remake starring George Clooney. Pretty much I knew about it was that it was a Rat Pack vehicle providing everybody the chance to look cool on the screen. Everything else was optional.
For the most part,I was disappointed with this film, the pacing was too slow and there was way too little payoff. I have the sneaking suspicion that it suffered from what a lot of heist films suffered from back in the day, where the censors would not allow any of these heists to be successful since that would imply crime pays.
Still, Sammy Davis Jr's musical number was fun.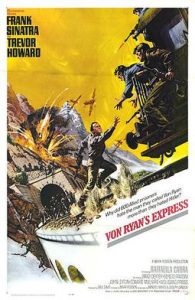 The next film on my list was the World War II film, Von Ryan's Express. Sinatra plays Colonel Joseph Ryan who is captured in an Italian POW camp. The camp is run terribly by a sadistic and corrupt commanding officer. Because he knows allied forces are nearly a week away from taking Italy, Ryan is willing to try and cooperate with his captors, much to the rage of his fellow prisoners, earning him the nickname "Von Ryan".
As the Italian troops retreat the prisoners are able to retreat, only to be recaptured by the Germans. However, they succeed in the transport train that is taking them north. From here they try to take the train to neutral Switzerland and escape.
This was a solid, suspenseful, film that started Sinatra's career as a truly serious actor. It's notable for being one of the first films where he wasn't expected to sing.