Wednesday Double Feature French Animation, Animals and Crime
on
January 22, 2020
at
9:14 am
I wanted to do one last week of fluff before I went back to watching films with a little more meat on them. So I went back to my favorite mediums of illustration, specifically, French animation. Films that were technically children's films, but just artsy enough that maybe they're not. To narrow down my selection a little bit, I watched films about animals and crime.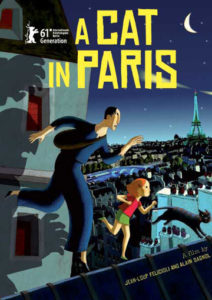 The first film I watched, Jean-Loud Felicioli and Alain Gagnol's, A Cat in Paris features Dino who by day is the beloved pet of a mute girl named Zoe, who just happens to be the daughter of the police superintendent. At night he is the accomplice of a cat burglar named Nico. It's only a matter of time before these two lives meet.
Cat in Paris is a beautiful film with a wonderful aesthetic that looks as if Pablo Picasso had considered animation as a career option.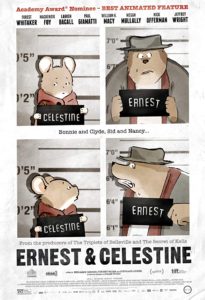 My second film Stéphane Aubier, Vincent Patar and Benjamin Renner's Ernest and Celestine. Based on a series of children's books of the same name by Gabrielle Vincent. It's all about a bear, Ernest, and Celestine, a young mouse girl, who become friends despite living in a world decided between bears who live on the surface and mice who live underground with both sides distrusting the other. This regrettably leads to them unintentionally becoming partners in crime.
This was an amazingly sweet and delightful film. It's done in Flash but it's hard to believe it by looking at it. It looks as if it's done in watercolor. It's a wonderful tribute to its source material which I am happy to have discovered after watching this film.