Wednesday Double Feature – Harry Palmer
on
February 7, 2018
at
9:01 am
I'd heard about the character Harry Palmer played by Micheal Caine for the first time last year but put off watching any of the films since I'd done spy stuff recently.
Harry Palmer first appeared in a series of novels by  Len Deighton.(actually in the books Palmer is unidentified only given a name when played by Caine) Caine played the characters sporadically from the sixties to the mid-nineties. I was looking forward to taking a look at this as this was apparently a good example of the LeCarre school of "stale beer" Spy Fiction.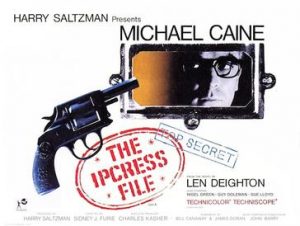 I started with the first film the Ipcress File. Palmer is introduced doing basic nine to five surveillance. He is quickly moved over to another division to replace an agent who was killed when the scientist he had been escorting was kidnapped. This is believed to be connected to the disappearance of several other scientists. Palmer and his associates are entrusted to find the missing scientists, even if it means buying them back from the kidnappers!
I really liked this film. Caine's Palmer is a fascinated character simultaneously a low brow, a borderline criminal who I probably wouldn't like if I actually knew him,  and partly a cultured man who likes cooking and Mozart.
Director does a Sidney J. Furie great job making sure there is nothing glamorous going on here with a department more obsessed with paperwork and the spies have to buy their own groceries.
My only problem with it was that I found that there were certain science fiction elements involving brainwashing that clashed with the otherwise hyperrealistic world.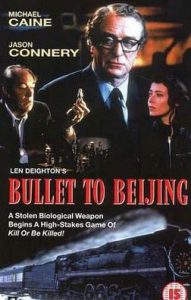 Where The Ipcress File shows us the beginning of Palmer's career in the middle of the cold war, the second film on my list,  Bullet to Beijing directed by George Mihalka takes us to the end of Palmer's career after the fall of the Soviet Union.
We begin with Palmer being retired from the service. He promptly receives a job offer in St. Petersburg that he can't refuse as a courier to take a biological weapon to China which shall be sold to the North Koreans… or so we believe.
For the most part, after enjoying the Ipcress File so much I found. This film was fairly disappointing. What action there was, most notably a fairly cool boat chase down the canals of St. Petersburg, felt mostly gratuitous. The rest of the movie barring a few detours take place on a train going to China, the Bullet to Beijing in the title (except we eventually discover, it isn't.)