Wednesday Double Feature – Jerks
on
November 11, 2015
at
8:43 am
The theme for this week's film selection was jerks. Insufferable self centered, self destructive jerks.
I got the idea for this week's selection when I heard that comic writer Grant Morrison had based an urban sorcerer he created (because he was not allowed to use DC comic's main urban John Constantine in Doom Patrol) on one of the main characters in the dark Brittish comedy Whithnail and I. Obviously I had to check this out.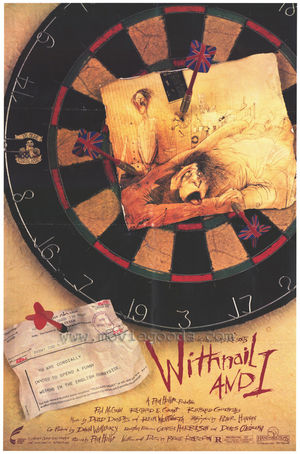 Whithnail and I tells the story of two out of work actors, "I" a relatively normal neurotic and his best friend Whithnail a down on his luck, upper crust, pompous, self centered drunk, who spend their time in their squalid London apartment waiting for their dole checks and  going to the local pub to get drunk and stay warm.
In an attempt to get away from it all they go on an impromptu vacation in the lake country, staying in a cottage belonging to Whithnail's uncle, and failing miserably at it almost starving to death and having to break up most of the house's furniture for firewood.
I liked the two central characters but despite the outrageousness of the two main characters I'm not sure I'd consider this a comedy despite it's darkly humorous overlook. After a fashion it felt like what Young Ones would be like if it took place in a more real world and was a little more serious.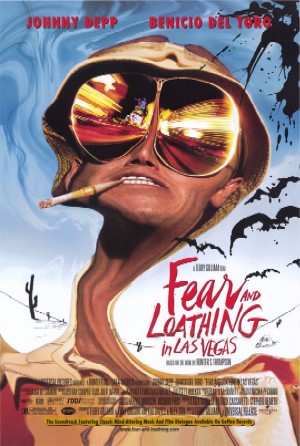 Because a few of my friends who had seen it described Whithnail and I as "Fear and Loathing in Britain" I realized I was past due in watching Terry Gilliam's adaptation of Hunter S. Thompson's Fear and Loathing in Las Vegas.. I confess I only made it about two thirds  though the book the one time I tried (though I'm comfortably sure that was because I was listening to it on and audio book and I've found that not all books work in the format) For the most part my views of Hunter S Thompson are unfairly based on the caricature of him in Doonesbury (which Thompson hated) and I'm afraid a lot of my viewing of the movie were though the lens of Doonesbury's Uncle Duke.
Still this story of Thompson's alter ego Raul Duke, played brilliantly by Johnny Depp with Benicio del Toro as as his sidekick and attorney Dr. Gonzo, rampage through Las vegas in a drug fueled three days.
This has quickly become part of my Terry Gilliam top five list. He turns Las Vegas into a hallucinogenic nightmare fairyland almost as much of a fantasy as many of his other films.
Depp and Del Torro have great chemistry together with Depp virtually channeling Thompson and Del Toro going back and forth between drug addled clown and truly scary monster.