Wednesday Double Feature – The Magical Realism of Emir Kusturica
on
January 31, 2018
at
9:59 am
Today's selection started with an interesting thread. First I was trying to take another crack at magical realism a topic I always enjoy but have trouble finding good examples. This led me to the first film on today's list Time of the Gypsies by Yugoslavian director Emir Kusturica. From there I thought I'd try movies about gypsies. Regrettably, I couldn't find anything that didn't have them as villainous stereotypes (besides Latcho Drum anyway. I didn't pick that one since it's more of a documentary.) So I ended up going with all of Kustrica's work.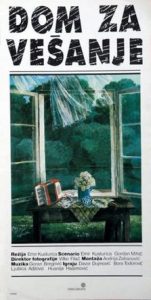 As mentioned above, the first film on the list that started all of this, Time of the Gypsy tells the story of a Tehran, a simple Gypsy boy, played by Davor Dujmovi? who live's with his grandmother, tripled sister and deadbeat uncle in a rundown village. Pehran's needs are simple, limited to his pet turkey. playing his accordion and mooning over the girl next door. On a side note, he has the power to move small objects with his mind.
When the hovel he lives in is torn down by his uncle, looking for money after he lost everything in a game of dice, Pehran's life is turned upside down and he is put in the hands of Ahmed, played by Bora Todorovi? , a gangster whose brothers had stolen all of his uncle's money in the first place.
From here Pehran is taken to Milan where he helps in Ahmed's criminal endeavors which includes maintaining a small herd of beggars and pitch pockets and human trafficking From here we watch Pehran grow in both maturity and corruption.
This was an amazing film, sometimes whimsical and sometimes almost operatic, made all the more so with its wonderfully haunting soundtrack by Goran Bregovi?. Other times it almost feels like a documentary showing us the life of the life of the modern gypsy, warts and all but never patronizing. The fantasy elements are almost invisible with Pehran mostly using his powers as a party trick that most people ignore. The one time he uses it for real, in his final conflict with Ahmid, it probably would have been easier for him to just hold the fork in his hands.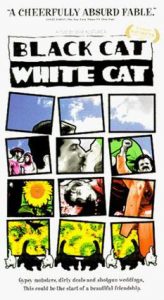 I'm not sure if Kustrica's next film on my list Black Cat, White Cat counts as magical realism the only real fantasy element are two people being "dead" for most of the final act. But I'll go with it because it's hilarious.
Bajram Severdžan plays Matko Destanov a totally incompetent smuggler who lives on the coast of the Danube with his teenage son Zare (Florijan Ajdini). He has what he thinks is his lucky break to steal a trainload of petrol and needs the support of local mobster Dandan Karambolo (Sr?an Todorovi?). However, Dandan double-crosses him and steals everything and puts Matko in debt. Dandan agrees to clear the debt provided Zare marries his dwarfen sister (who isn't particularly crazy about the idea either.) What could go wrong?
This movie was a lot of fun with a wicked gallows sense of humor, showing us all of the absurdities that life can throw at us. The humor goes to every extreme, from Matko trying to pull down a corpse that is strapped to a raised train crossing to a recurring shot of a pig eating an old rusty car (and making considerable progress) to Zare's reluctant bride hiding in a tree stump.
Like Kustrica's other film it shows a wonderful job showing the underside of society. Vibrant in its own way, but virtually invisible to those who are not part of it.