Wednesday Double Feature – Roller Derby
on
February 10, 2016
at
8:59 am
At first I had the idea to do Lucador films since I'd been interested in the phenomenon of the status of Mexican wrestlers outside of the wring most notably wrestlers like El Santo… but since I didn't want to torture myself and hadn't gotten around to researching if any of these films were bearable, I decided to do roller derby instead.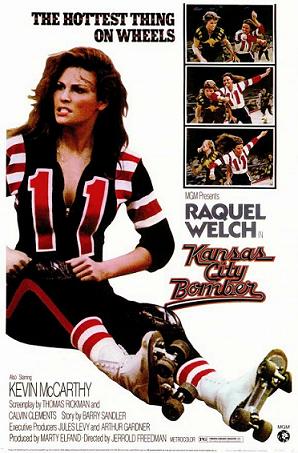 The first film on my list was Kansas City Bomber starring Raquel Welch.Welch plays roller derby star and single mother K.C. Star who has just been traded from Kansas City to her home town of Portland Oregon where she can be closer to her children.
Things start out well, except for rivalry with the other star player and a male teammate with wandering eyes and hands. She starts to have a relationship with the team owner. Out of jealousy and possessiveness he starts to separate her from her teammates by trading her best friend and ruining the career of another player who is close to her. This gradually leads to the inevitable finally.
Despite the fun of the actual derby this film was kind of dull. While I won't comment on just how much of real Roller Derby is most of the bouts seemed extremely fake and was alway treated as if it was all the real thing. I found myself wanting scenes where players were laughing about it in the locker room and K.C. hugging the heel who beats her to cover up her trade to Portland.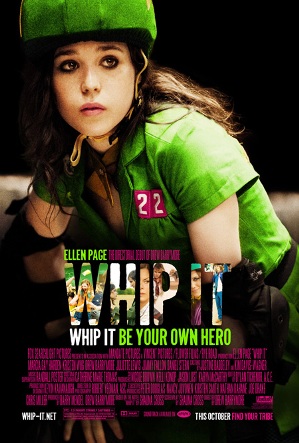 The next on my list was Drew Barrymore's directorial debut, Whip It starring Ellen Page. Page plays Blaze Cavender  a high school student from Bodeen Texas and reluctant beauty pageant contestant. By sheer chance she discovers the joys of roller derby and tries out for the league and put on the worst team.
She quickly discovers she has a knack for it and hiding her double life from her parents under the stage name Babe Ruthless. The rest of the film deals with the way her life changes, her relationship with her teammates, (hiding the fact she's underage) and her parents which becomes increasingly strained as she's forced to lie to them while stretching her schedule to the breaking point, and a new boyfriend.
For the most part all of this a quiet but enjoyable film and of course the matches are really fun to watch.