Wednesday Double Feature – Streisand Comedies
on
July 12, 2017
at
9:07 am
When I started this week's selection my basic idea was "live action cartoons" based on the way the film on my list had been described. But since I wasn't having much luck finding a second film that fit that criteria I went with comedies starring Barbara Streisand (with screenplays by Buck Henry)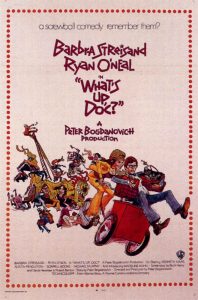 So anyhow the first film on my list, which was the thing that inspired it all was Peter Bogdanovich's What's up Doc? starring Barbara Streisand and Ryan O' Neil.
Ryan O'Neil plays Howard Bannister, a musicologist with a theory about musical rocks, who travels to San Francisco with his fiancee Eunice Burns (Madeline Kahn in her first film appearance) to compete for a research grant for his theory about musical rocks. When he arrives at his hotel he runs into Judy Maxwell (Streisand) an extremely eccentric woman who when we meet her is scamming room service, who immediately latches on to him whether he likes it or not.
In the meantime Howard's bag, with his collection of musical rocks, get's mixed up with Judy's identical bag as well as another identical bag of jewels and an identical bag with government secrets. From there, things get really strange.
This was… Okay. Streisand does a good job as the eccentric, amoral possibly psychopathic force of nature that is Judy. But otherwise, this didn't do that much for me. A lot of this film seemed to be very much based on Bringing up Baby, but the thing is I already saw Bringing up Baby and Hawks did it better.
Still, the car chase at the end was really well done.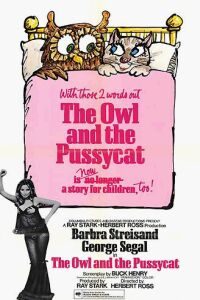 The next film on my list the Owl and The Pussycat is an adaptation of the stage play of the same name, by Bill Manhoff. George Segal plays Felix a struggling writer and intellectual who just wants a good night sleep when there's a knock on his door. It's  Doris, a struggling actress, model and sometime prostitute (played by Streisand) who he accidentally got evicted from her apartment after he complained about her to the building superintendent.
Soon he's stuck with her and since Doris has a complete inability to keep her mouth shut, he is soon evicted when the neighbors complain. Soon the two are stuck with each other as they try to get on with their lives and a good night's sleep. As the film goes on we have to ask will they finally succumb to the mutual sexual attraction before they kill each other?
This one really didn't do much for me either. It suffered from a lot of the problems that a lot of play adaptations have, where the director tries to pad what is essentially just two scenes with only two main characters (with a small handful of side characters showing up in passing) with only one set per scene. While I've seen a few directors pull it off, these are few and far between.
Still, it was a fairly good character piece with well-written dialogue.