Wednesday Double Feature – Tattoos
on
March 16, 2016
at
8:49 am
Well I hit that low where since I couldn't think of a good theme for the week and was forced to dip into my list of ideas I didn't like that much but saved them for just this sort of emergency. So what was one of these ideas that I finally picked. Tattoos. This pretty much gave me a choice of three films (one of which wasn't available) which had absolutely nothing in common.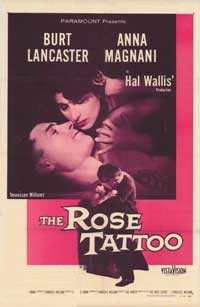 The first on my list, The Rose Tattoo starring Burt Lancaster and Anna Magnani in her first english language role was a film I'd only ever heard of through a book of alternative Oscars and pretty much all I remember about it was the name. It;s an adaptation of a Tennessee Williams play of the same name.
Anna Magnani plays Serafina Delle Rose, a dressmaker who looses her husband, a truck driver, when he was caught smuggling. Serefina had loved her husband dearly and prided herself for being the only woman he ever loved. As the story continues she discovers to her horror that his is not the case. She gradually recovers when she plays another truck driver, played by Burt Lancaster who gets the same tattoo as her husband (and his mistress) just for her (though he didn't know the significance of the tattoo at the time causing quite a bit of anguish). 
I mostly enjoyed this film. All of the actors are good and I almost didn't recognize Lancaster as he plays a big loveably lug rather than the archetypical stern characters I had alway associated him with.
Tor the most part what interested me the most was just how the play was adapted into a film. I know next to nothing about the original play but I assume that it only had only one to two sets and it was interesting to see just how they expanded on that. The other thing that interested me was the director's penchant for close ups even in scenes where I'm sure in the play was taking full advantage of the placement of groups of people in a single state.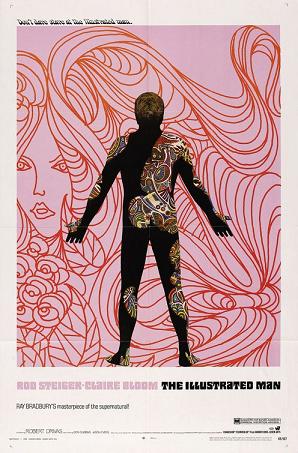 From there I wen to watching the film adaptation of the Ray Bradbury anthology, The Illustrated Man. It tells the  story of two  hobos who meet on the road one of them is covered from neck to foot with tattoos which he insists are "skin illustrations" each of which tells a story. This serves as a framing device to tell three stories, : "The Veldt", "The Long Rain", and "The Last Night of the World". as well as the story about how he got his tattoos.
For the most part I mostly didn't care for the stories none of them were amongst my favorite Bradbury stories. Though I liked the way they had all of everyone in the stories played by the principal cast in a repertory fashion. For the most part It was the framing device and the flashbacks that impressed me the most as well as the performance of  Rod Steiger as the title character