Wednesday Double Feature – The Fantasies of S. S. Rajamouli
on
May 28, 2019
at
9:12 am
I wanted some fluff after some of what I watched the other week. I decided to check to see if there were any high fantasy films I hadn't seen before. Regrettably, it looked like I'd watched a lot more than I thought. However, by sheer luck, I stumbled over some Indian fantasies by S.S. Rajamouli. So I decided to take a look into Tollywood fantasy films. (No, that's not a typo, the nickname Bollywood specifically refers to the Hindi language film industry based mostly in Mumbai. "Tollywood" refers to the Telegu language film industry.)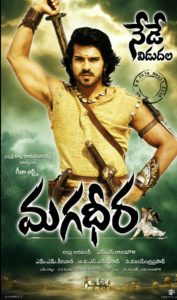 The first film on my list, Magadheera, Begins with two lovers dying on a cliff before they can declare their eternal love. They fall off and the last we see of them is a close up of their hands as the desperately reach out to each other. 
From here we switch to the present day we are introduced Harva (Ram Charan ) a hotshot bike racer who on the way to his next competition has a case of love at first sight with stranger he sees in the crowd.  Her name is Indira, Indu to her friends.(Kajal Aggarwal) and after much hilarity he tracks her down and gets to know her. As the story goes on it's gradually revealed that Harva are reincarnations of the dying lovers. And we watch and are told the truth to the story of the previous tragedy and brace ourselves to avoid watching it happen again. 
This was fun fluff with all of the over the top melodrama and musical numbers that I've come to expect in Indian film.
There were some elements of where my knowledge of Indian culture made me unsure if if some of the humor was intentional or not, but I was certainly amused.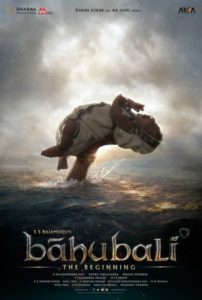 The next film on my list Baahubali: The Beginning is an epic opens with a dying woman carrying a baby. As she drowns in a river she manages to hold the child above the water long enough for the child to be rescued and adopted by peasants. 
Well, if you know your Campbell how this goes. The child, Shiva grows to manhood becoming Shiva (Prabhas) a strapping God amongst men who wishes to return to his birthplace. He finally successfully climbs up the mountain to his homeland where he finds it in the middle Civil War with his birth mother held this week prisoner in the middle of the city square. 
Shiva successfully rescues his mother, kills the evil overlord and rallies the people. We immediately flash back to the story of Shiva's father, Amarendra Baahubali, and his epic battle against the barbarous Kalakeyas. The film ends with his victory.
I had hoped to make this week's viewing, the entire Baahubali series, but regrettably the second film, Baahubali 2: The Conclusion, but regrettably it doesn't appear to have arrived stateside yet. However, this first film was enjoyable and wonderfully over the top.