Wednesday Double Features – British New Wave
on
August 9, 2017
at
9:03 am
I while watching one of my favorite film theory youtube channels the other day when It spent a minute talking about British New Wave. Since I'd never even heard of British New Wave (at least not under that name) I thought this would make for a good theme to base this week's selection on.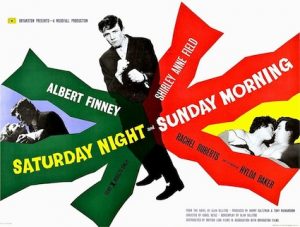 The first film on my selection, Karel Reisz's Saturday Night and Sunday Morning, based on the novel of the same name by Alan Sillitoe, tells the story Arthur Seaton, a machinist working in a bicycle factory in Nottingham, played by Albert Finney. Arthur is jaded by all of the people around him who he thinks have either wasted their lives, or have been burnt out, and refuses to be like them.
He goes about this by going to a lot of pubs to drink on Saturday nights and having an affair with a coworker's wife.
This was an interesting film. The strong Midlands accents made it a little hard to follow, but it does a good job of showing lower-class life in 1960 Britain and doesn't shirk from controversial issues, like abortion.
What makes this film work though is the fantastic performance from Finny playing Arthur as an arrogant bastard and a compulsive liar.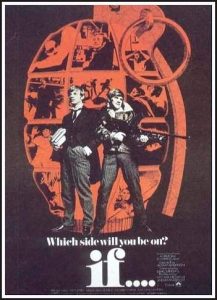 The next on my list, Lindsay Anderson's if…  starts out with what looks like a brutal expose on British public schools but then it seems to change its mind half way through and gets REALLY weird.
It's a new term at College house and all the students are from new students terrified about what's going to happen to them to the jaded veterans like Mick Travis played by Malcolm McDowell starting out his film Career. From here we watch day to day life at the school, with its petty rivalries, bullying, and classist pecking order. Until the whole thing explodes… almost literally.
This was a fun film. McDowell's performance as a high school rebel gives us a taste of what he would do as Alex in Kubrick's Clockwork Orange.  It goes back and forth from humor to horror to flat out surrealism. Part of me kept comparing it to Harry Potter… Though if Hogwarts was anything like College House, Voldemort would have run away in terror.