Wednesday Double Features – Films that inspired Sitcoms
on
February 15, 2017
at
8:48 am
ereFor this week's selection I thought I'd do something different with movies that inspired popular sitcoms. This was harder than it sounds because I'd seen most of the obvious ones like MASH and Private Benjemin, and I didn't really have any desire to see any of the lesser known ones like Gung Ho. I briefly considered watching The Odd Couple but figured that was just as based on the Neil Simon Play as it was the film.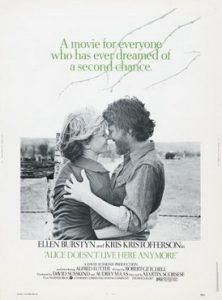 The first film on my list, Alice Doesn't Live Here Anymore, (which for some reason I constantly remember as Alice Doesn't Work Here) was my main reason for this week's theme. While I don't think I was ever a fan of the show it inspired growing up. But Alice was one of those show that was a ubiquitous presence when you were channel surfing in the afternoon, so I knew about it, knew of the movie it was based on and, most importantly, knew it was a Martin Scorsese film.
Ellen Burstyn plays Alice Hyatt a thirty-five-year-old housewife trapped in a loveless marriage. She's suddenly freed from this when her husband dies in a driving accident. In need of work to support herself and her ten-year-old son, she follows her dream to become a singer and to return to her hometown of Monterey, California. Regretably, this doesn't work out and she ends up as a waitress at a greasy spoon in Tuscon Arizona where she finds new friends and love in a hunky rancher played by Kris Kristofferson.
This was an interesting film that took its time going through Alice's life. The humor was quiet and low key and sweet I liked the little things about it like Alice finally making friends with her coworker the abrasive Flo.
Despite liking the title character, I wasn't that big a fan of the show, Mr. Belvedere. It was one of those eighties family comedies that were nothing but an endless string of "very special episodes". But since I didn't even know it was based on a movie before I did my research for this week and I just had to sate my curiosity.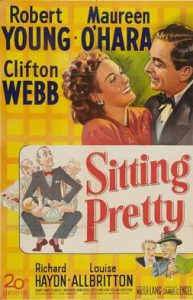 In Sitting Pretty (I can't believe I missed the pun until I watched the movie) Maureen O'Hara and Robert Young play Tracey and Harry King, two parents in desperate need of a full-time babysitter for their three sons and Great Dane. After several false starts (most of the local babysitters have heard about them) they finally get an answer for their add from a Lynn Belvedere. Thinking this is a woman, they hire sight unseen. When they meet Mr. Belvedere, played wonderfully by Clifton Webb,  it's too late to back out. Fortunately, Mr. Belvedeere is incredibly competent in everything he does (and never lets you forget it) so soon the kids and dog are under control. However, nosey neighbors and misunderstandings make the whacky hijinks flow.
This was a really fun little farce. With lots of wonderful comic performances that I will recommend to everyone.