Wednesday Double Features – First Team Ups
on
September 13, 2017
at
9:00 am
This week I decided to watch films where some of the great Hollywood first began their team ups. (Actually, I had hoped to do this one as a double header with "romantic comedies done right" but while the second film had many fun moments was not a comedy)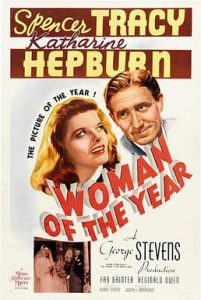 THe First on my list we have the first film that Spencer Tracy and Katharine Hepburn first worked together in, Woman of the Year . directed by George Stevens. Tracy and Hebburn play sports columnist, Sam Craig and political columnist, Tess Harding   who first meet after being called into the Editor's office to stop a war of words the two have been in that was started after Tess said that there was no point in sports during an interview, something that a sports columnist like Sam can't let stand.
They quickly fall in love and after a rough start dealing with their two different interests, Tess's packed schedule they marry after just two dates.
Of course, it's after the marriage where the hilarity truly ensues.
While this film was fairly well done, I just couldn't get into it. Perhaps it's because I'm so far away from the forties it feels like looking at an alien world. I had trouble believing in people jumping into marriage after just two dates, and the way the story mostly took Sam's side. It frequently puts me off that in too many of these movies intelligent assertive women have to be "tamed" with this movie ending with Tess utterly failing in the kitchen (though I must admit Hepburn's physical performance in this scene was pretty funny)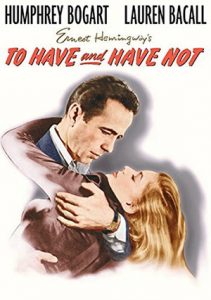 My next film, To Have and Have Not, directed by Howard Hawks, begins the professional team, and off screen romance, of Humphrey Bogart and Lauren Bacall. 
Bogart plays Harry Morgan the captain of a fishing boat out of Vichy controlled Martinique.. After his client is killed before paying him, he finds himself mixed up with some French freedom fighters who need to smuggle one of their people onto the island.
While this is going on he meets Marie (Slim) Browning, (Becall) a beautiful wanderer, singer and sometime pickpocket and a relationship between the two begins as all the craziness builds up around them.
This one is very much a classic. (It's the film where the "you do know how to whistle?" line comes from.) Becall is amazing in this film with an amazing presence that goes way beyond just her incredible beauty. Her chemistry with Bogart is the stuff of legend.
The other thing I liked about it was its soundtrack performed by composer and pianist, Hoagy Carmichael.