Wednesday Double Features – Roger Ebert's Favorite Brittish Comedies
on
May 31, 2017
at
9:09 am
While reading a review by Roger Ebert on one of the films I reviewed last week he made a point about comedies being products if their cultures and were especially funny in the context of the countries they were made in and made for… From there, he listed what he regarded as the best comedies of a hand full of different countries. I decided to see if I agreed with him. I'd already seen his selection for France (Both by Jacques Tati, which I certainly agreed with… so I moved in of what he thought the two best Brittish comedies were.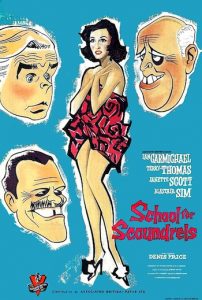 The first on Mr. Ebert's list was School for Scoundrels by Robert Hamer tells the story of  Henry Palfrey (Ian Carmichael) a man who is unlucky in everything, easily walked all over by his coworkers and friends and used by con artists. He finally has one lucky break meeting the girl of his dreams but even their things don't go well when he is easily shown up by an acquaintance, played by Terry-Thomas, who tries to seduce her away from him.
After embarrassing himself in several ways, first getting beaten in tennis and then tricked into buying the ultimate jalopy, Palfrey follows an ad for a school for  "Gamesmanship"  run by Dr. Potter (Alastair Sim). Here he learns new techniques "ploys" to manipulate people for their own purposes, be it business, or romance. The rest of the film is spent with Palfrey using these ploys to get back at all the people who have wronged him. Only to finally learn there is only one thing that can trump gamesmanship… Sincerity.
This was a fun but cynical film. My only personal problem with it was a few of the "ploys" reminded me of some of the more unpleasant modern pickup techniques, but other than my PC handwringing, I very much recommend it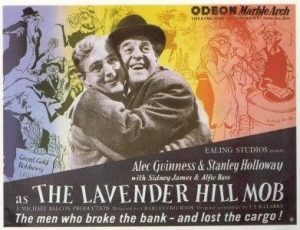 The next film, The Lavender Hill Mob is a caper comedy, by Charles Crichton, starring starring Alec Guinness and Stanley Holloway  Guinness plays Henry Holland a fussy bank clerk whose job is to supervise the smelting of gold bars and delivery accompany them to the bank. It's a thankless job with little reward and he fantasizes about stealing one of the payloads he supervises. But he never goes about it because the bullion is impossible to move out of the company. That is until he meets a man who lives in the same boarding house Alfred Pendlebury (Halloway) an artist who owns a foundry where he creates lead models of the Eiffel tower.
Immediately Pelfrey finally knows how he can move the gold out of the country. He and Holloway get a gang together and carry out their plan of stealing the gold and smuggle it to Paris to sell…. What could possibly go wrong?
This was a well-done film with Guinness putting out his usual level of performance… I was especially impressed by the editing on the final car chase.but ultimately it didn't do much for me.