Wednesday Double Features – Tis the Season
on
December 9, 2015
at
8:43 am
To start the holiday season I decided to go with films that were of the season but not actually seasonal.  This led to a rather interesting selection of two films that have absolutely nothing in common.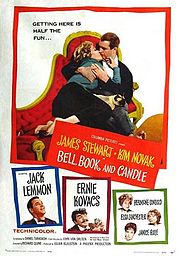 In Bell, Book and Candle Kim Novak  plays the leader of a group of New York based hipster witches who uses her powers to seduce Jimmy Stewart only to fall for him herself.
This was fun though I kept feeling it could have been a lot better. The witch community is hinted at enough that it seems disappointing that other than showing us a only slightly hidden apothecary and another witch's house all we see in any detail is the night club that all of the witches hang out at. Novak is wonderful as a sultry powerful Gillian, it feels a shame that she falls into a more traditional submissive role in the end. (and her siamese cat familiar is adorable) Jimmy Stewart's reputation as the most mundane, mayonnaise American is played up for all it's worth. Jack Lemmon, Elsa Lanchester and Ernie Kovach fill their supporting roles wonderfully (having only ever seen Lancaster as the Bride of Frankenstein there is something wonderfully surprising seeing her play Gillian's cuddly old aunt.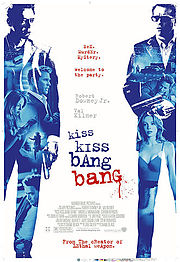 While I certainly knew of Kiss Kiss, Bang Bang starring Robert Downy Jr. And Val Kilmar.  For some reason I thought it was one of Guy Ritchie's as opposed to  Shane Black, (must have been the name) Downey plays Harry Lockhart, a middling crook who by sheer luck escaping from an extremely botched robbery finds himself in LA auditioning for a role in a detective story. From their he runs into a childhood crush and from there finds himself involved in a murder mystery from there things get weird.
This is all narrated by Downey in a very sarcastic manner getting his facts wrong and editorializing all the way thorough. Giving the film a wonderful cynical and eccentric feel.