Wednesday Halloween Double Feature – Foreign Vampire Films With a Slight Sci-Fi Twist
on
October 25, 2017
at
1:00 pm
For this week batch of vampire films for Halloween, I went back to what I was trying to do last week with arty foreign vampire films. To sweeten the pot just a little bit I added "ones with a slight science fiction angle about them" to my description.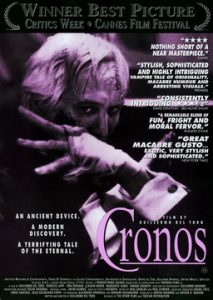 The first film on my list, from Mexico, was Guillermo Del Toro's Cronos. This tells the story of a mysterious alchemical clockwork device, that looks a bit like a golden beetle that is believed to hold the key to immortality. It found inside a wooden statue by an aging antique dealer Jesus Gris played by Federico Luppi .To his shock, he discovers that the device has spikes and once it latches onto someone, it injects its victim with a mysterious solution. Soon Jesus finds himself growing younger and healthier. The downside is he finds himself developing a thirst for blood. To make matters worse others are after the Cronos device and they've sent their personal thug, Angel, played by Ron Perlman to get it.
This was fun. I've always enjoyed Del Toro films because of his use of medieval imagery as well as his love genre that turns the most ridiculous ideas into fine art. I hadn't seen any o  his traditional horror films, even though I'd heard good things. Cronos is his first feature film and while it's very good, still comes off as a journeyman piece to me… though not in a bad way.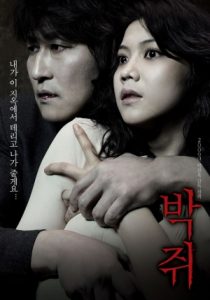 The next on my list from Korea, Thirst, tells the story of a Catholic priest Shin Sang-Hyun (played by Song Kang-ho) who volunteers for an experiment to find a cure for a deadly blood disease. It fails but Sang-Hyun is somehow the only survivor of all of the patients. In the process is transformed into a vampire. He tries to get access to blood without killing anyone but his need grows. In the meantime finds himself hounded by people who believe he is a saint because of his survival. Among them are Kang-woo (Shin Ha-kyun) an old childhood friend, his mother the domineering Lady Ra (Kim Hae-sook) and his wife Tae-Ju (Kim Ok-bin). Sang finds himself drawn to Tae-Ju and the feeling is mutual.
When I' first heard of the Thirst. All I knew about it was that it was a Korean Vampire film. When I discovered that it was by my favorite Korean director, Park Chan-wook.. I couldn't wait to watch it.
Regrettably expecting another Oldboy effected my enjoyment. Still, it held up fairly well going back and forth between drama, humor and of course, horror.