on
September 17, 2014
at
12:10 am
This week I decided to do another round of caper films.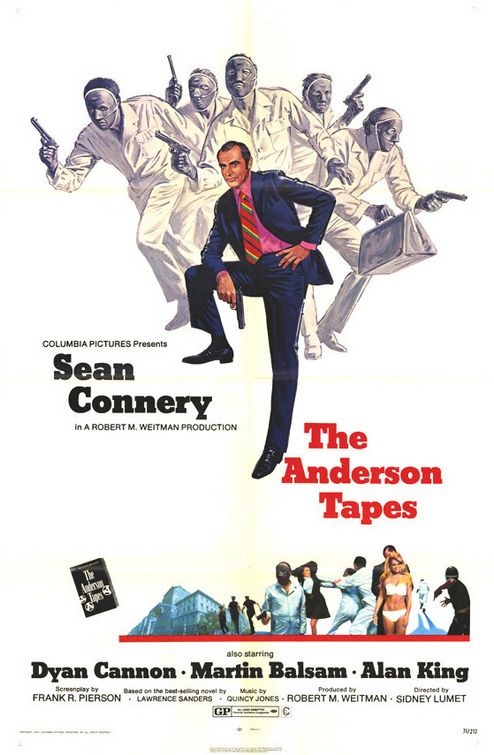 The first of the two was The Anderson Tapes from 1971 starring Sean Connery featuring Christopher Walken.'s film debut. (He's so young  here, I didn't even recognize him until he opened his mouth.)
Connery plays Duke Anderson, a burgler coming out of prison after ten years, for not ratting out a mobster. With the mobs backing, he plans on robbing the luxury apartments his girlfriend lives in. I wasn't particularly impressed by the heist itself or most of the movie for that matter, but it had some interesting bits that made up for this. The first is much more a film about surveillance then it is a caper. Anderson, and people connected to Anderson, are constantly being monitored by various groups at completely cross purposes, the IRS, the FBI and a private investigator working for Anderson's Girlfriend's sugar daddy. So much of the film is done from the perspective of the surveillance teams. In many ways it felt like a precurser to what Copella would do much better in the Conversation. The other thing I liked was how the caper was treated in the narration. The story kept going back and fourth between Anderson and his crew committing the crime (essentially going door to door like reverse trick or treaters) and the the victims being interviewed by the police. This was probably to add to the suspense (and pick up the pace on what was probably a slow all day affair) But added quite a bit to what was pretty much a by the numbers caper film
.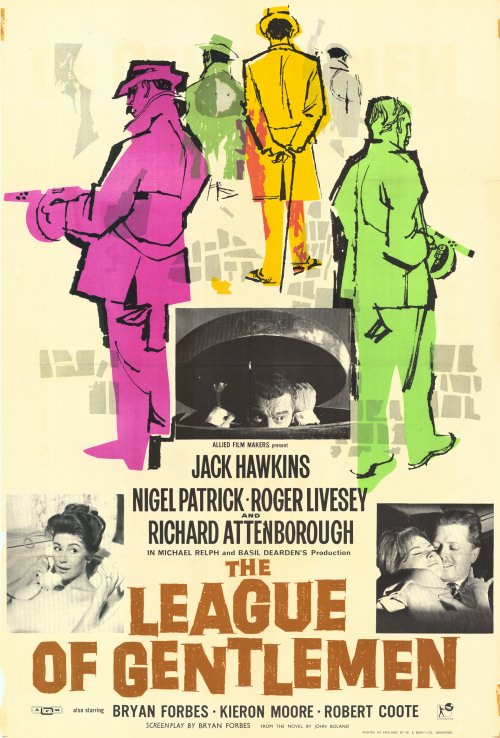 I confess that the only times I had ever come across our second movie, Basil Dearden's League of Gentleman, were the number of times I stumbled over it when doing searches for the situation comedy of the same name. (or even The League of Extraordinary Gentlemen.) I was also hearing about it because of the recent death of Sir Richard Attenborough.
Lieutenant-Colonel Norman Hyde played by Jack Hawkins is inspired by an American to pull off the perfect crime to do so he brings together a group of disgraced former officers to pull it off with military precision and things go perfectly until the very end.
Seeing the League of Gentlemen for the first time I can see exactly why it has deserved so much tribute. This is a movie that virtually serves as the template for most caper films up to now as we are first introduced to the team in great detail, watch as the plan is put together the preparations and made and finally the heist which goes with clockwork precision. Every little detail is shown to us even the mistakes which lead to their eventual downfall.
All in all this is a wonderful tight ensemble film with a wonderfully dry sense of humor which I will gladly add to my film library. It's taking in all the little details that make it all the fun! Keep your eyes open for an early performance from Oliver Reed as a flamboyantly camp actor.
I stumbled over this one when I was looking for a track of the Rhapsody of the same name by Engelbert Humperdinck. Since I was having no luck finding that one and that I'm always on the lookout for more pop rhapsodies I decided to go with it.
So here is Moorish Rhapsody from Peter Lindahl's In The Labyrinth.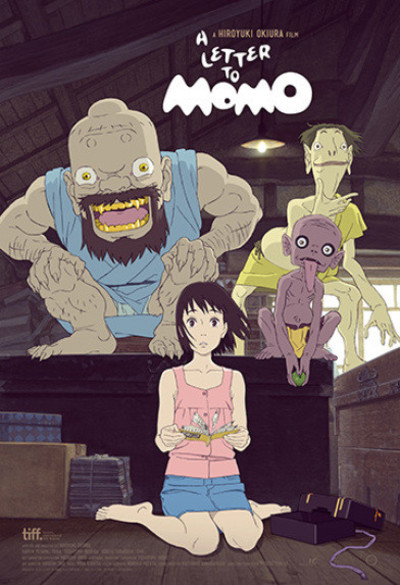 Well I first heard of A Letter to Momo less than a week ago when a couple of my friends were raving about it and making it clear that it would only been at the Varsity for the rest of the week. I made a note of it and planned to see it when the DVD came out. Then I saw the absolutely glorious poster and decided I couldn't wait.
I'm embarrassed to say that I was not been familiar with Hiroyuki Okiura and what work of his I had seen I had attributed to Mamoru Oshii. A Letter To Momo is story of a girl who moves to a small town on an island it the inland sea with her mother after the death of her father. Once there she encounters and befriends a trio of yokai (the subtitles translates it as goblins) sent to watch over her and her mother.
All of this is lovingly paced with the film taking it's own sweet time to put all of the pieces in place. I love it how little details are place in a way that while they are clearly in plain sight you only really notice them until the characters do. (my favorite example is that one of the first bits of evidence of the Yokai's existence are some packets of pudding they ate. I like how this is very much a child's story. Momo is very much a shy eleven year old who has fears and jumps to conclusions the way any child would. This is most apparent when she mistakes her mother's brave face for uncaring leading to the dramatic climax of the film.
This was one of those movies that I wish I'd been able to see twice. Once to actually WATCH the movie and once to take in all of the wonderful details. This film is one of those movies that is a virtual love letter to it's location (other examples of this in anime I cam name are Kamichu and  Haruhi Suzumiya) every street, store and shrine is lovingly painted without the slightest detail left out. Despite this being clearly fantasy this is very much a realist film  that slowly and meticulously adds the fantastic elements in a believable way. It did it so well I was genuinely surprised whenever something blatantly "cartoonish" happened.
All in all this is very much a film I will happily put on my list of favorite feature length anime. I kept finding myself comparing it to My Neighbor Totoro with it both about a girl moving to the country, encountering a fantasy world and this is in no way a bad thing.
Well this week it was a pair of really really weird films and I'm  not completely sure which won in the contest for the most strange. .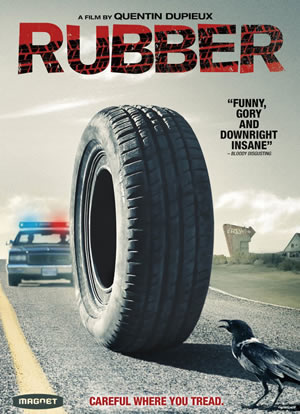 At first glance the first of the two, Rubber, directed by Quentin Dupieux,  seems to be the winner of the two after all it's a horror movie about an animate old tire with psychokinetic powers it uses to wreak havoc with. If that's not enough it is extremely meta with characters appearing to break the fourth wall only to have it revealed that they are talking to group of spectators who are watching the proceedings with binoculars… Then things get weird.
The whole thing get's extremely meta with one of the characters saying things don't have to make sense in movies… The rest of the movie seems to go out of it's way to prove that point.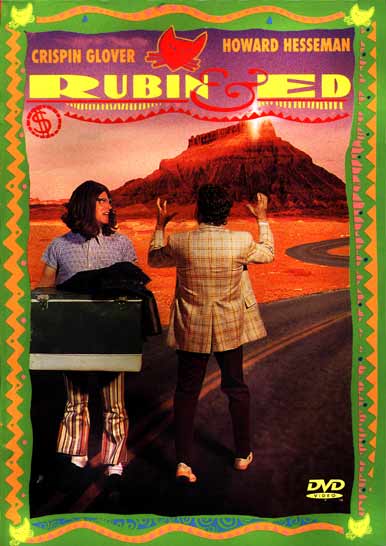 Somehow Rubin and Ed starring Crispin Glover and Howard Hesseman ,written and directed by Trent Harris manages to have just as much psychedelic strangeness. It tells the story of Rubin a strange, possibly autistic, recluse who kidnaps the perennial looser Ed, who is just trying to get Rubin to go to the pyramid scheme seminar he's working for, to help him find the perfect place to bury his frozen cat. They end up lost in the Utah dessert where they both discover themselves after a fashion and how to deal with their inner demons (or in Ed's case his tyrannical ex wife) after a fashion)
All in all both of these films are bizarre but interesting treats that reward you if you are in the right kind of mood..
Today was first Thursday aka free Thursday at the museums so I took the trek down town to do my push ups at the Seattle Art Museum. I had fairly good run their enjoying an exhibit of modern Indian photographers and sketching some Native-American carvings as well as taking another crack at Fogini's "Baptism of Christ" and I'll be more than happy to share them later because what happened next.
As I headed downtown I couldn't help noticing the number of Seahawks jerseys and realized I'd completly forgotten that the season started today (as I've mentioned more than once I'm a terrible fan!) AfterI finished at the museum to watch people watching the game. After about ten minutes I decided to take out my sketchbook and started drawing what I saw.
Sketches like this rarely go very well. Not getting into the whole moving subject thing You're trying to finish the sketch faster by drawing everything all at once which usually leads to one big mess. (not to mention the whole "while still on your bicycle thing. I swear this has to be the first time I ever experienced my groin falling asleep.) But the rewards are great because even if the sketch itself isn't going to win any contests it frequently provides a layout for something promising.
But along with this the game and the fans were great to watch and if what the Hawks did to the Packers is any indication of what is to come we'll have to start following the point spread to keep things interesting.