by wpmorse
on
May 1, 2015
at
9:05 am
Once again I fell back on doing another selection of Oscar nominees. For this week I went with films from 1961.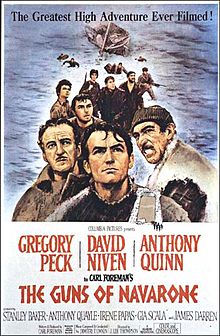 The first on my list the Guns of Navarone was one I knew the name of for years but didn't really know anything else about it. (in fact for until this week I thought it was a western). It tells the story of a commando raid against two giant guns on the Greek island of Navarone the only thing presenting an Allied attack on the island of Keros.
This was a very well done film. For it's time I found it wonderfully cynical making it very much about how war forces people to make terrible choices. No one is particularly good and despite this being a World War !! film, most of the Germans are just soldiers in truth there is pretty much only one Nazi in the group.
The moral ambiguity makes this film fascinating with the arguments between leads Gregory Peck and David Niven have over doing what is right vs what is necessary absolutely fascinating.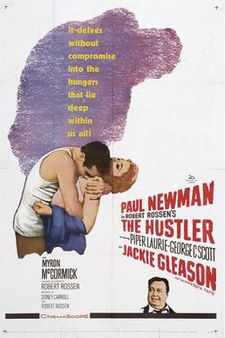 My other film is the all time classic, The Hustler, which tells the story of small time pool shark Fast Eddie Felson, played by Paul Newman, as he struggles to prove himself the greatest pool player in the country.
While this film has just about everything what draws me the most is the acting. Paul Newman who's best known as an American everyman with boy next door good looks does a brilliant job of twisting this into an arrogant portrait of greed and a desperate need to prove to everyone that you are the best *which when you are hustling pool is not a good idea..
George C Scott excels as the manipulative bastard who plays him.
However I have to say my favorite part of this film is Jackie Gleason as Minnesota Fats. I don't think I've ever seen Gleason in a serious role before (or perhaps a more accurate way to say it is "non comic" as many of Gleason's comic roles are very serious) but this is a magnificent minimalist performance with Gleason dominates every shot he is in with precise movement.
by wpmorse
on
April 29, 2015
at
8:36 am
A very happy birthday to Mr. Duke Ellington! let's celebrate listening to his incredible Money Jungle!
by wpmorse
on
April 22, 2015
at
8:45 am
In honor of the fifth season of Game of Thrones starting last week I decided to look back and look at some of the bad fantasy movies that inspired all of the fantasy authors to do better. Part of me almost feels guilty describing sword and sorcery movies like this after all I loved them when they first came out but then I was in my early teens and quickly grew to see them for the by the numbers D&D rip-offs they were.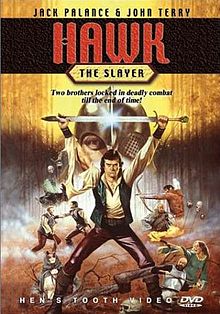 The first on my list, Hawk the Slayer, had been described to me by many of my fellow fantasy fans as a guilty pleasure and to a certain extent this is correct, with a special emphasis on the guilt. To be extremely blunt I've seen porn flicks with better production values.
It's the story of a prince seeking revenge against his extremely evil brother played completely over the top by Jack Palance. To do this he brings together a band of companions to accompany him that are right out of a D&D company: (Elven ranger, Dwarven Rogue, Giant fighter, you get the idea) most of the story involves them protecting an abbey who's mother superior has been captured for ransom by the brother. This boilerplate script pretty much depends on everyone being idiots (the nuns believe that Palance will uphold his side of the bargain despite all evidence to the contrary) But in the end I think it saves itself in the end by not taking itself too seriously and having fun doing it.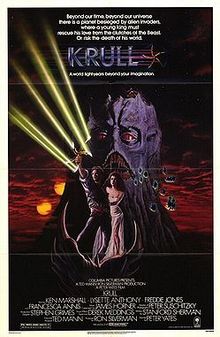 The second Film on my list, Krull, was one of those films I was utterly drooling over when I first saw the ads (I think it was because of the Cyclops and the glave, A really nasty looking throwing star on the poster) but I never actually got around to seeing.
While Krull certainly has much better production values then Hawk the Slayer it was still rather disappointing to watch with the expectations of my teenage self. It opens up pretending to be a science fiction film (or at least a planetary romance) with "the Black Fortress" the villain's fortress starting out as a space ship cruising towards Krull a planet "on the other side of the galaxy with two suns." But once we get past the opening it's just standard fare with the king of Krull (admittedly a mostly empty title as the villain whipped out his court) goes on a quest to rescue his bride who was captured at their wedding when the villain performed the afore mentioned massacre. After that it's pretty much checking off the list of the Hero's Journey with the king gathering his band of brothers (including early performances from Liam Neeson and Robbie Coltraine.) As they struggle to locate the Black Fortress which teleports to a new location every sunset (yes really) so they can siege it after that it's pretty much a quick fight between Good and Evil (considering the build up it seemed almost disappointing how easy it was to dispatch the beast with just the one throwing star.)
by wpmorse
on
April 21, 2015
at
9:11 am
This week's Rhapsody is Masao Ohki's Japanese Rhapsody (along with Ideas of Night)
So the second episode of Game of Thrones' fifth season conclusively proves what I was completely sure about watching the first episode. The HBO is officially it's own independent entity. While, as I said, I knew this week all of the visible changes were in what I would consider the big changes were pretty much just in holding patterns. In this episode all these people start making their moves and it's completely different from the blend of Feast For Crows and Dance With Dragons I was expecting.
So now we have three of our viewpoint characters, Brienne, Sansa and Jaime, whose stories have changed completely and two more Arya and Cersei's who's stories to have had notable alterations with possibly more to come. At the moment the only plot line that has remained mostly the same is Tyrion's with the only del change, at the moment is replacing the role of Illyrio Mopatis, who has not been seen since the first season, with Varys.
I have to say I'm mostly cool with this, even though it makes my favorite game of handicapping all of the changes made from the book pointless. It had to be done sooner than later considering how the show has been catching up with the books at a disturbing pace. Ultimately it's best to treat the adaptation as its own independent property rather than stalling for time while waiting for Winds of Winter to come out.
Though I have to say I'm glad my guess of replacing Ser Illyn Payne with Bronn as Jaime's sidekick turned out to be correct.
Well after hearing all of my friends either rave or snark about it all of yesterday I finally looked up the new Star Wars trailer and my reaction?
meh.
I guess the point of the first trailer was to show off all of the new stuff in the new era of the franchise, this one seems to exist to tell you that all the old stuff you loved is still here and central to the story and while the scope of the setting is ginormous, don't worry we're still going to focus on the same tiny little fraction of it that we have for the last forty years.
I must say these days my opinion of Star Wars is mixed at best while it blew me away as a kid these days my opinion about it has pretty much flatlined and think the less said about George Lucas the better… Having said that I still collect all of the art books.
The thing is as a huge Science fiction fan, my favorite sub genre is space operas (caveat: my personal definition of space opera is technically not accurate. I use it as a blanket term for any setting that involves galaxy spanning, FTL dependent, interstellar civilizations. ) and I want desperately to see much more of it on the screen both movies and television. Because of this it really annoys me that any chance of this happening is very much dependent on the health of two franchises I'm pretty much sick to death of.
So based on this all I can say is this thing better be better than mediocre.