on
April 17, 2015
at
12:20 am
And that ends this year's tax related fantasy.
Well after hearing all of my friends either rave or snark about it all of yesterday I finally looked up the new Star Wars trailer and my reaction?
meh.
I guess the point of the first trailer was to show off all of the new stuff in the new era of the franchise, this one seems to exist to tell you that all the old stuff you loved is still here and central to the story and while the scope of the setting is ginormous, don't worry we're still going to focus on the same tiny little fraction of it that we have for the last forty years.
I must say these days my opinion of Star Wars is mixed at best while it blew me away as a kid these days my opinion about it has pretty much flatlined and think the less said about George Lucas the better… Having said that I still collect all of the art books.
The thing is as a huge Science fiction fan, my favorite sub genre is space operas (caveat: my personal definition of space opera is technically not accurate. I use it as a blanket term for any setting that involves galaxy spanning, FTL dependent, interstellar civilizations. ) and I want desperately to see much more of it on the screen both movies and television. Because of this it really annoys me that any chance of this happening is very much dependent on the health of two franchises I'm pretty much sick to death of.
So based on this all I can say is this thing better be better than mediocre.
For this week's selection I went with films with the same character in this case Raymond Chandle'sr classic hard boiled detective Phillip Marlowe.
I confess I'd never read any of Chandler's books or seen any of the movies in fact much to my embarrassment, the most I ever learned about Marlowe was from a really weird conversation between two thugs in a Starman comic. Despite that I certainly knew of Phillip Marlowe. Chandler's popularity pretty much made Marlowe's name a synonym for the standard cliché hard boiled detective in popular culture.
Marlowe is interesting in that while he may be perceived as the cliche detective for the most part he's very atypical. He is far from perfect and half the time he's the villain's punching bag rather than an unstoppable force of nature. I just had to check him out.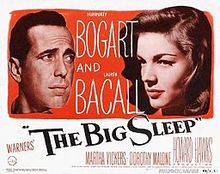 So anyway the first film I started with is certainly the best known, The Big Sleep starring Humphrey Bogart and Lauren Becall directed by Howard Hawks,. Marlowe is hired by an ailing millionaire to find out who is trying to blackmail his youngest daughter this leads to the search for a missing person and murder as well as getting mixed up with the older daughter played by Becall.
I'm embarrassed to say that when I started watching this film for the first half hour I was unimpressed, perhaps I'd been spoiled by Bogart's other films such as the Maltese Falcon and Casablanca, but as it went on it just kept getting better and better, with ton's of detail that makes it hard to take everything in on the first viewing but in a good way. On criticism I'd heard about the film was that Bogart was just playing himself as usual and not Marlowe. This was certainly not the case Bogart showed a remarkable amount of range that I had not expected. On top of this his chemistry with Becall was amazing. All in all Hawks certainly knocked this one out of the park and gave me yet another reson to put him on my list of American directors.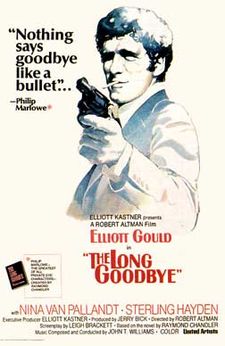 The next film on the list was The Long Goodbye by Robert Altman starring Elliott Gould. In this film Altman moves Marlowe into the present day (1973) with Marlowe doing a friend a favor driving him to Mexico an d takes the rest of the movie suffering the consequences as all of the friends enemies come after him in hope of tracking down the friend.
I'm not sure what I felt about this film. I'm normally a fan of Altman's films at his best he's fascinating at multiple levils at his worst his work can be like watching paint dry, and while this film was interesting I found it just a little lacking.
At times it almost felt like a parody of the genre. This isn't a 70's version of Marlowe it's the original 50s Marlowe existing in the 1970s and is completely out of place. Altman seems to be going out of his way to tear down everything about film noir and in the process, while Gould's performance is the best part of the movie, he doesn't feel like the real Marlowe.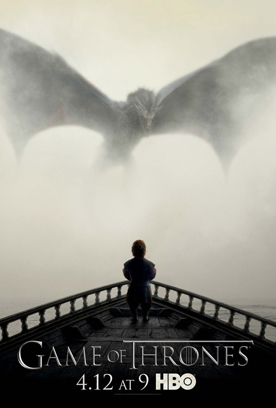 Well the first episode of season five of A Game of Thrones has finally arrived and so far I'm very pleased.
For the most part I've been avoiding most of the rumors about where they're going with the plot this season. But most of what I've been hearing is since the publication of the latest book, Winds of Winter was delayed for another year, this is the first season where they start to diverge from the book deliberately. Admittedly they've been doing this since season one but for the most part it was in the way that a television show has to make little changes whether they want to or not and these changes gradually snowballed into big changes. This is the first time when they are doing major alterations to the plot on purpose.
Along with these plot changes they are shuffling the events of Feast For Crows and Dance With the Dragons together (sensible since they take place at the same time but are divided by the location of viewpoint characters.)
There were other big changes but I think I'll wait until they happen in the show before I mention them. For the most part I don't have a problem with this. I've mostly been listening to the audio books. One of the side benefits of this is that Roy Dotrice's reading feel like a separate performance to me, complete with different actors, and because of this I've never had any trouble separating the book from the show. In fact I look forward to not knowing what happens.
Anyway like most of the season openers the plot spends most of the time showing us where everyone else is. Cersei and Jaimie are at the Sept of Baelor mourning the death of their father who had been killed by their brother Tyrion. Tyrion has just arrived in the city of Pentos in a box. Brienne and Poderick are wandering around the Aerie where unbeknownst to them one of their quarry Sansa is under the "protection" of Littlefinger. Meanwhile in the north Jon Snow and the rest of the Night's Watch are recovering from the attack on the Wall by the Wildings and banging heads with King Stannis Baratheon who is camping his court and army at Castle Black.
Already we start with big changes from the previous season. Both Brienne and Sansa's plots have been changed completely the rest are be more subtle. Loras Tyrell is not part of the King's Guard, since he is the only Tyrell heir (in the book he's the youngest of three sons so can afford to give himself over to the crown in his mourning for his lover Renly Baratheon) King Tommen Baratheon is about twice as old as he is in the book which means while he'll certainly be easily pushed around by Cersei he wont be passing death warrants just because he likes to sign his name on any bit of paper put in front of him. Robin Arryn is being fostered out so he is no longer a pawn for Littlefinger to femove at his leisure…. The list goes one.
And now that we see where the pieces are placed in this year's game of thrones let us see who will make the next move.
This is going to be fun!
by wpmorse
on
April 8, 2015
at
8:57 am
I'm not sure this was one of my better ideas for a selection theme but I did it anyhow.
As a fan of Quentin Tarantino's early work (haven't seen more than a half hour of both Kill Bills, haven't seen Inglorious Bastards or Django Unchained) I had long known that Tarantino would frequently put in snippets of dialogue from his favorite obscure B films. I decided to investigate this and watch some of the films that were given tribute throughout Pulp Fiction.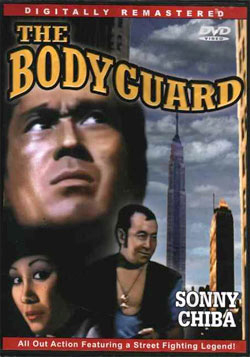 The first film on the list was the source of Samuel Jackson's famous misquoting of Ezekiel 25:17; "The Bodyguard" (also known as Chiba the Bodyguard or in the original Japanese cut, Karate Chiba) Sonny Chiba plays… well… Sonny Chiba, a master martial artist, declares a one-man war on the drug trade by hiring himself out as a bodyguard to anyone who is willing to confront the mob. A mysterious woman who claims to have information to use against the mob and that's where the action begins hires him and that's where the action begins.
For all I know this movie was okay in the original Japanese cut of it but the American version I watched was painfully bad. Lousy writing, no acting, gratuitous nudity and violence (even by the standards of a seventies action and the fakest fake blood I ever did see (I swear it was almost crimson) On top of that for all his being bad ass Chiba was a pretty lousy bodyguard. Most of the times he had to rescue people from harm it was because they had let them get through in the first place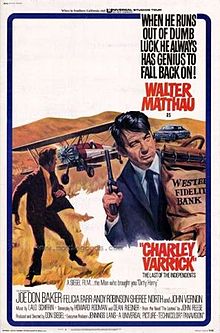 The second film the source of the "blowtorch and needle nose pliers quote Charley Varrick was much better. A tense crime thriller, it is the story of a small time bank robber played by  Walter Matthau who robs a mob bank by mistake and what happens afterwards. I think this is the first time I've ever seen Matthau in a serious role and he plays Charley as a cold intelligent professional willing to do what it takes to escape both from the police and the mob. We watch him go conduct his plan and at first we think he's stupid (especially when several people drop a dime on him) but as the movie we realize he's just setting bait for the final trap.
I spent most of the weekend hanging behind the Washington state convention center sketching cosplayer's at Sakura-Con. I don't think I was quite in my zone as when I did it in years past but it did yield a few good things.
└ Tags:
Cosplay
,
Doctor Doom
,
La Muerte
,
Loki
,
Pearl
,
Pokemon
,
Sakura-Con
,
Sketches
,
Steven Universe
,
The Book of Life
,
Umbria
I had a very bad April Fools day with two "pranks" pulled on me. One involving a cop explaining to me in no uncertain terms that stop signs exist before six 0'clock even when there are no cars on the road (not counting the police cruiser directly behind you) The other was someone deciding to take my bike seat when I was making my Wednesday film selection at Scarecrow. The problem was in neither of these situations ended with anyone saying "April Fools"
Anyway this left me tetchy and paranoid that big brother was watching me for the next 48 hours and also figuring I should not assume once was a fluke if I want to be perceived as a good citizen I would have to rethink my morning workout even if it meant kissing any chance of repeating my best time of 32.5 minutes good bye.
So the current plan is to bike to Green Lake at a fast but orderly pace, obeying all traffic rules and then do my real workout of two laps around Green Lake (which only has two traffic lights but nothing like the ones that always stop me) and then go back to my apartment in a fast but legal pace.
It went okay the not worrying about any of the lights on the way was certainly less stressful and I did the six and a half miles around Green lake in twenty three minutes and fifty six seconds (I let myself get stopped by one of the lights and I haven't topped off my tires in the last two weeks so there's much room for room for improvements) RunKeeper said this was a new record (though part of this was because it was doing a different category of activity and part of it was that it was the first activity of the month)
All in all the only problem I had was mentally the workout felt over after the two laps and my trip home was a little too orderly rather than my usual attempt to get home from Green Lake in five minutes) perhaps I'll start doing three laps around Green Lake to compensate for this… but then we start getting into issues like time and masochism.