on
April 24, 2015
at
12:44 am
by wpmorse
on
April 22, 2015
at
8:45 am
In honor of the fifth season of Game of Thrones starting last week I decided to look back and look at some of the bad fantasy movies that inspired all of the fantasy authors to do better. Part of me almost feels guilty describing sword and sorcery movies like this after all I loved them when they first came out but then I was in my early teens and quickly grew to see them for the by the numbers D&D rip-offs they were.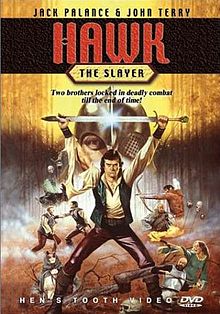 The first on my list, Hawk the Slayer, had been described to me by many of my fellow fantasy fans as a guilty pleasure and to a certain extent this is correct, with a special emphasis on the guilt. To be extremely blunt I've seen porn flicks with better production values.
It's the story of a prince seeking revenge against his extremely evil brother played completely over the top by Jack Palance. To do this he brings together a band of companions to accompany him that are right out of a D&D company: (Elven ranger, Dwarven Rogue, Giant fighter, you get the idea) most of the story involves them protecting an abbey who's mother superior has been captured for ransom by the brother. This boilerplate script pretty much depends on everyone being idiots (the nuns believe that Palance will uphold his side of the bargain despite all evidence to the contrary) But in the end I think it saves itself in the end by not taking itself too seriously and having fun doing it.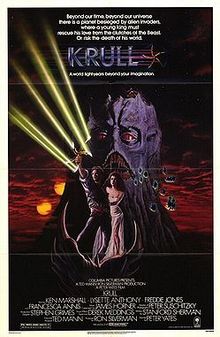 The second Film on my list, Krull, was one of those films I was utterly drooling over when I first saw the ads (I think it was because of the Cyclops and the glave, A really nasty looking throwing star on the poster) but I never actually got around to seeing.
While Krull certainly has much better production values then Hawk the Slayer it was still rather disappointing to watch with the expectations of my teenage self. It opens up pretending to be a science fiction film (or at least a planetary romance) with "the Black Fortress" the villain's fortress starting out as a space ship cruising towards Krull a planet "on the other side of the galaxy with two suns." But once we get past the opening it's just standard fare with the king of Krull (admittedly a mostly empty title as the villain whipped out his court) goes on a quest to rescue his bride who was captured at their wedding when the villain performed the afore mentioned massacre. After that it's pretty much checking off the list of the Hero's Journey with the king gathering his band of brothers (including early performances from Liam Neeson and Robbie Coltraine.) As they struggle to locate the Black Fortress which teleports to a new location every sunset (yes really) so they can siege it after that it's pretty much a quick fight between Good and Evil (considering the build up it seemed almost disappointing how easy it was to dispatch the beast with just the one throwing star.)
by wpmorse
on
April 21, 2015
at
9:11 am
This week's Rhapsody is Masao Ohki's Japanese Rhapsody (along with Ideas of Night)
So the second episode of Game of Thrones' fifth season conclusively proves what I was completely sure about watching the first episode. The HBO is officially it's own independent entity. While, as I said, I knew this week all of the visible changes were in what I would consider the big changes were pretty much just in holding patterns. In this episode all these people start making their moves and it's completely different from the blend of Feast For Crows and Dance With Dragons I was expecting.
So now we have three of our viewpoint characters, Brienne, Sansa and Jaime, whose stories have changed completely and two more Arya and Cersei's who's stories to have had notable alterations with possibly more to come. At the moment the only plot line that has remained mostly the same is Tyrion's with the only del change, at the moment is replacing the role of Illyrio Mopatis, who has not been seen since the first season, with Varys.
I have to say I'm mostly cool with this, even though it makes my favorite game of handicapping all of the changes made from the book pointless. It had to be done sooner than later considering how the show has been catching up with the books at a disturbing pace. Ultimately it's best to treat the adaptation as its own independent property rather than stalling for time while waiting for Winds of Winter to come out.
Though I have to say I'm glad my guess of replacing Ser Illyn Payne with Bronn as Jaime's sidekick turned out to be correct.
Well after hearing all of my friends either rave or snark about it all of yesterday I finally looked up the new Star Wars trailer and my reaction?
meh.
I guess the point of the first trailer was to show off all of the new stuff in the new era of the franchise, this one seems to exist to tell you that all the old stuff you loved is still here and central to the story and while the scope of the setting is ginormous, don't worry we're still going to focus on the same tiny little fraction of it that we have for the last forty years.
I must say these days my opinion of Star Wars is mixed at best while it blew me away as a kid these days my opinion about it has pretty much flatlined and think the less said about George Lucas the better… Having said that I still collect all of the art books.
The thing is as a huge Science fiction fan, my favorite sub genre is space operas (caveat: my personal definition of space opera is technically not accurate. I use it as a blanket term for any setting that involves galaxy spanning, FTL dependent, interstellar civilizations. ) and I want desperately to see much more of it on the screen both movies and television. Because of this it really annoys me that any chance of this happening is very much dependent on the health of two franchises I'm pretty much sick to death of.
So based on this all I can say is this thing better be better than mediocre.
For this week's selection I went with films with the same character in this case Raymond Chandle'sr classic hard boiled detective Phillip Marlowe.
I confess I'd never read any of Chandler's books or seen any of the movies in fact much to my embarrassment, the most I ever learned about Marlowe was from a really weird conversation between two thugs in a Starman comic. Despite that I certainly knew of Phillip Marlowe. Chandler's popularity pretty much made Marlowe's name a synonym for the standard cliché hard boiled detective in popular culture.
Marlowe is interesting in that while he may be perceived as the cliche detective for the most part he's very atypical. He is far from perfect and half the time he's the villain's punching bag rather than an unstoppable force of nature. I just had to check him out.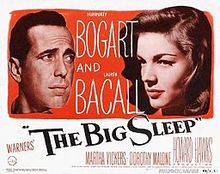 So anyway the first film I started with is certainly the best known, The Big Sleep starring Humphrey Bogart and Lauren Becall directed by Howard Hawks,. Marlowe is hired by an ailing millionaire to find out who is trying to blackmail his youngest daughter this leads to the search for a missing person and murder as well as getting mixed up with the older daughter played by Becall.
I'm embarrassed to say that when I started watching this film for the first half hour I was unimpressed, perhaps I'd been spoiled by Bogart's other films such as the Maltese Falcon and Casablanca, but as it went on it just kept getting better and better, with ton's of detail that makes it hard to take everything in on the first viewing but in a good way. On criticism I'd heard about the film was that Bogart was just playing himself as usual and not Marlowe. This was certainly not the case Bogart showed a remarkable amount of range that I had not expected. On top of this his chemistry with Becall was amazing. All in all Hawks certainly knocked this one out of the park and gave me yet another reson to put him on my list of American directors.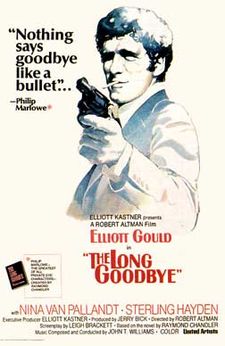 The next film on the list was The Long Goodbye by Robert Altman starring Elliott Gould. In this film Altman moves Marlowe into the present day (1973) with Marlowe doing a friend a favor driving him to Mexico an d takes the rest of the movie suffering the consequences as all of the friends enemies come after him in hope of tracking down the friend.
I'm not sure what I felt about this film. I'm normally a fan of Altman's films at his best he's fascinating at multiple levils at his worst his work can be like watching paint dry, and while this film was interesting I found it just a little lacking.
At times it almost felt like a parody of the genre. This isn't a 70's version of Marlowe it's the original 50s Marlowe existing in the 1970s and is completely out of place. Altman seems to be going out of his way to tear down everything about film noir and in the process, while Gould's performance is the best part of the movie, he doesn't feel like the real Marlowe.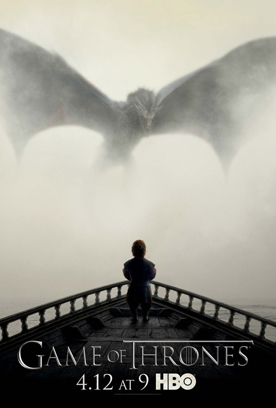 Well the first episode of season five of A Game of Thrones has finally arrived and so far I'm very pleased.
For the most part I've been avoiding most of the rumors about where they're going with the plot this season. But most of what I've been hearing is since the publication of the latest book, Winds of Winter was delayed for another year, this is the first season where they start to diverge from the book deliberately. Admittedly they've been doing this since season one but for the most part it was in the way that a television show has to make little changes whether they want to or not and these changes gradually snowballed into big changes. This is the first time when they are doing major alterations to the plot on purpose.
Along with these plot changes they are shuffling the events of Feast For Crows and Dance With the Dragons together (sensible since they take place at the same time but are divided by the location of viewpoint characters.)
There were other big changes but I think I'll wait until they happen in the show before I mention them. For the most part I don't have a problem with this. I've mostly been listening to the audio books. One of the side benefits of this is that Roy Dotrice's reading feel like a separate performance to me, complete with different actors, and because of this I've never had any trouble separating the book from the show. In fact I look forward to not knowing what happens.
Anyway like most of the season openers the plot spends most of the time showing us where everyone else is. Cersei and Jaimie are at the Sept of Baelor mourning the death of their father who had been killed by their brother Tyrion. Tyrion has just arrived in the city of Pentos in a box. Brienne and Poderick are wandering around the Aerie where unbeknownst to them one of their quarry Sansa is under the "protection" of Littlefinger. Meanwhile in the north Jon Snow and the rest of the Night's Watch are recovering from the attack on the Wall by the Wildings and banging heads with King Stannis Baratheon who is camping his court and army at Castle Black.
Already we start with big changes from the previous season. Both Brienne and Sansa's plots have been changed completely the rest are be more subtle. Loras Tyrell is not part of the King's Guard, since he is the only Tyrell heir (in the book he's the youngest of three sons so can afford to give himself over to the crown in his mourning for his lover Renly Baratheon) King Tommen Baratheon is about twice as old as he is in the book which means while he'll certainly be easily pushed around by Cersei he wont be passing death warrants just because he likes to sign his name on any bit of paper put in front of him. Robin Arryn is being fostered out so he is no longer a pawn for Littlefinger to femove at his leisure…. The list goes one.
And now that we see where the pieces are placed in this year's game of thrones let us see who will make the next move.
This is going to be fun!