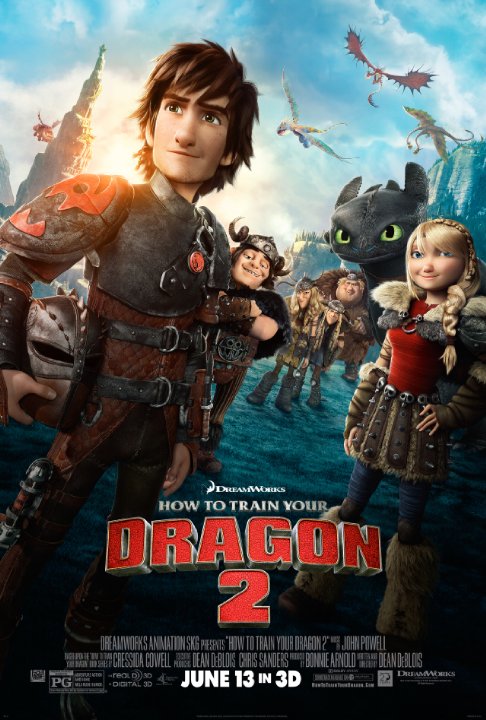 For numerous reasons ( the biggest one being reason being expense) I've been very selective about what films I see in the theaters lately and for the most part I have't even seen the need anymore. Because I'm more than happy to wait for a film to come out on video for the most part by the time I have an opinion about any film most people have seen them already.
So anyway what I'm saying is that I'll probably reviewing films months after they first came out and well past their sell by date..
Anyway… I'd put off seeing How to Train Your Dragon  mainly because the first film's director Chris Sanders, of whom I am a huge fan, not directing the sequil. Later on I heard "It was good but flawed" so eventually I decided to break down and see for myself. Somehow I had missed most of the spoilers… I'd heard that the teenage cast of the first movie had aged to near adults and It was hard to miss one of the main spoilers in the marketing but I'd missed the BIG spoiler so there was nothing that affected the sense of drama for me.
So anyway I'd say that I mostly agree with the good but flawed assessment. Make no mistake this movie was gorgeous but it lacked a lot of the quiet beauty that the first movie had. I think  this is mostly a quantity vs quality thing. But in this case less is by no means bad it just means I have a longer list of nitpicks.
The biggest problem I think I have is that I get very tired of idealism being the same as naivity. Perhaps because  one of the main theme of the last movie was new learning vs hide bound traditionalism. Hiccup, the protagonist, seems to believe that people can be eventually be convinced to learn what is right. This gives him quite a blind spot for Drago Bludvist, the film's villain, assuming that when his traditionalist father says that Drago is a madman he assumes he can explain things to him as opposed to Drago actually being an actual madman. But other than this and a bit of preachiness near the end I enjoyed this technically beautiful film.
I haven't been doing that many of these lately… Chalk it up to not having much good material… Mia culpa.
Anyway there's a funny story with this one. As I may have mentioned in the past I have a drinking group I do on Tuesday nights. It's mostly a bunch of policy wonks talking politics and when I don't have anything to participate to the conversation, which regrettably is often, I just listen and draw.
Last night was one of those nights and so I'd finished one page and was halfway though a picture of the mermaid figurine on one of the Bar's wall when one of our regulars came and asked me if I was drawing him despite he could clearly tell what was the mermaid.
Now let we tell you about they guy. He's a rather entertaining eccentric democratic operative (the kind that goes to film the other guys' meetings and promptly gets thrown out.) He can go on about his experience at WAZZU and how Cougs are better than Huskies (an ongoing argument that always makes me glad I didn't go to school in Washington) how he goes out of his way to be off the grid (this has something to do with only ever having cash which he will never put in the bank) and whatever story that has caught his fancy that night… big fun.
I tell him that of course I've drawn him and show him this picture. The way he changed gears from amused trickster gadfly to amazed and amused was priceless. For the next ten minutes it was "You got to see this! He's got me talking shit!"
Good times.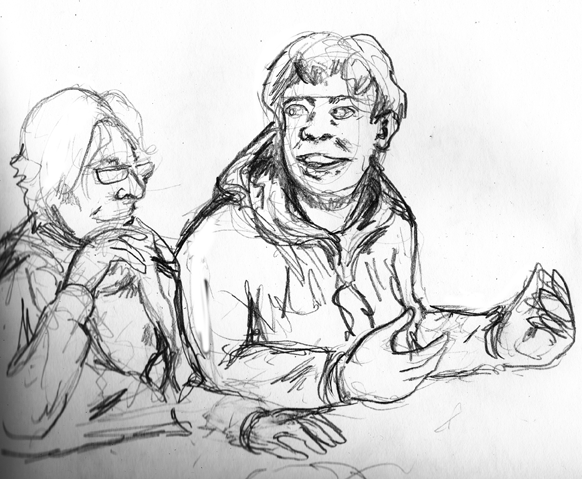 Because I felt I still needed time to clease my pallete after watching Holy Mountain last week, this week I went with AustralianComedies.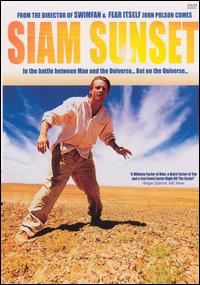 The first , Siam Sunset oppens with the most blatant examples of women in the refrigerator I've ever seen as one falls from a plane killing the protagonists wife in the first five minutes. His mourning is complicated by suddenly becoming the victim of a series of coincidences which includes recurring freak accidents and winning a all expense paid tour of the Australian outback. Which he takes as a leave from his job in a paint factory, where he is the principal paint chemist, to heal and find the perfect shade of orange, Siam Sunset.
When he arrives he finds the tour is packed with eccentrics as well as a mysterious woman who has run off with her mobster ex boyfriend's cash. All this leads to a series of misadventures across the outback which ends with them stranded in the middle of nowhere… what could possibly happen next?
I mostly liked this film it's biggest problem was it seemed to go back and fourth between being a romantic comedy and an ensemble piece and really couldn't decide which it would be. Also the ex boyfriend seemed to be a reject from a crime drama and every time he was arround things stopped being funny and not in a good way.
Th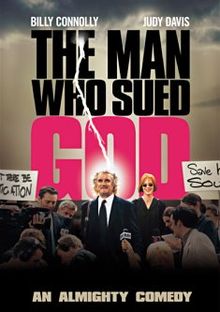 e next my film I picked for two reason's. First, the name, The Man Who Sued God, and second it starred Billy Connolly. Connolley plays an ex lawyer who having burnt out on the profession became a fisherman. When his boat is destroyed by a bolt of lightening he discovers that the Insurance companies won't pay his claim due to an Act of God. In a reaction he decides to sue God for dammages. What leads is a marvelous satire about religion, media, business and the legal fiction of "An act of God in general." All in all I mostly liked it. but once again if felt like I was watching two comedies shuffled together. One is a broad farce where Billy Connoly is allowed to clown around in all his glory and the other a much dryer satire where among other things the clergy considers the nonexistence of god as part of it's legal defense. Ultimately my biggest nit-pic is in what is otherwise a film that I would gladly put on my skeptic's viewing night list we keep being shown signs of "god's displeasure" as things go on. Happily nobody in the film seems to notice.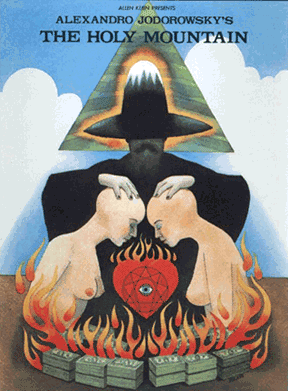 v So… the only thing this weeks films have in common is that they weird. Or to put it more accurately one is weird and the other is Alejandro Jodorowsky' "The Holy Mountain" a movie that asks the question "what is this guy on? (answer LSD…no, really.) Most of my knowledge of Jodrowsky's comes from his comic work so a lot of the imagery didn't surprise me… (though the reenactment of the conquest of Mexico as performed by toads and horned lizards was a bit of a shock)
 It's funny. Even with everyone I know warned me about this movie whenever I told them this was on my review list, and seeing the trailer this film was still a surprise. It certainly is "interesting" to watch though I would suggest that the best way to get through it is to treat it like an extended dream sequence and enjoy the pretty and strange, pictures.