on
July 24, 2014
at
12:00 am
Åke helped Kris inflict ten boxes of advance copies on Kate here.
Because I felt I still needed time to clease my pallete after watching Holy Mountain last week, this week I went with AustralianComedies.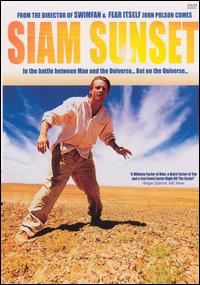 The first , Siam Sunset oppens with the most blatant examples of women in the refrigerator I've ever seen as one falls from a plane killing the protagonists wife in the first five minutes. His mourning is complicated by suddenly becoming the victim of a series of coincidences which includes recurring freak accidents and winning a all expense paid tour of the Australian outback. Which he takes as a leave from his job in a paint factory, where he is the principal paint chemist, to heal and find the perfect shade of orange, Siam Sunset.
When he arrives he finds the tour is packed with eccentrics as well as a mysterious woman who has run off with her mobster ex boyfriend's cash. All this leads to a series of misadventures across the outback which ends with them stranded in the middle of nowhere… what could possibly happen next?
I mostly liked this film it's biggest problem was it seemed to go back and fourth between being a romantic comedy and an ensemble piece and really couldn't decide which it would be. Also the ex boyfriend seemed to be a reject from a crime drama and every time he was arround things stopped being funny and not in a good way.
Th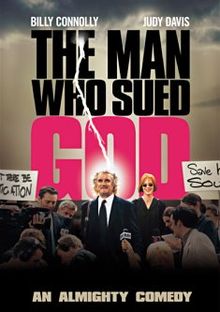 e next my film I picked for two reason's. First, the name, The Man Who Sued God, and second it starred Billy Connolly. Connolley plays an ex lawyer who having burnt out on the profession became a fisherman. When his boat is destroyed by a bolt of lightening he discovers that the Insurance companies won't pay his claim due to an Act of God. In a reaction he decides to sue God for dammages. What leads is a marvelous satire about religion, media, business and the legal fiction of "An act of God in general." All in all I mostly liked it. but once again if felt like I was watching two comedies shuffled together. One is a broad farce where Billy Connoly is allowed to clown around in all his glory and the other a much dryer satire where among other things the clergy considers the nonexistence of god as part of it's legal defense. Ultimately my biggest nit-pic is in what is otherwise a film that I would gladly put on my skeptic's viewing night list we keep being shown signs of "god's displeasure" as things go on. Happily nobody in the film seems to notice.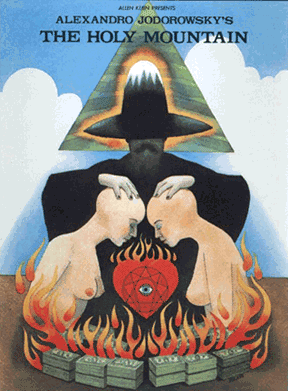 v So… the only thing this weeks films have in common is that they weird. Or to put it more accurately one is weird and the other is Alejandro Jodorowsky' "The Holy Mountain" a movie that asks the question "what is this guy on? (answer LSD…no, really.) Most of my knowledge of Jodrowsky's comes from his comic work so a lot of the imagery didn't surprise me… (though the reenactment of the conquest of Mexico as performed by toads and horned lizards was a bit of a shock)
 It's funny. Even with everyone I know warned me about this movie whenever I told them this was on my review list, and seeing the trailer this film was still a surprise. It certainly is "interesting" to watch though I would suggest that the best way to get through it is to treat it like an extended dream sequence and enjoy the pretty and strange, pictures.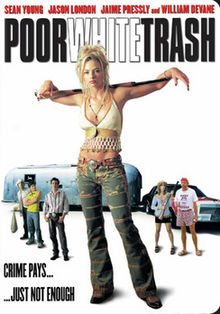 Well for this week I was pointed towards a film, the friend who recommended it to me described as " a caper for idiots. This is a very good description of Poor White Trash. The film features the kind of trash that trash calls trash (as shown in the first five minutes) and gets crazier from there. Pretty much the plot involves people getting into trouble from their own impulsiveness and stupidity than spending the rest of the film trying to get out of these predicaments. At the same time they seem to have no ability to stay out of trouble while solving the first problem and the plot snowballs from there into a story of betrayal, seduction and incompetence.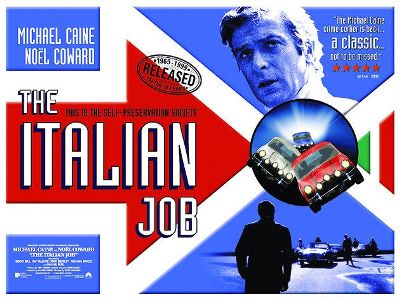 For my second selection I decided to find another humorous caper film and I sort of found one, though I'm not sure if the creators meant it on purpose. I'd first heard about the Italian Job when I'd read a review panning the remake. Based on that review while I have no intent of watching newer version the original is a whole lot of fun. It opens with death and littering (cars getting smashed in the Italian alps appears to be a bit of a theme throughout the film) and then continues as a fun rollercoaster ride throughout. Micheal Caine plays career criminal Charlie Croker fresh out of prison who's inherited the plan to steal 4 million in gold bullion in Italy. To do this he needs the support of crimelord Mr. Bridger (Noël Coward) currently imprisoned but runs the jail as his personal fief as well as a hand picked crew of "experts" Should go just fine as long as the Mafia doesn't kill them first.
All in all, The Italian Job was a whole lot of fun with one of the best car chases on film. As I said, if I had any problem with it was I never sure whether I should be taking this seriously or not. The competence of the crew seemed to go back and fourth as the plot demanded and the demands didn't seem particularly consistent. However once the heist began I was having too much fun to complain.