on
August 20, 2014
at
12:00 am
This Week's selection is the American Rhapsody for Violin and Orchestra by Kenneth Fuchs
Enjoy
Today's sketch I did last night at the Seattle Asian Art Museum's free thursday to break in my new sketchbook. I don't know what it is about the first page in a sketchbook perhaps it's just a supersticion unique to artists (I've asked around, i'm not the only one who has this hangup) but even if I intended to do nothing but kindergarten level scribbles the first sketch in the book has to be good and special. Hell I've let new sketchbooks for weeks before I've finally gotten the muse to grace me with just the right idea for an image.
But fortunatly a little bit of life drawings circumvent that hangup… providing you have good material.
So today's sketch is a return to Shiva and Parvati from Khajuraho done in the 11th century in sandstone. Yes I know I've done this one before… but this time it's a slightly different angle.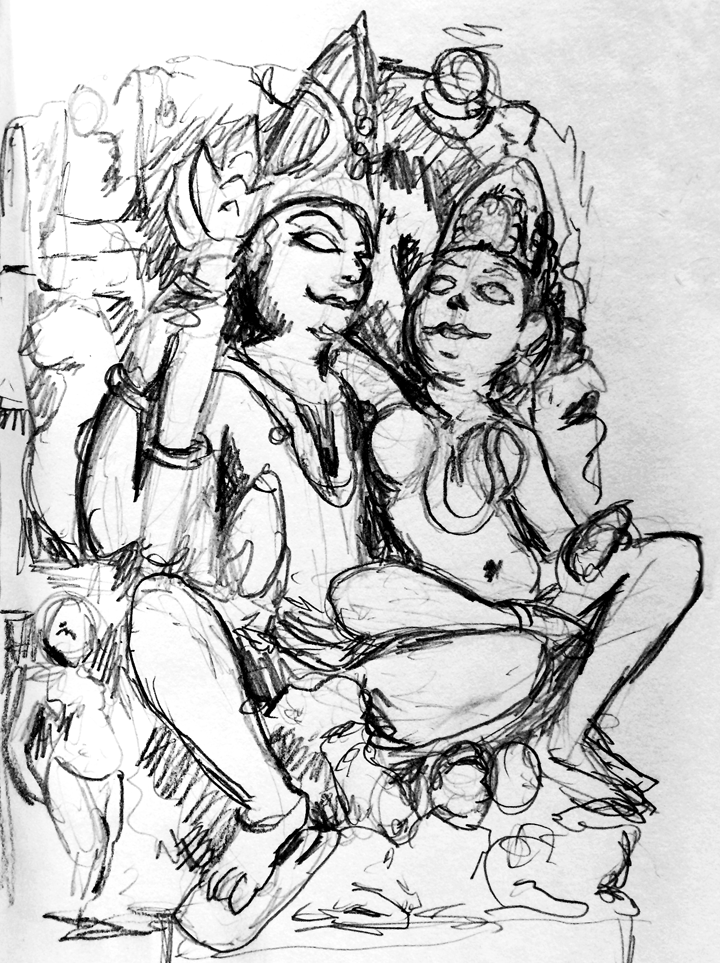 Last week I treated myself to another viewing of Akira Kurosawa's  Throne of Blood so I decided for this week's theme would be interesting Shakespeare adaptations. Following Kurosawa' example I figured I'd just go with Macbeth and Lear.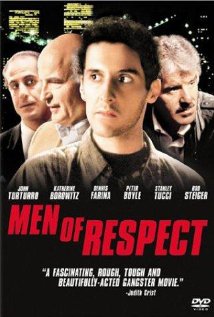 Our first film, Men of Respect transplants into the world of the Mafia with John Turturro as Mike Battaglia a Mafia soldier who kills his way to the top after getting his fortune told while he's hiding from his enemies. I enjoyed this on quite a bit and I think they did a very good mob of translating Shakespeare's story into the modern world including the supernatural elements which would have run the risk of turning the story into a straight out fantasy.
I especially liked Katherine Borowitz in the Lady Macbeth role. For me there has to be a certain level of power and assertiveness behind the role to get it right and if Macbeth is merely henpecked it just doesn't work. As Ruth Battaglia, Borowitz gets it just right as her husbands partner and adviser who will not take no for an answer. Even better they took the "Out damn spot" bit a lot farther than the play does and along with the sleepwalking scene we see her gradually disintigrating throughout the third act, pathologically washing and scrubbing everything.
All in all I enjoyed this as a nice crime drama with some good casting including a fun cameo of Steve Wright as the doorman.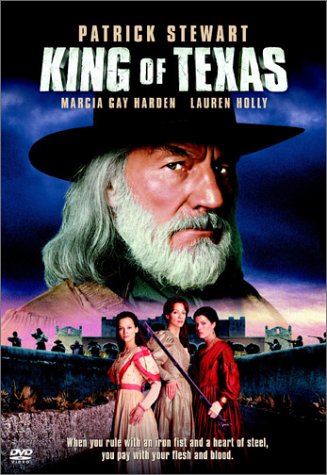 The next on my list, King of Texas,  transplants King Lear to the Republic of Texas right before it's annexation with  Patrick Stewart playing the Lear character.
What I liked about it though was a nice tweaking of the Gloucester subplot doing a nice little bait and switch with Edgar and Edmund making Edmund the clean cut outwardly dutiful son making us fall for his deception along with Gloucester. The other part I liked was David Allen Grier as Rip. At first glance Rip appears to be this film version of the Fool but as you look a little more closely it obvious that he is more of a mix of the Fool and Kent, who is noticibly missing in this production.
All in all this production took as much from Kurosawa's Ran as it did from Lear in that it's theme's dealt with how you eventually have to face the consequences of everything you did to get to your position of power as opposed to merely being about the consequences of pride.
https://www.youtube.com/watch?v=HalJbU1Tb6k
https://www.youtube.com/watch?v=fDIZ9CjZGAE
For this week's Rhapsody we return to Sir Charles Villers Stanford with the third of his Irish Rhapsodies this one for Cello and Orchestra.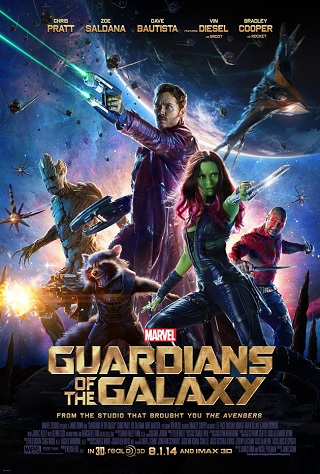 Before I start this review I have to give a very special thanks to the complete strangers who gave me their surplus ticket to this film. Random acts of kindness like that must never be ignored or go unappreciated.
I've been looking forward to this one for a long time. I was a fan of the comic book Guardians for some time (both versions) and a long time fan of science fiction. Growing up any superhero in space comic be it the Guardians of the Galaxy, Legion of Superheroes, Dreadstar or even the Wanderers was always I was almost guaranteed to pick up at the comic book store.. So the fact that this was going to be Marvel Studio's next film was something I was very excited about. (plus it was going to have a Raccoon with a machine gun. What more can you ask for?)
While the space operas is generally my favorite sub genre of science fiction I tend to be very picky about it. In fact my personal definition of science fiction is not what the actual definition is. My definition involves interstellar settings with the only fantastic element being faster than light travel. For other types I will use terms like "science fantasy" for stuff like Star Wars and then "space fantasy" for what most of the "science fiction" super heroes consist of is what I call space fantasy that is to say the heroes are for all practical purposes "wizards in space" and you need to have the scenes with the space ships so you are reminded that it's science fiction and not high fantasy.
Guardians is about as realistic as Star Wars (other than a mining colony built on a giant floating head and the number of times our heroes survived in a vacuum. For that matter if Xandar (the planet of the Nova Corp) is an interstellar empire, as having their main prison in deep space would suggest, why did they even let the bad guys into the solar system let alone into their capital planet's atmosphere as they did in the grand finale and….)
Ahem.
But anyway despite all of that nit picking I don't go to superhero films expecting high art… for films like these it's best to look at them like… Chocolate cake tasty and filling but not much else to it.., but boy is that chocolate tasty!!
That being said Guardians of the galaxy is fun a roller coaster of action as our band of lovable rogues go up against the forces of evil. Pretty much goes through all of the points of the Hero's Journey, thought unlike other superhero films I can name I don't have images of the director having a copy of Campbell with a whole lot of bookmarks and highlights in it.
It certainly suffers from a lot of the problems of most of the first movie in a franchise in that its primarily about introducing the cast and telling us how they all met and got the band together. The actual plot and threat that they have to fight is almost a distraction. If you want a more gripping and encompassing story you have to wait for the sequel. But that's neither here nor there. There is lots of things for our heroes to do, characters, especially Rocket and Drax played wonderfully own this and the world building is wonderful with lot's of subtle continuity references that will keep the diehard Marvel fan entertained for hours.
If I had any problems with the film it's how my chronic nitpicking messes with my suspension of disbelief quite a bit. For the most part I'm good everything is fine and enjoyable but it's the little things. For example… I'm fine with aliens speaking english. For us to follow a movie that takes place lightyears away from Earth certain translation conventions must be embraced… aliens using American colloquialisms however… for some reason that is something I have a problem with. Also while Rocket for the most part is a triumph in CGI half the time moves like they were doing motion capture on a muppet so while well animated did not move around quite as well as he could.
So even though there seems to be more complaints then raves here don't be fooled, I loved the hell out of this movie. For anyone who might be having second thoughts about going just remember thee small words:
Raccoon With Machine Gun.