Today's submission is another one where I'm not sure if it's an actual rhapsody but it has rhapsody in the title and lyrics and I was in a hurry. Nonetheless it grows on you quite quickly which is enough to recommend it.
So sit down and enjoy Mr. Mike 's Rhapsody
Well I had a very nice conversation from my Mom who has just got back from their trip to Burma. We kept it relatively short as she's still a bit punchy from jet lag not to mention hast to get the place ready for my cousin and his family coming over for Thanksgiving.
My folks have been going on these nature tours for years, and even though I know they'll be fine, and have fun, but every time they go and are incommunicado for a couple of weeks  I let my imagination get the better of me and I'll be coming up with neurotic worst case scenarios until they get back.  Things like thinking about all of the things that could go wrong hunting in the jungle and not to mention all of the concerns regarding all of ongoing internal conflicts in Burma (though I was sure the tourist group would keep them away from any hot spots.)  The worst for me that gave me a nice little anxiety attack was the news of Typhoon Haiyan. That took me a little while to talk myself down and explain to myself that the Philippines are some distance from Burma and worrying about it was the equivalent of me worrying about them at home when a Hurricane was hitting Florida.
Anyway I'm happy to have them back and I can't wait to see their pictures.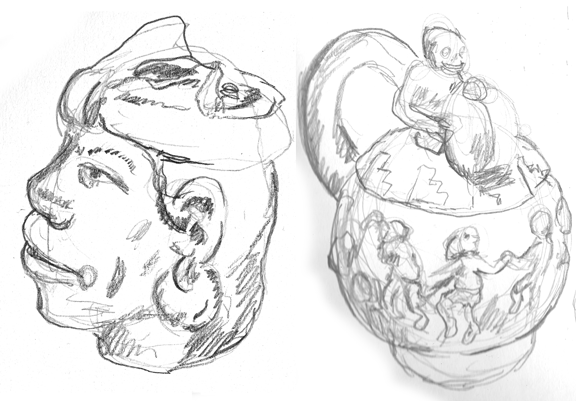 As mentioned in a previous post I took another trip to the Seattle Art Museum's Peru exhibit and was very productive time.
So today's sketch is of a pair of Moche painted  stirrup vases from between 100 and 800 AD.
Today's Rhapsody is the second Ukrainian Rhapsody AKA "Dumka-shumka" by Mykola Lysenko (1877) Performed by Rada Lysenko.
Well I had a bit of a bad ending for my weekend. I'd had a fairly nice afternoon drawing at the Seattle Art Museum and browsing at the central branch of the library and I was trying to head home while I still had the light. I usually get out of downtown by going down Westlake which I follow all the way to Fremont than turn on the Burke-Gilman trail turn again at 25th and then down into Lake City Way. This is actually not the fastest way to get home but it has the traffic free Burke-Gilman and only one big hill and at the end of a long day I will take flat over short all the time.
The one problem with Westlake is the South Lake Union Transit (they don't use the abbreviation if they can help it.) It's a bit of an obstacle when you are behind it and even worse when it's behind you… and it's tracks are just the right size to fit a bicycle wheel.
I've had close calls with it before and as I slid into it I knew this wasn't going to be one of them. When this happens you have no choice but to put your arms in front of your face and pray.
I don't want to sound masochistic or in anyway suggest that I'm an aficionado of falling off my bike but it was a smooth landing. The only really painful part about it was that my leg was inside the bike frame when it… bounced otherwise it was one you could walk away from. I want to thank all the Good Samaritans who rushed to check. It's times like this that make you a little less cynical about the world.
I was able to get the rest of the way home other than one shin feeling wet I felt okay. Happily when I got home to tend the wounds I found it was just sweat and not what I thought it was… The other leg however was a mess with a huge egg where it had hit the frame. I didn't have any ice in the freezer so I used the steak I was planning to thaw for dinner anyway. (Don't worry it was still in the ziplock) That worked like a charm and the swelling went down pretty quickly. Later I noticed one of my ribs was sore.
All in all a lot better than it could have been.