A very happy 89th Birthday to Mr. Miles Davis. Let us celebrate with the "Birth of the Cool"
It's funny… By what I've come to expect from Miles this feels almost "tame". Still is good to listen to though.
Have a very happy Memorial Day and please remember what it's all about.
Well the first day of Folklife was short. Partially because I was keeping office hours and because of how early Memorial Day is this year. So anyway I got there Sixish and despite of the late start I had a good start surveying the craft booths, listening to some great bands including Joseph Miller & The Bridge City Crooners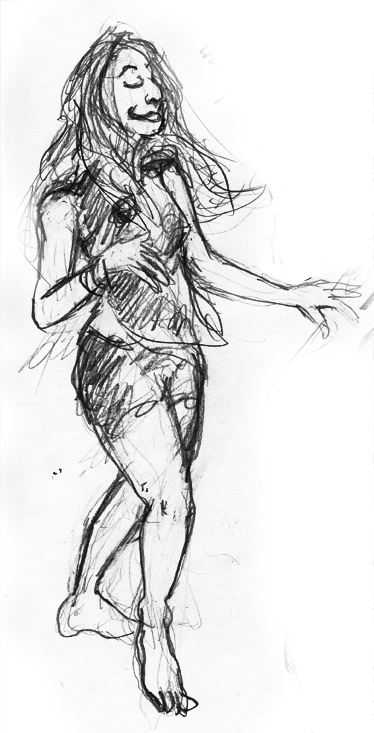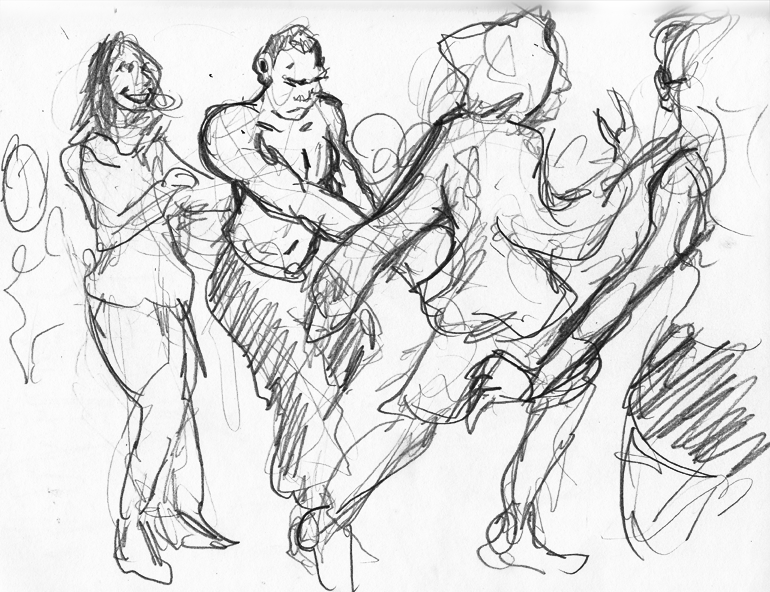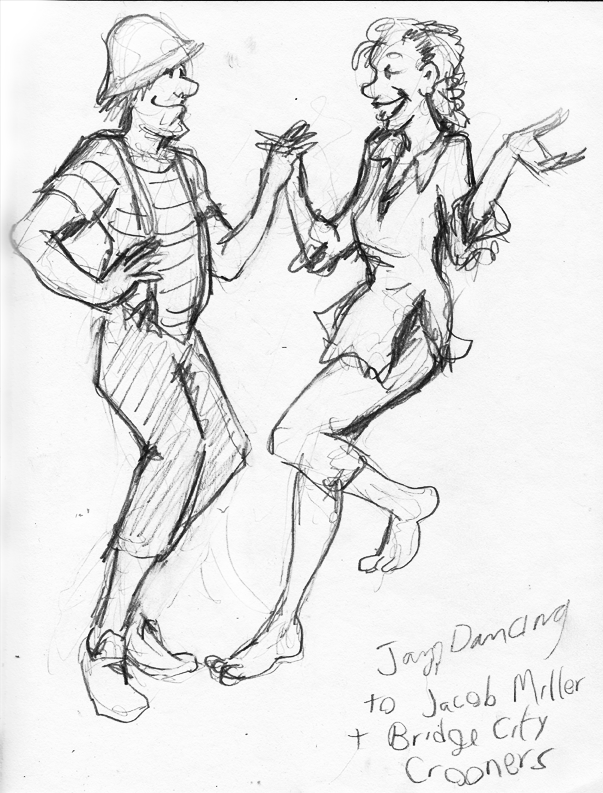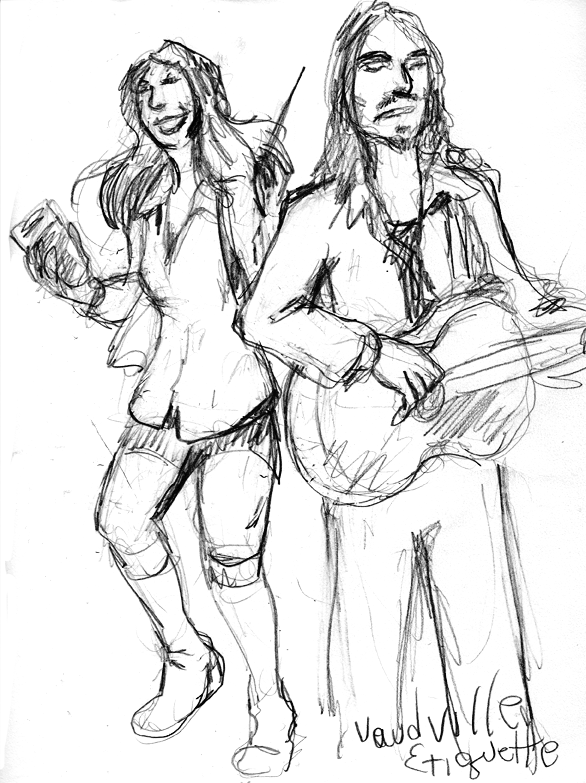 and Vaudeville Etiquette and getting a really good start on my sketching.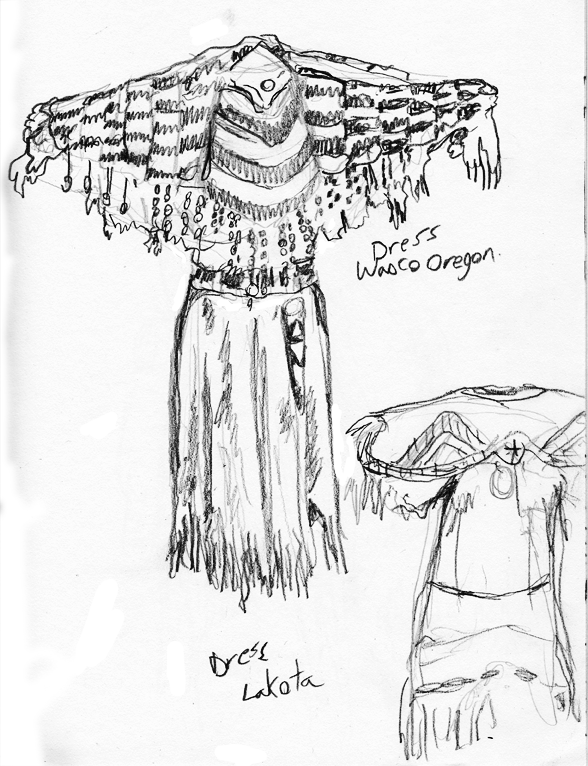 I finally got to see the Seattle Art Museum's Native American art exhibit, Indigenous Beauty, this weekend before it closed and enjoyed it immensely. There was a lot of stuff I was familiar with like a lot of the northwest coastal and pueblo art and others I was genuinely surprised I had never heard of. What especially impressed me was plains tribes clothing… Above is a buffalo leather dress from the Wasco in Oregon, the other one is Lakota. I found myself wondering what kind of price tag on the hours of labor alone… It's all the more impressive when you realize that checkered pattern is all beadwork.
A friend of mine had recommended I did an alien visitors theme, mostly in the nineteen fifties sci-fi horror theme which included the remake of the Blob, but since this was one of the few times Scarecrow didn't have an item on my list I decided to alter the theme oh so slightly to nice alien visitors.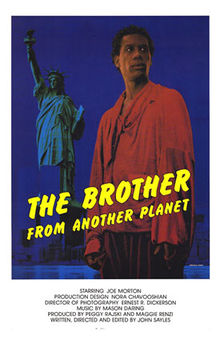 The first on my list Brother From Another Planet was one that was mentioned in nearly every book on modern Sci-Fi cinema I know so I was looking forward to the opportunity to see this one.
Brother From Another Planet uses it's story of a mute alien, who other than a three toed clawed foot looks just like an African-American, in Harlem as a metaphor for racism, immigration and ultimately assimilation.
For the most part the film is a wonderful study of people. For the most part the alien (referred to as the brother and wonderfully played by Joe Morton) meets good people who help him (though he frequently finds them confusing. )
There is wonderful lyrical quality to the film and other than a pair of Men in Black bounty hunters and some drug dealers remarkably devoid of conflict. Personally my favorite scene is when the Bounty Hunters arrive at the office of a social worker who's been the Brother get work. They've been sweating numerous friends of the brother by pretending to be members of government agencies but here the city office snows them with paperwork for interdepartmental cooperation.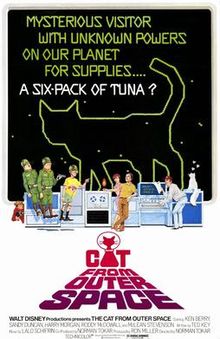 The other film the Cat From Outer Space is another one I somehow managed to miss, despite being brought up on the Wonderful World of Disney. This is a sweet little piece of fluff about a disabled UFO piloted by a cute little Abyssinian named Zunar-J-5/9 Doric-4-7 (Jake for short)
In a quest to repair his ship Jake seeks the help of some new found human friends to obtain $120,000 worth of gold. Using Jake's telekinetic power they earn the money to betting on assorted games, while avoiding the military and criminal organizations. (I have to say considering all of the moral hurdles they cross cheating at sports, breaking into military bases and paralyzing base security why didn't they just steal the gold)
All in all this was a fun comedy with a who's who in seventies television comedy with Harry Morgan stealing the show as a blustering general.
This week's Rhapsody is Rhapsody for Orchestra by Yasushi Akutagawa. I wasn't familiar with Akutagawa but I'm enjoying his work… This piece almost comes off like a cross between Gershwin and one of the Stravinsky to me.