I was completely stumped for an idea for this week's theme this week. But as I walked past Scarecrow's music section I found inspiration and on a whim picked Elvis Presley.
I won't say that I was ever Elvis's biggest fan though growing up on classic hits I certainly knew what I liked. As for his film career the only one I was really familiar with as it showed up in many of my movie textbooks was the first film on my list. Jailhouse Rock.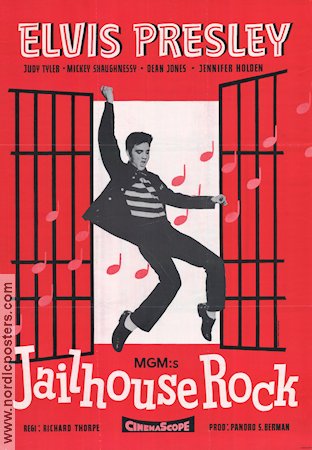 To my surprise Jailhouse Rock was nothing like what I expected. All I knew about it was the title song and the over the top performance with Elvis dressed in prison stripes dancing with his fellow prisoners. This turned out to be a scene near the end of the film with Elvis's character Vince Everett in his first televised performance.
  What it turned out to be was a drama about a young man who learns how to be a musician during a stay in prison for manslaughter when he gets out he becomes an overnight sensation. The rest of the film deals with his rise to fame in fortune and the consequences this creates.
Elvis gives a surprisingly strong performance along with his great musical numbers but what I liked best was the supporting cast led by Judy Tyler, and Mickey Shaughnessy.
As I said Jailhouse Rock was the only Elvis film I had even heard of so for my second pick I pretty much went with the film with the songs I liked the best whether this was a good strategy is anyone's guess. (a good friend of mine has been chastising for not picking Blue Hawaii.)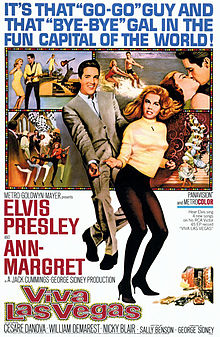 Anyway in my second pick, Viva Las Vegas Elvis plays racecar driver Lucky Johnson who comes to Vegas to compete in the city's first annual Grand Prix Race. This is complicated because his car needs a new engine and he looses the money while pursuing the hotel's swimming instructor Rusty Margaret played by the wonderful Ann-Margret
Unlike Jailhouse Rock this is pretty much just a fun romp and a framing device for the musical numbers. This is definitely a double act with Ann-Margaret's numbers being just as entertaining as Elvis's. This is all done to the fantastic choreography of David Winters.
This week I decided to sit back and relax a bit and catch up on some of the superhero films I missed in the theater.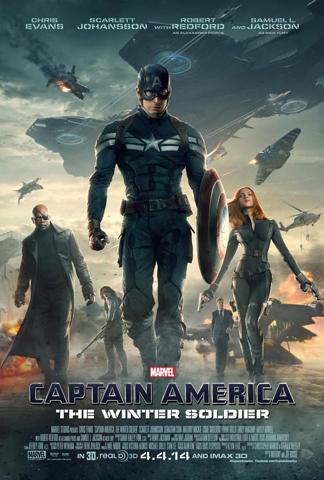 The first on my list, Captain America: The Winter Soldier, was one I'd been wanting to see for some time even though I hadn't been a fan of the return of Bucky storyline from the comic it was based on.
Here we watch Captain America as he continues to adjust to the present while carrying out missions for SHIELD. Meanwhile darkness is afoot as HYDRA makes it's comeback, infiltrating SHIELD completely, and soon Cap finds himself a fugitive against the organization he's been working with since he had been defrosted.
This was a nice mix of the superhero film and the political thriller with lots of exciting bits of action, while at the same time challenging the viewer with tough questions about the price of freedom.
If I have anything to complain about it's the little things that parts of a larger franchise always suffer from… Things like "Gee, Cap a you're on the run from a secret terrorist organization how about you call the Avengers? Oh you're going to contact the guy you met three days ago and hit it off? Never mind.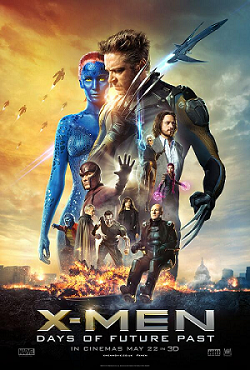 The next film on my list X-Men: Days of Future Past, was lot's of fun continuing the period piece setting of X-Men: First Class going back and fourth between a dark future where mutants are being hunted down and the Seventies while the United States is still reeling from the Vietnam War and Bolivar Trask wants to exploit anti-Mutant hysteria as a way for America to come together against a common foe. Only a time displace Wolverine has a chance of stopping this.
I enjoyed the alternate comic book version of the seventies the best though the scenes in the future were well done. All in all the effects and action scenes were a blast with Quicksilver stealing the show. Peter Dinklage was great as always playing the villain Boliver Trask (though I confess I fell into the trap of being surprised by him playing someone that different from Tyrion) But most importantly it served it's most important purpose of using time travel to retcon all of the bad movies in the X-Men franchise out of existence!
by wpmorse
on
August 18, 2015
at
9:42 am
For this week's Rhapsody we have Rhapsody of the Queen by Naturally 7.
I'm embarrassed to say when I first found this I was worried that it would be yet another remix of Bohemian Rhapsody…
Happily I was wrong.
This week I decided to return my attention to screwball comedy, and since the one film on the top of my list. Bringing up Baby, was not available I decided to pick films at random from the B-List. While doing this I found myself having a secondary theme of romantic comedies about divorce… or more accurately attempted divorce.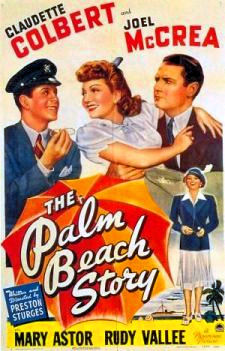 My first selection, The Palm Beach Story written and directed by Preston Sturges tells the story of Tom and Gerry Jeffers (played by (Joel McCrea and Claudette Colbert) a down on their luck couple (by the standards of 1940s gentry) about to be evicted from their luxury apartment. When Gerry is bailed out by an eccentric millionaire (Robert Dudley in a hilarious cameo) mostly due to her pretty face, she gets the idea that since she can get by on the kindness of strangers, she can help Tom best by leaving him so she won't keep dragging him down.
She leaves to go to Palm Beach for a quick divorce with her Tom in hot pursuit. In Palm Beach she runs into one of the richest men in the country and then things start to get really crazy.
I had mixed feelings about this one. It had good dialogue and truly hilarious moments but it felt disjointed as if it were two separate films smashed together with most of the true comedy spent with a drunken gun club shooting up the train.
The other problem I had with it was one of those painful examples that the past is an alien world. In this case the casual racism of the period. I won't call it insensitivity, I'll call it a complete obliviousness to the possibility there would be anything wrong with regarding blacks an inferior caste of untermensch servants who were perpetually the victims of friendly slapstick. Perhaps I was being overly sensitive to this having read more than one article about the Brotherhood of Sleeping Car Porters, but more than one moment of said porters being part of an otherwise funny scene's collateral damage had me wincing.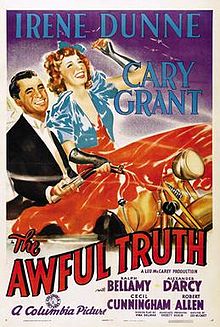 My next film, The Awful Truth by Leo McCarey starring Cary Grant in one of his earliest comic performances, Irene Dunne and Skippy. Grant and Dunne play Lucy and Jerry Warriner a married couple who divorce over a series of misunderstandings and mutual paranoia. While more than happy to split up themselves, there is only one last thing holding them together their mutual love for their Wire Fox Terrier Mr. Smith (Skippy.)
Having been allowed visitation rights to Mr. Smith Jerry finds himself interfering with Lucy's progress new flame a very nice oil mogul from Oklahoma played by Ralph Bellamy as they wait for their divorce to be finalized. But as the time continues the find their mutual chemistry slowly dragging them back together.
Despite it's numerous Oscar nominations I'm not sure it worked for me that well and while it certainly has some nice moments, for the most part it's the dog that steals the show. My favorite bit in the film consist of it playing it's favorite game of hide and seek where it keeps retrieving the hat of Lucy's music teacher, a man Lucy has a mostly platonic relationship with (and was one of the reasons behind the divorce.) hiding from both Jerry and Bellamy made all the more funny when she has to hide Jerry as well.
My original intent for this week's selection was westerns from the Native perspective. But in the long run it ended up being films about white men gone native.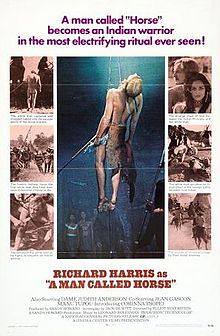 My first film, A Man Called Horse, tells the story of John Morgan, a disenfranchised British nobleman played by Richard Harris, who while traveling through the frontier is captured by Sioux raiders and made a slave called Horse. To survive he tries to learn their culture eventually becoming a warrior and finally chief.
I'm not sure what I felt about this one. It's almost as if they wanted to make the film as much of a cultural documentary about Lakota culture with the actual story being an afterthought, and while the anthropological stuff was certainly interesting, it frequently drifted into noble savage territory and more than a little patronizing. Also for all the talk of Morgan becoming Sioux, to the point of participating in the sun dance he still seems detached from them and in a bilingual film where more Lakota is spoken than English you would think he would have at least picked up a little bit of the language.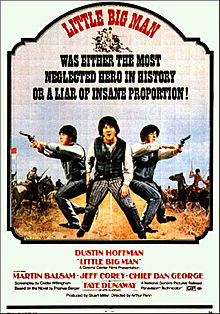 My second film, Little Big Man, does a better job of making everybody equally human, perhaps by representing all languages present as English. I didn't know what to expect from Little Big Man going in. At the time all I knew about it, besides it starred Dustin Hoffman, was that every book I had ever read abo0ut film make up mentioned it as one of the best example of convincing geriatric makeup, and Hoffman's character was the only white survivor of Little Bighorn. Because of the latter, I expected the film to be much darker.
Instead what I got was a wonderful satirical picaresque deconstruction of the standard western fare, after his family is killed by Pawnee raiders Jack Crabbe is raised by Cheyenne. As his life goes on he is thrown back and fourth from Indian and White culture culminating with Little Big Horn.
All in all this film ends up feeling like an 18th century Candide with Crabbe stumbling through history running into the same bunch of con artists, hypocrites and reprobates over and over again through his life. (Special notice goes to Richard Mulligan as a wonderfully deranged General Custer.)