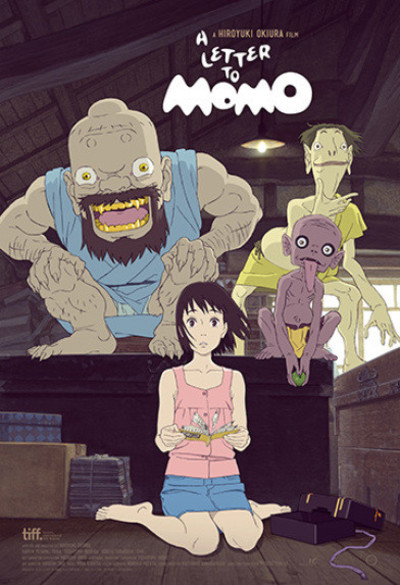 Well I first heard of A Letter to Momo less than a week ago when a couple of my friends were raving about it and making it clear that it would only been at the Varsity for the rest of the week. I made a note of it and planned to see it when the DVD came out. Then I saw the absolutely glorious poster and decided I couldn't wait.
I'm embarrassed to say that I was not been familiar with Hiroyuki Okiura and what work of his I had seen I had attributed to Mamoru Oshii. A Letter To Momo is story of a girl who moves to a small town on an island it the inland sea with her mother after the death of her father. Once there she encounters and befriends a trio of yokai (the subtitles translates it as goblins) sent to watch over her and her mother.
All of this is lovingly paced with the film taking it's own sweet time to put all of the pieces in place. I love it how little details are place in a way that while they are clearly in plain sight you only really notice them until the characters do. (my favorite example is that one of the first bits of evidence of the Yokai's existence are some packets of pudding they ate. I like how this is very much a child's story. Momo is very much a shy eleven year old who has fears and jumps to conclusions the way any child would. This is most apparent when she mistakes her mother's brave face for uncaring leading to the dramatic climax of the film.
This was one of those movies that I wish I'd been able to see twice. Once to actually WATCH the movie and once to take in all of the wonderful details. This film is one of those movies that is a virtual love letter to it's location (other examples of this in anime I cam name are Kamichu and  Haruhi Suzumiya) every street, store and shrine is lovingly painted without the slightest detail left out. Despite this being clearly fantasy this is very much a realist film  that slowly and meticulously adds the fantastic elements in a believable way. It did it so well I was genuinely surprised whenever something blatantly "cartoonish" happened.
All in all this is very much a film I will happily put on my list of favorite feature length anime. I kept finding myself comparing it to My Neighbor Totoro with it both about a girl moving to the country, encountering a fantasy world and this is in no way a bad thing.
Well this week it was a pair of really really weird films and I'm  not completely sure which won in the contest for the most strange. .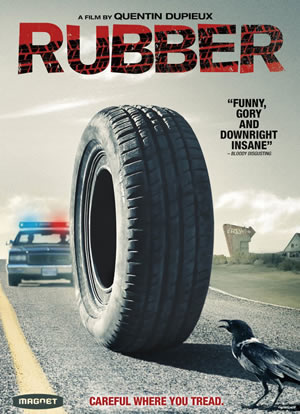 At first glance the first of the two, Rubber, directed by Quentin Dupieux,  seems to be the winner of the two after all it's a horror movie about an animate old tire with psychokinetic powers it uses to wreak havoc with. If that's not enough it is extremely meta with characters appearing to break the fourth wall only to have it revealed that they are talking to group of spectators who are watching the proceedings with binoculars… Then things get weird.
The whole thing get's extremely meta with one of the characters saying things don't have to make sense in movies… The rest of the movie seems to go out of it's way to prove that point.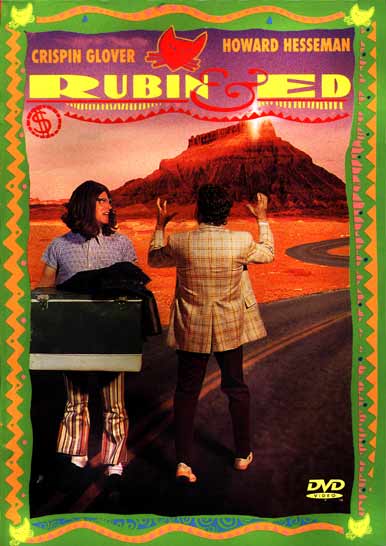 Somehow Rubin and Ed starring Crispin Glover and Howard Hesseman ,written and directed by Trent Harris manages to have just as much psychedelic strangeness. It tells the story of Rubin a strange, possibly autistic, recluse who kidnaps the perennial looser Ed, who is just trying to get Rubin to go to the pyramid scheme seminar he's working for, to help him find the perfect place to bury his frozen cat. They end up lost in the Utah dessert where they both discover themselves after a fashion and how to deal with their inner demons (or in Ed's case his tyrannical ex wife) after a fashion)
All in all both of these films are bizarre but interesting treats that reward you if you are in the right kind of mood..
Today was first Thursday aka free Thursday at the museums so I took the trek down town to do my push ups at the Seattle Art Museum. I had fairly good run their enjoying an exhibit of modern Indian photographers and sketching some Native-American carvings as well as taking another crack at Fogini's "Baptism of Christ" and I'll be more than happy to share them later because what happened next.
As I headed downtown I couldn't help noticing the number of Seahawks jerseys and realized I'd completly forgotten that the season started today (as I've mentioned more than once I'm a terrible fan!) AfterI finished at the museum to watch people watching the game. After about ten minutes I decided to take out my sketchbook and started drawing what I saw.
Sketches like this rarely go very well. Not getting into the whole moving subject thing You're trying to finish the sketch faster by drawing everything all at once which usually leads to one big mess. (not to mention the whole "while still on your bicycle thing. I swear this has to be the first time I ever experienced my groin falling asleep.) But the rewards are great because even if the sketch itself isn't going to win any contests it frequently provides a layout for something promising.
But along with this the game and the fans were great to watch and if what the Hawks did to the Packers is any indication of what is to come we'll have to start following the point spread to keep things interesting.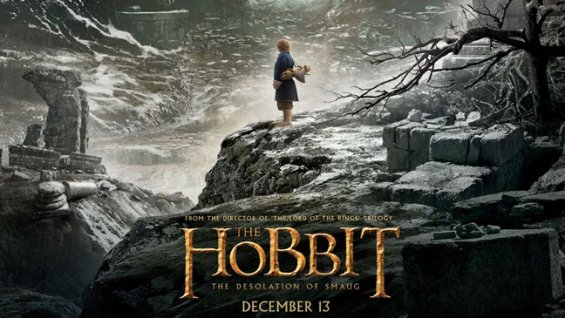 While I certainly enjoyed the first Hobbit movie it was one of those movies I never had an overwhelming need to go see it again and again the way I did with the Lord of the Rings films. This carried over with the second film, The Desolation of Smaug, and I never got around to seeing it in the theater.
There were several factors behind my lack of temptation. One of the problems I ha with the first movie was wondering where they were going to put the "to be continued" point in the story being as familiar with the material as I was, it affected my entire viewing of the film. On the same theme since the first film ended on what was essentially the halfway point in the book I found myself wondering just how even with the material from Tolkien's appendixes they were going to stretch the second half of the book into two more films. On top of this I had heard numerous complaints from friends whose opinions I generally trust, so I was finding myself more than happy to wait and watch it when the library got a copy of the DVD.
So I finally when I was housesitting for a friend. (the biggest perk of this gig being the complete cable package) Again like the first movie I enjoyed it as a fun roller coaster ride with great design, special effects, and a great cast doing their job very well.
My biggest problem was all of the padding, and when I say this not the added scenes from the appendixes but the way they seemed to want to change every scene into a fifteen minute action scene.
Take the barrel scene for example. In the book it's the company escaping their prison sneaking out the back in the empty wine barrels the elves are sending back to Lake Town. In the movie it is a white water rapids chase with both the elves and a band of orcs going after the escaping dwarves and the dwarves defending themselves with amazing acts of barrel fu.
The other problem I have with it is just how the original material is translated onto the screen. One thing I find fascinating about the book the Hobbit is that it serves as a fascinating transition from 19th century fantasy, which was essentially fairy tales for all ages, to high fantasy that Tolkien pretty much 
invented. I don't have a problem with most of the retconning in the movie since Tolkein retconned the story extensively himself. But having said that the Hobbit is still one of the great children's books and I didn't think the film should have abandoned it's roots completely. 
But despite all of this nitpicking (and trust me I can go on for hours with this) this was a fun film to watch. I especially enjoyed the spider scene and despite it being an example of the excessive padding I mentioned, Bilbo confronting Smaug the dragon was appropriately epic. (though the number of filters they ran Benedict Cumberbatch's voice through I almost wonder why they bothered casting him.)
This week's Rhapsody is the Rhapsody in Rhumba by the great Cab Calloway.
Enjoy.