on
September 23, 2014
at
12:00 am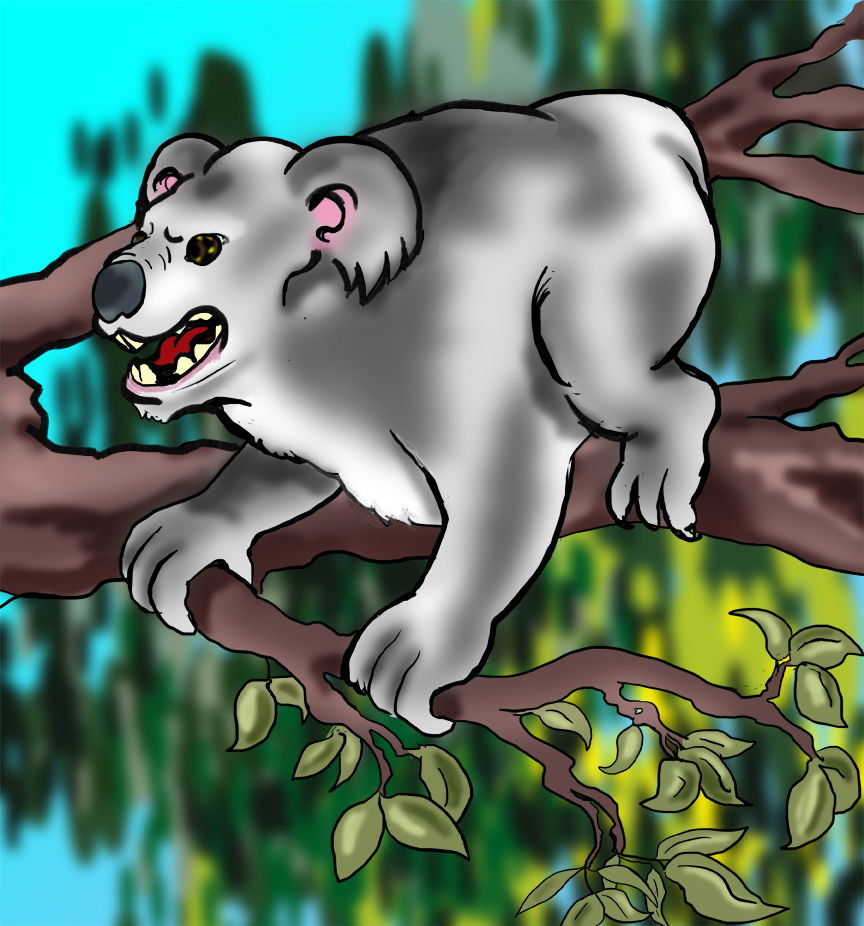 Some concept design I was playing with for an upcoming story line. I was trying to go for a cryptozoological approach with something that is in the same family as a Koala but clearly is something else (in hindsight I imagine such a creature would have better camouflage than it's more herbivorous cousins.)   
I'm mostly happy with it though I'm worried that it may still look too cuddly (but one could say the same thing about tigers and grizzly bears)
This week's Rhapsody is the Evening Rhapsody by Joachim Raff.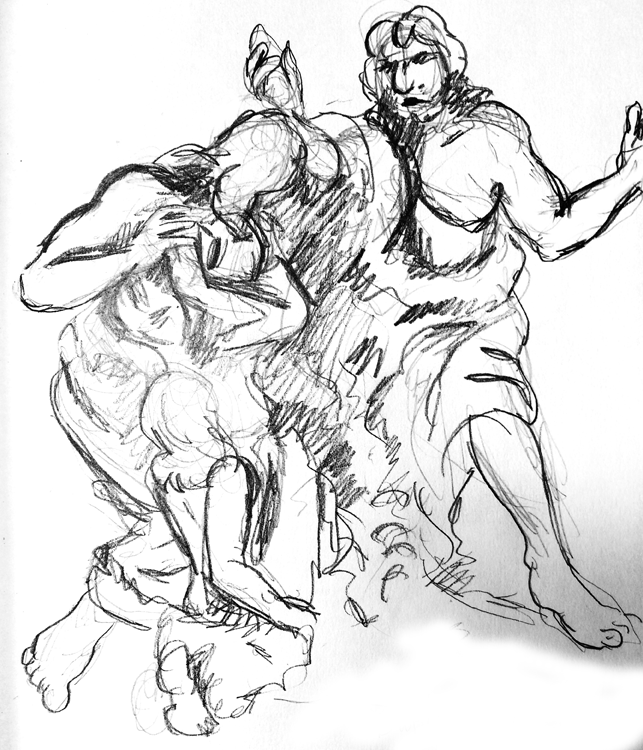 Today's sketch is from this month's free museum Thursday which I would have shared earlier if I hadn't been distracted by the Seahawks game going on at the same time.
Anyway this one's my latest try at drawing the Baptism of Christ by Giovanni Battista Foggini. Between it and Lamentation over the Dead Christ by Massimiliano Soldani Benzi this is an ongoing challenge I like to take a crack at every couple of months since depending on the angle, not to mention the complexity this is a sculpture that gives me a completely different sketch every single time.
I confess I don't think this one of better ones. The excuse I'm sticking to is I was sitting too far away from it.
Well I just completed my first "jog"
As I've mentioned before one of the problems of moving to the University District is stuff is just too close. So, consequently, I'm not getting the kind of exercise I was getting biking everywhere from Lake City. I'd been a little worried about that I might start gaining weight.  I'd been compensating as best I could but still I thought I could do more.
On another note I was talking with a friend about ADD which led to him telling me about a hyperactive friend who got the worst of it out of his system by long hard jogs. I figured I'd give it a try. Of course due to weak ankles and shin splints I haven't run for a long time. So I decided to try a morning bike ride. At first I had a little bit of trouble choosing a nice safe route to take until I realized I was still thinking like I lived in lake city. This apartment is walking distance from Green Lake!
So for the most part things went off without a hitch. The only problem with choosing the balance between getting enough sleep and getting up early. In the end I managed to drag myself out the door at seven. It went well Green Lake Path is about 2.8 miles. It's nice and flat without any traffic so the only risks is I can't really go too fast and of course there's the other kind of traffic.
Green Lake's one of the most popular jogging spots in the city so even at seven there were a lot of people walking and running and ignoring the paint on the road that makes a very clear partition between the jogging side and the biking side. I found myself having to slow down to avoid people several times. The worst was when a jogger who had finished his run left the road by making a left turn without looking behind him nearly body slamming me in the process. His only response to my "distress" was saying I should "calm down"
Other than that I did the 2.8 mile loop around the lake twice I suppose I could have done it a third time but I didn't think I had enough time… and I guess I was beginning to feel it. (I confess I have a bad tendency not to consider things that don't feel like they're killing me exercise) So with any luck I'll manage to make a habit out of this.
In the meantime I'll start looking into the possibilities of the Burke-Gilman trail.
This week I decided to do another round of caper films.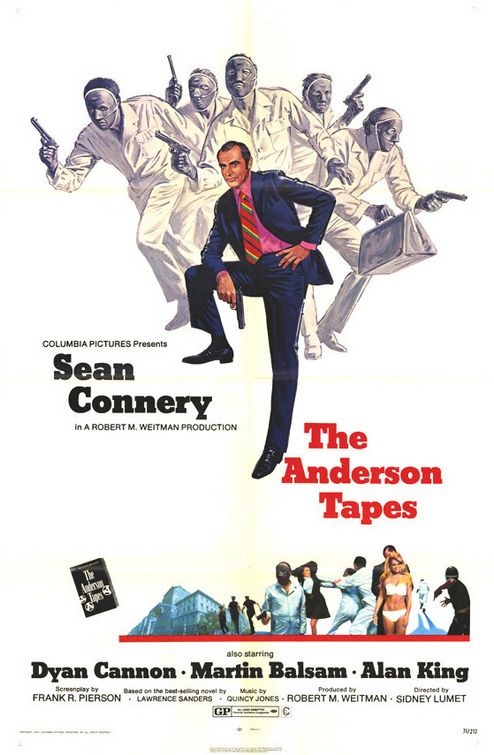 The first of the two was The Anderson Tapes from 1971 starring Sean Connery featuring Christopher Walken.'s film debut. (He's so young  here, I didn't even recognize him until he opened his mouth.)
Connery plays Duke Anderson, a burgler coming out of prison after ten years, for not ratting out a mobster. With the mobs backing, he plans on robbing the luxury apartments his girlfriend lives in. I wasn't particularly impressed by the heist itself or most of the movie for that matter, but it had some interesting bits that made up for this. The first is much more a film about surveillance then it is a caper. Anderson, and people connected to Anderson, are constantly being monitored by various groups at completely cross purposes, the IRS, the FBI and a private investigator working for Anderson's Girlfriend's sugar daddy. So much of the film is done from the perspective of the surveillance teams. In many ways it felt like a precurser to what Copella would do much better in the Conversation. The other thing I liked was how the caper was treated in the narration. The story kept going back and fourth between Anderson and his crew committing the crime (essentially going door to door like reverse trick or treaters) and the the victims being interviewed by the police. This was probably to add to the suspense (and pick up the pace on what was probably a slow all day affair) But added quite a bit to what was pretty much a by the numbers caper film
.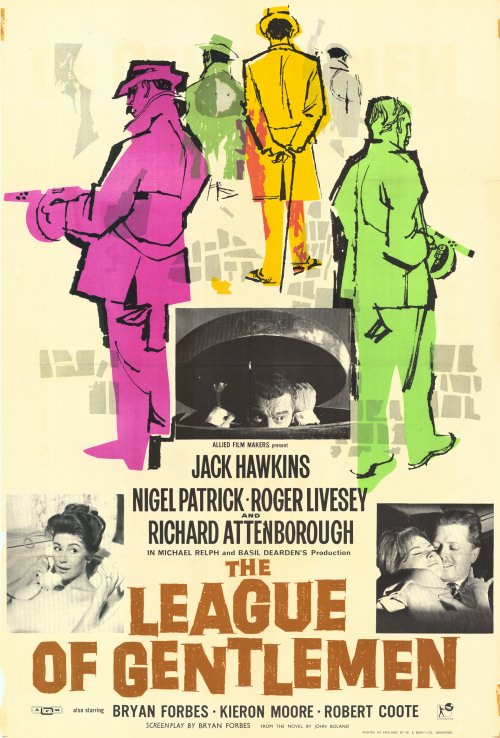 I confess that the only times I had ever come across our second movie, Basil Dearden's League of Gentleman, were the number of times I stumbled over it when doing searches for the situation comedy of the same name. (or even The League of Extraordinary Gentlemen.) I was also hearing about it because of the recent death of Sir Richard Attenborough.
Lieutenant-Colonel Norman Hyde played by Jack Hawkins is inspired by an American to pull off the perfect crime to do so he brings together a group of disgraced former officers to pull it off with military precision and things go perfectly until the very end.
Seeing the League of Gentlemen for the first time I can see exactly why it has deserved so much tribute. This is a movie that virtually serves as the template for most caper films up to now as we are first introduced to the team in great detail, watch as the plan is put together the preparations and made and finally the heist which goes with clockwork precision. Every little detail is shown to us even the mistakes which lead to their eventual downfall.
All in all this is a wonderful tight ensemble film with a wonderfully dry sense of humor which I will gladly add to my film library. It's taking in all the little details that make it all the fun! Keep your eyes open for an early performance from Oliver Reed as a flamboyantly camp actor.
I stumbled over this one when I was looking for a track of the Rhapsody of the same name by Engelbert Humperdinck. Since I was having no luck finding that one and that I'm always on the lookout for more pop rhapsodies I decided to go with it.
So here is Moorish Rhapsody from Peter Lindahl's In The Labyrinth.