on
October 2, 2014
at
12:00 am
Michelle's calming effect on chain smoking Russians can be seen here.
To make this month interesting I decided to do one of those sketch a day challenges and since this is the season I decided go with the Halloween theme. Anyway I spent a bit of time getting ready for it writing a list of every monster I could think of (which was depressingly few and) and put them all into a jar so I could draw one at random.
Regrettably today I drew vampire.
It's not that I hate vampires it's just that they're so damn cliche and I certainly didn't want to start the month drawing Dracula, Lestat or $%#@ing sparkly Edward! So because of this It took me a while to get the layout right. I went in wanting to have the vampire pulling up on the woman in a taxi cab and then realized I had gotten the angle wrong and besides it was on the wrong side of the road for the drivers side of the car to be visible. But despite all that I think this was a pretty good start… even though I made her head too big.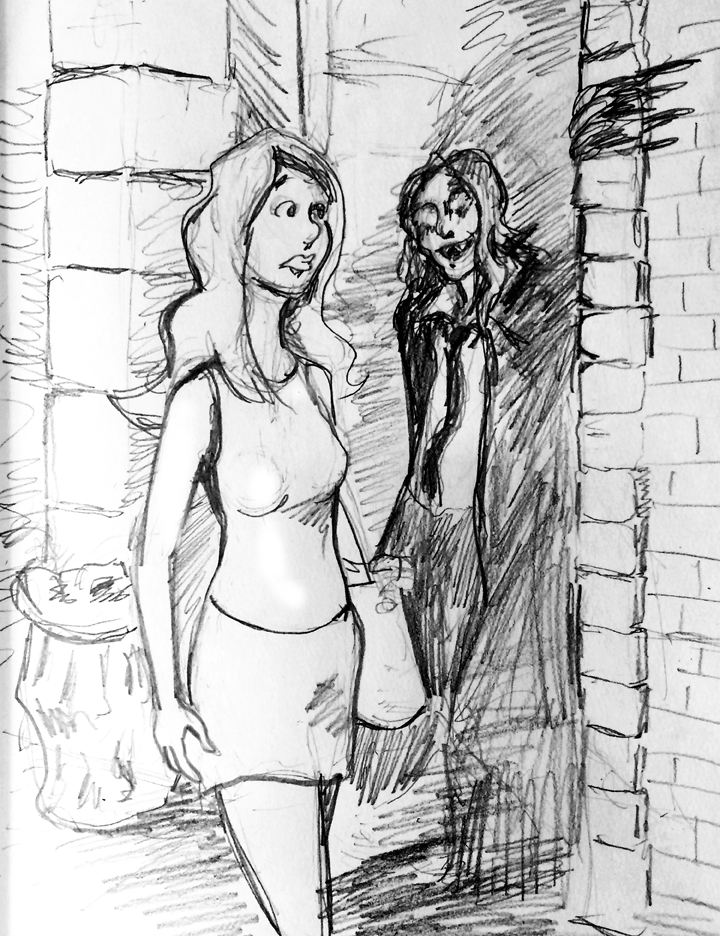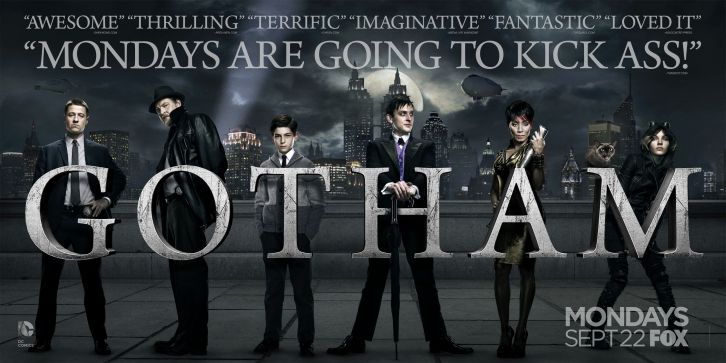 I've been very bad at following all of the comic based shows that based on my, tastes I should be throwing my support for. Despite likening Arrow my viewing grinded to a halt less than halfway through the season and Agents of Shield's rough start had me giving up on it after the second episode. (By the time I'd heard it had improved greatly by the end of the first season it was way too late.)
So despite my mixed feelings about it, I've decided to make an effort to follow the entire season of the latest comic based program, Gotham. The whole concept of Gotham is to serve as a kind of prequel to the Batman franchise featuring the history of Gotham City between the death of Bruce Wayne's parents and his becoming Batman. (And how everyone else became who they were as well)
At the moment I'm afraid I'm not particularly impressed. I confess most of my complaints are because of the exposition dump that pilots and early episodes always suffer from and I also will restrain my comic book dogmatism (pedantry?) of pointing out how many of the details are out of sync with the comic book since the continuity of the show is obviously different. But even while taking that concession things felt forced to me. Every one is introduced all at once and the success of doing this is mixed at best.
For the most part I liked the visuals of the show. The city skyline is created from mostly whole cloth in a sepia town with the sky a perpetual overcast and the show goes out of it's way to show just what kind of corrupt, amoral pit Gotham is.
But beyond this everything seemed forced. The corruption of the city, especially the police force felt which protagonist Detective Jim Gordon (played by Ben McKenzie) has to navigate through feels almost cartoonish lacking any subtlety what so ever but perhaps I have a problem with this because I've been spoiled by another Police procedural featuring a less than perfect police force in a broken city… i.e. The Wire. Based on this how can any other show compete? But despite this I find myself wanting more. And at the moment the plot feels dependent on everyone besides Gordon being incompetent or apathetic and the two exceptions are spending all of their time going after him.
Again I feel like I want more instead of people merely being in the mob's pocket you could have a virtually feudal setting with organized crime competing with the city's aristocracy and other factions making the police becoming a power un to itself serving the highest bidder…. But then it's only been the first two episodes.
There are There were a few things I liked especially Robin Lord Taylor as the future Penguin. Though the way he's been acting so far I have trouble imagining him a future criminal mastermind.
I'm always excited when I find less "traditional" rhapsodies. So this week we have a techno one with Monoblock's Gibberish Rhapsody.
I've been spending a lot of time a lot of time thinking of all the ways to make this a better page. From tweaking the look to doing everything I can to make the archives easier to navigate.
Finally I've take the first and easiest step of adding an "about" page. For the longest time I never saw the point of them, they were the text equivalent of an elevator speech or a way of packaging the character page and a few other odds and ends that the page already had. But I'd been hearing from a lot of people in  cartoonist forums so I figured it wouldn't hurt me to put one up as I'm starting to overhaul the page anyhow.
So check it out and enjoy.
This week I decided to give myself a nice break and sat down to enjoy some films from one of my favorite animation studios…  Aardman Animation. I've been a fan of Aardman since Creature Comforts, and have been enjoying their work eversince. Along with admiring their meticulous craftsmanship of clay stop motion animation I've always liked their simultaneously dry and slapstick sense of humor a la monty python along with their essential britishness which doesn't pander to the common Hollywood denominator.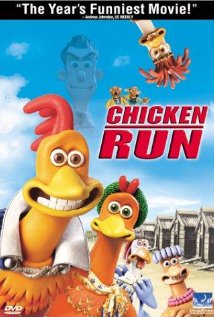 The first for this week was a long time, Chicken Run. Featuring a wonderful cast of character actors (and Mel Gibson) Chicken Run parodies POW camp films in general and the Great Escape in particular dealing with a flock of chickens trying to escape from a Yorkshire Chicken farm before they are made into chicken pie's.
In the process we have life in the camp… er farm meticulously created with a great ensemble cast (I especially like Jane Horrocks as Babs) and one hilarious gag after another. Despite e all of this it stays entertainingly grounded.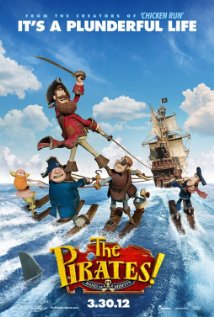 Our second takes to a golden age of Piracy that never happens with The Pirates! In an Adventure with Scientists! (or as it's called over here, The Pirates! Band of Misfits.)
Once again we have an all star cast with Hugh Grant as the Pirate Captain, Martin Freeman as his first mate with David Tennant as  Charles Darwin. It's all about an incompetent  band of Pirates led by the Pirate captain who is desperatly trying to win the Pirate of the Year award. He gets a chance when they capture Charles Darwin who see's that the ship parrot, Polly is actually a Dodo and convinces them to go to London with him to enter Polly in the Scientist of the Year competition from there things get a little silly, with Darwin's chimpanzee butler, Mr. Bobo, and an ax-crazy  Queen Victoria played by Imelda Staunton.
THis is all a fantastic roller coaster ride where nothing is too ridiculous or too silly and all great fun.
All in these are two great samples of what Aardman is capable of and I can't wait to see what they do next.