Today we have another variation of Bohemian Rhapsody. SORRY! But since this one is done by Queen themselves (as far as I can tell) that makes it official and mostly okay.
Also since I'm trying to put together a Christmas playlists I thought I'd get an early start by finding and sharing some Christmas Rhapsodies
Enjoy
I've said many a time how much I liked Tom Hiddleston's performance as Loki in the Thor franchise and because of this I've been very pleased to discover that he is an even better person than he is an actor. But this latest bit of evidence just has to go viral!
Today's submission is another one where I'm not sure if it's an actual rhapsody but it has rhapsody in the title and lyrics and I was in a hurry. Nonetheless it grows on you quite quickly which is enough to recommend it.
So sit down and enjoy Mr. Mike 's Rhapsody
Well I had a very nice conversation from my Mom who has just got back from their trip to Burma. We kept it relatively short as she's still a bit punchy from jet lag not to mention hast to get the place ready for my cousin and his family coming over for Thanksgiving.
My folks have been going on these nature tours for years, and even though I know they'll be fine, and have fun, but every time they go and are incommunicado for a couple of weeks  I let my imagination get the better of me and I'll be coming up with neurotic worst case scenarios until they get back.  Things like thinking about all of the things that could go wrong hunting in the jungle and not to mention all of the concerns regarding all of ongoing internal conflicts in Burma (though I was sure the tourist group would keep them away from any hot spots.)  The worst for me that gave me a nice little anxiety attack was the news of Typhoon Haiyan. That took me a little while to talk myself down and explain to myself that the Philippines are some distance from Burma and worrying about it was the equivalent of me worrying about them at home when a Hurricane was hitting Florida.
Anyway I'm happy to have them back and I can't wait to see their pictures.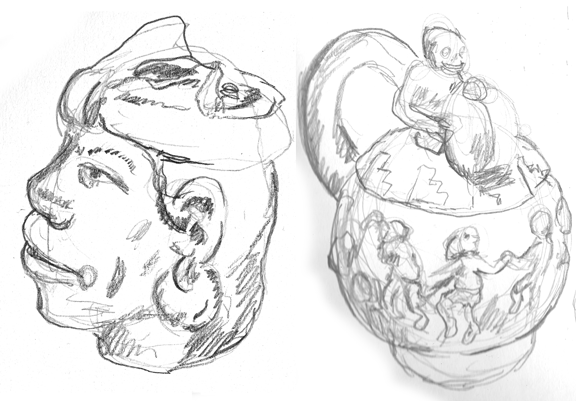 As mentioned in a previous post I took another trip to the Seattle Art Museum's Peru exhibit and was very productive time.
So today's sketch is of a pair of Moche painted  stirrup vases from between 100 and 800 AD.