Okay I confess… I kind of cheated this week. Instead of doing a proper double feature I did an Anime Marathon.
Durara is a show that I'd enjoyed in bits and pieces for some time and I finally decided to sit down and watch it. (technically I had access to it on Hulu but they only have the subtitled version and Durarara is one of those shows with enough little details I figured I needed to pick up the dub to properly take everything in.
I'm not sure just how to describe Durarara, It's kind of present day magical realism with lots of action. It's all about life in the  Tokyo district of Ikebukuro with all attractions, highschool students, internet gangs, berserker bartenders, headless motorcyclists, demonic swords that posses their victims… It's that kind of show.
Beyond the eccentricities it's the kind of show I like. It slowly and methodically takes it's time adding in all the little details and then turns around and rewards you for paying attention. Some people may complain that this makes the first quarter of the show but I say that's just letting one's short attention span get the better of them.
There are so many little details I like. The bets thing is the way that background characters are colored gray as if we are not even noticing them. However once someone is "noticed" say in a flash mob triggered by… well this is what makes watching these things so much fun,  they suddenly light up into a normal palate.
Unfortunatly I find the second half of the series isn't quite as riveting as the first and it feels like three separate stories. (consIdering it's based on a series of  light novels it probably is) and it leaves several plot points hanging, with any luck these will be dealt with in the second season I am told is coming later this year. However despite all this  I think Durarara is well worth anyone's time.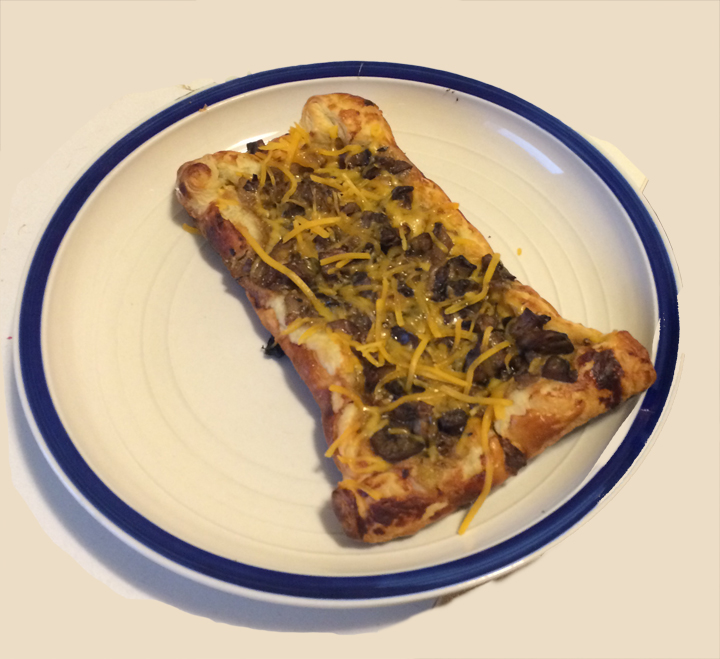 I've been trying to do more recipe's lately mainly because even going to the cheapest restaurants add up quickly and to the other extreme while living on frozen chicken is technically a good diet it's not what I'd call a great diet.
So I've been making a point of trying something interesting at least once a week as a way to improve my skills as well as I've found it's easier to stock you refrigerator when your list is based around some sort of strategy as opposed to the usual impulse buys.
The challenge is to find something interesting while keeping things economical to spell that out one of my favorite shepherd's pie recipe by Alton Brown calls for actual lamb, something I've yet to find for under eight dollars a pound in this town.
Anyway today I did Flaky Mushroom Pastries from the webpage Food Through The Pages a site that hypothesizes the recipes for food mentioned in all the books we love. I decided to try this one because first I really enjoyed the Gentleman Bastards series it came from and second because I love mushrooms.
I'd been putting it off because of the puff pastry but I happened to stumble over it while shopping at Trader Joe's for a  good price and grabbed it. Puff Pastry is something I've been avoiding because it seems overly complex like working with explosives but ultimately fairly easy. Even when the instructions in the recipe are rather vague on the details. But once I got over the initial panic it turned out to be pretty idiot proof. All in all other than burning the bottom it turned out quite well.
For this week I turned to to some vintage Hollywood comedies.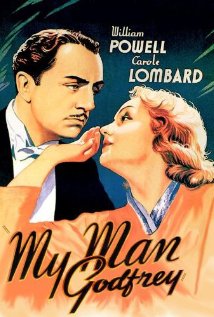 I first heard of My Man Godfrey when Rhapsodies took it's first step from the real world by making it the break out film of Zeppo Marx's solo career having him take William Powell's place. I only chose it because it was released the year after Duck Soup.
In My Man Godfrey Carole Lombard plays a rich debutant who meets Godfrey, played by William Powell, a "forgotten man" in the middle of the depression, during a scavenger hunt. She hires him as her family's butler and hilarity ensues. My Man Godfrey manages to balance slapstick with social commentary about class relations and the effects of the depression on the country including just how easy it was for the rich to lose it all.
Godfrey is debonair dignified and competent providing a wonderful contrast to the utterly insane household he finds himself working for. Even funnier is the wonderful crazy hyperactive performance Carole Lombard provides. But for all the slapstick it's the more subtler humor I like, such as when both Lombard and her maid discover they are both in love with Godfrey.
I still find myself picturing Zeppo Marx kicking ass in the role.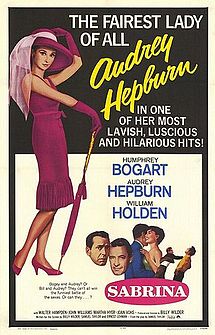 I was planning to spend this review dedicated exclusively to screwball comedies but I realized after the fact that Sabrina, while certainly a romantic comedy, does not really fall into the definition of a screwball comedy. I have to say being a big fan of Billy Wilder's films that I had never gotten around to seeing Sabrina. It's a sweet little romance involving Humphrey Bogart, Audrey Hepburn, and William Holden in a Love triangle between two millionaire brothers and the daughter of their chauffeur. It's sweet and funny and I certainly enjoyed it, but…. this was not my favorite Wilder film, or Bogart film or Holden film having said, it still had Holden and Bogart and it was done by Wilder. I think my problem was that with that talent list I wanted more.
I think my biggest problem was the title character itself, much as I could watch Audrey Hepburn all day I didn't think they followed through with the girl who had vowed to take control of her life and seize opportunity. I was taken in when she gleefully trolls William Holden's character after being gone for two years I was enjoying this mischeivous pixie but then all of a sudden she stops and pretty much becomes just a prize for Holder and Bogart to compeat over.
Make no mistake I thought it was great… but my enjoyment was hampered by knowing it could have been so much better.
I always like finding new pieces and this one is no exception. Akira Ifukube is best known for his Godzilla soundtracks but the rest of his music is just as amazing! Enjoy his Japanese Rhapsody!
Well, Now that I finished the Halloween Challenge I can get back to doing this.
One of the current exhibits at the Seattle Art Museum "City Dwellers: Contemporary Art From India" a selection of contemporary art from all around India. Most of it's photography but all of it is a fascinating commentary about the fusion of progress and tradition in modern Indian society.
What has been the figure head of the Exhibit is "India Shining V" of "Ghandi with an iPod by Debanjan Roy. I think what can be perceived as tacky (it's virtually shellacked in a bright Red) was done on purpose to shock the viewer as a less than subtle commentary on the "India Shining" marketing slogan…  it does grow on you after a while.