on
February 27, 2015
at
12:42 am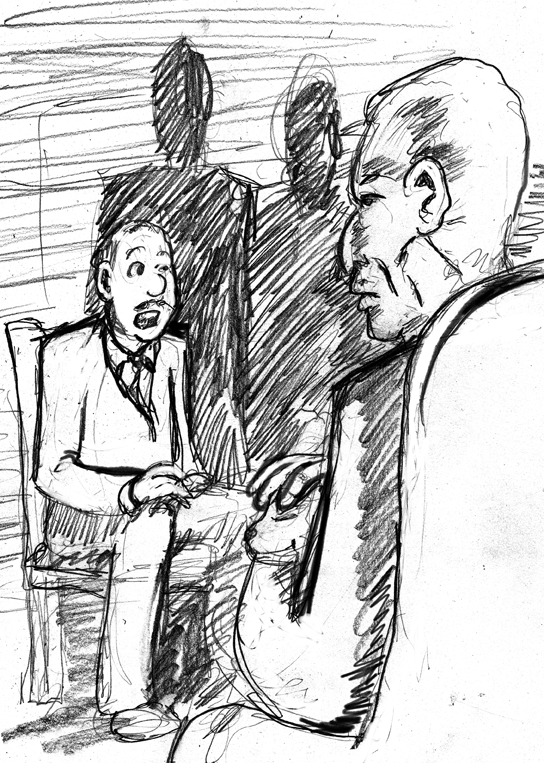 When I received my instructions to draw The Godfather this morning I'm sure there were many good options, Sonny's murder at the tollbooth and the horse in the bed scene come to mind. But ultimately, when you stop to think about it, there is only one choice.
Bonasera: I believe in America. America has made my fortune. And I raised my daughter in the American fashion. I gave her freedom, but I taught her never to dishonor her family. She found a boyfriend, not an Italian. She went to the movies with him. She stayed out late. I didn't protest. Two months ago he took her for a drive, with another boy friend. They made her drink whiskey and then they tried to take advantage of her. She resisted. She kept her honor. So they beat her. Like an animal. When I went to the hospital her nose was broken. Her jaw was shattered, held together by wire. She couldn't even weep because of the pain. But I wept. Why did I weep? She was the light of my life. A beautiful girl. Now she will never be beautiful again. [He breaks down at this point, and the Don gestures to Tom Hagen to get him a drink.] Sorry… [He regains his composure and carries on.] I went to the police, like a good American. These two boys were brought to trial. The judge sentenced them to three years in prison, and suspended the sentence. Suspended sentence! They went free that very day! I stood in the courtroom like a fool, and those two bastards, they smiled at me. Then I said to my wife, "For justice, we must go to Don Corleone."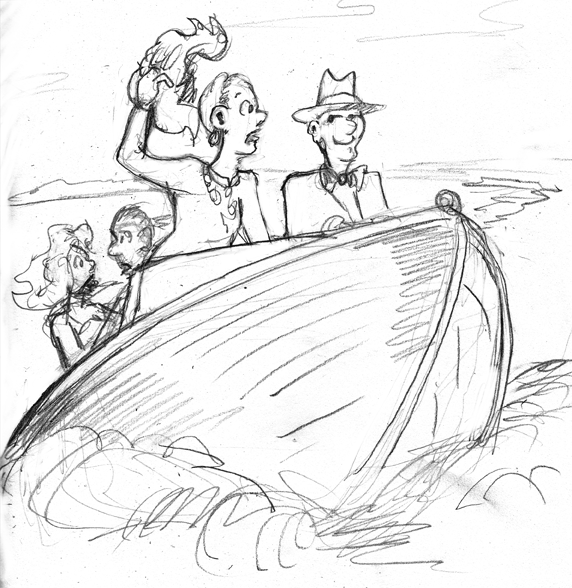 Today's sketch was of Billy Wilder's classic comedy Some Like it Hot and the image that immediately came into my head was the final scene on the boat.
Osgood: I called Mama. She was so happy she cried! She wants you to have her wedding gown. It's white lace.
Daphne: Yeah, Osgood. I can't get married in your mother's dress. Ha ha. That-she and I, we are not built the same way.
Osgood: We can have it altered.
Daphne: Oh no you don't! Osgood, I'm gonna level with you. We can't get married at all.
Osgood: Why not?
Daphne: Well, in the first place, I'm not a natural blonde.
Osgood: Doesn't matter.
Daphne: I smoke! I smoke all the time!
Osgood: I don't care.
Daphne: Well, I have a terrible past. For three years now, I've been living with a saxophone player.
Osgood: I forgive you.
Daphne: [Tragically] I can never have children!
Osgood: We can adopt some.
Daphne/Jerry: But you don't understand, Osgood! [Whips off his wig, exasperated, and changes to a manly voice] Uhhh, I'm a man!
Osgood: [Looks at him then turns back, unperturbed] Well, nobody's perfect!
It's funny I was finding myself frustrated that the "don't remind yourself rule" because I couldn't remember what kind of dress Jack Lemmon was wearing when the big thing about the scene I forgot that Osgood was wearing his naval voting outfit.
This week I decided to watch were deconstructions of the samurai genre one American and one Japanese. To be honest my plan was to watch a film I'd been curious about and then found something good to pair it up with.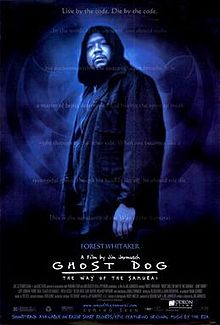 I'd been hearing interesting things about Ghost Dog: Way of the Samurai since it came out so I'd been looking forward to check it out. I'd always assumed that it was some sort of Gangster urban drama with samurai overtones and while it is it is so much more. Forest Whitaker plays the titular character, a mysterious hit man who lives by the way of the samurai. He serves as the "retainer " of a mid level Mafioso, named Louie, who saved his years ago. Despite finding Ghost Dog's services useful, Louie is not quite sure of what to make of this master servant relationship. When Ghost Dog's latest hit on a made man gets "complicated" Louie's superiors put a contract out on him and things get… interesting.
This was an interesting and at times almost surreal film that I found endlessly fascinating to watch. Whitaker himself is great playing Ghost Dog as quiet and cultured as if he doesn't have to prove anything.
The world Ghost dog lives in is almost a fairy tail version of the inner city with strangely clownish cartoon watching mobsters, Haitian ice-cream vendors and mysterious pit bulls that show up out of nowhere just to stare at you.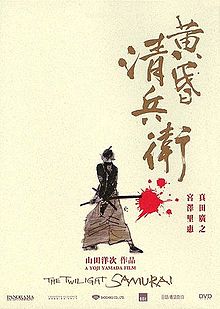 My second film on the lineup, Twilight Samurai by Yoji Yamada was nothing like what I expected. I suppose it's because whenever I see the word samurai in a film's title I automatically assume it will be an action film with the hero kicking ass and taking names. To my surprise In fact this is a bigger deconstruction of the samurai genre than Ghost Dog is.
It is the tag end of the Tokugawa Shogunate and the Samurai class has evolved from it's original warrior status to a primarily bureaucratic one. Senbei is a destitute widowed samurai working in a desk job in the department in charge of smoked cod. He is nicknamed "Twilight" because instead of going out to party with his colleagues he goes home to spend time with his daughters and working on sidelines to make ends meet.
When being reunited with a childhood friend leads to a duel with her drunken ex husband his superiors start taking an interest in him.
This is a surprisingly quiet slow paced film with only two action scenes (okay three). Rather then go for the usual action scenes it focuses more on Seibei's day-to-day life, something that while hard is still loving and nurturing. Any of the fights that Seibei is forced to participate in are a threat to this. Something his superiors are unable to understand.
by wpmorse
on
February 25, 2015
at
8:26 am
I was humming Leonard Bernstein's score all the time as I finished this sketch of West Side Story.
Part of me was wanting to have the Jets and the Sharks walking down the street looking a little bit more menacing, but this is West Side Story and the song and dance is expected just as much as the inevitable tragedy.
I have mixed feelings about just how well West Side Story holds up today. The magnificent score and choreography come off a bit cheesy today clashing with the otherwise realistic setting and perhaps this is me being too much of a fan of The Wire but parts of it feel naive and almost quaint.
Could some one do a good modern version of Romeo and Juliet set in the inner city? Hell yes! and I can't wait to see it.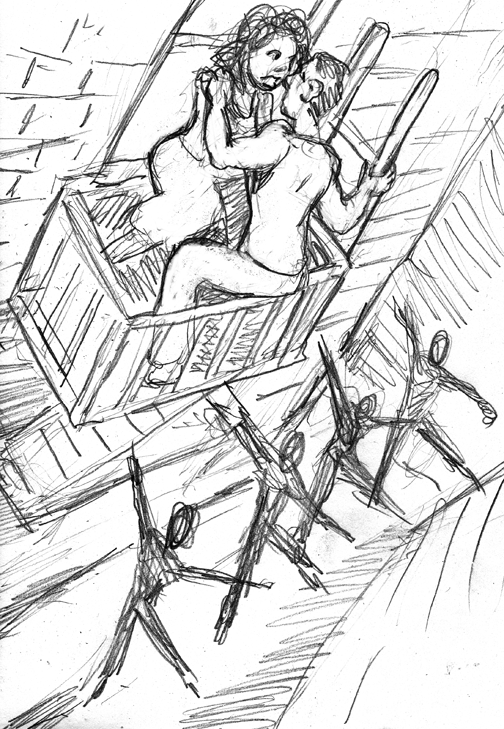 by wpmorse
on
February 24, 2015
at
12:53 pm
This week's Rhapsody is Rhapsody na gCrann by Clannad from their Nádúr album
For today's sketch I will say one thing in my defense… Pulp Fiction has way to many iconic scenes!
Ultimately I decided to go with the "miracle" scene giving Jules & Vincent a more shocked expression than they did in the movie where at that moment seemed to be more confusion.
Maybe I should have done the Jack Rabbit Slim's Twist contest.