on
October 21, 2014
at
12:00 am
Brian's reputation even affects humor.
When I pulled today's monster "Jason" I almost didn't realize what I was talking about until thirty seconds later I realized I meant Friday the 13th and put Jason in quotes to have it mean "generic masked slasher"
Growing up I hated Slasher movies beyond making jokes about the seemingly endless sequels they scared the death out of me (It didm't help that most of my classmates loved them) When I got older I found most of them pretty stupid with the murderer doing our species a favor by killing the dumbest teenagers.
So when it came to sit down and do the day's sketch I just couldn't take it seriously.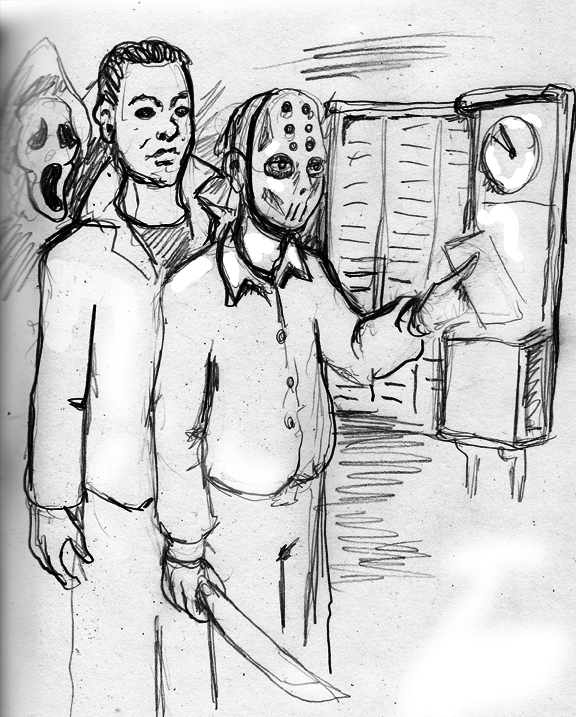 Sorry this one was kind of late due to my first day of house sitting in Capitol Hill which included walking and cleaning up after a geriatric and incontinent Dalmatian and then taking a car to a garage for service and then commuting from there to my apartment/office to work… You get the idea…
Anyway today the magic hat told me to draw a Mad Scientist. To keep things interesting I went with a kind of hip modern day version of Herbert West.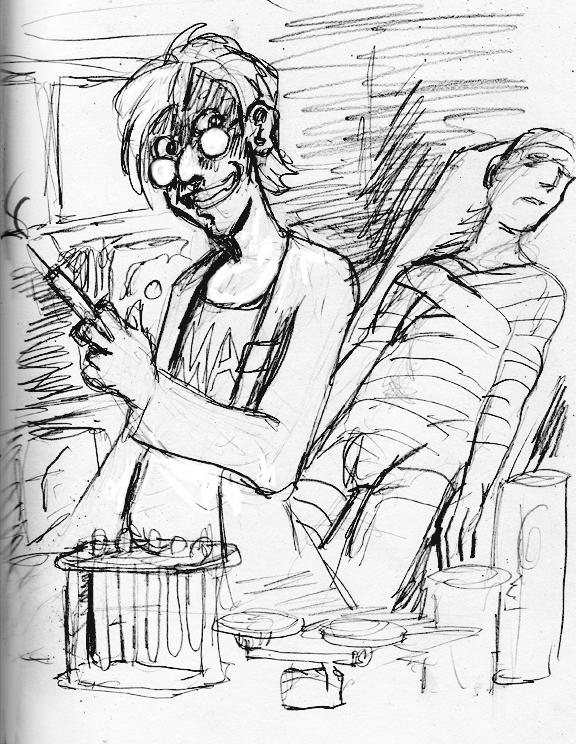 I confess that for the most part other than having the name "Frankenstein" this didn't quite have the mood of what I would call "Halloween" music, but Marcus Miller serves his Jazz hot just like I like it so what the hell?
Minotaurs are yet another one on the list I wasn't looking forward to and I have a sneaking feeling I might be subconsciously cribbing a New Yorker cartoon but despite being another rush job I'm rather happy how this one turned out.