on
May 31, 2013
at
6:53 am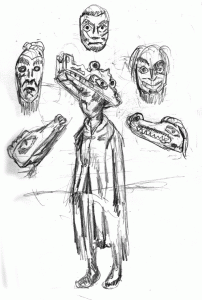 I'd done this figure from the Seattle Art Museum before though I never posted it (or at least I can't find it in my archives) But I was taking a rushed loop through the galleries on one of my end of the afternoon visits and I happened to see it in a new angle that made it look as if the central figure was being framed by the other five masks. I just had to do it again.
Anyway the figure is wearing a hinkeet'san (sea serpent) headdress. She is surounded by two other hineet'san and three ho'koma (human) masks.
I'm afraid this came out a bit sloppy partially since I only had a half hour before closing and partially from being a bit punchy from a bike ride to Georgetown and back.