on
July 2, 2014
at
9:33 am
Well, for this week I went with two Scandinavian dark fantasies. It's interesting for the last few months I've found myself drawn to Swedish pop media including Let The Right One In, Girl With A Dragon Tattoo and the Wallander mysteries. Perhaps this is a continuation of the trend. Anyway let's get started.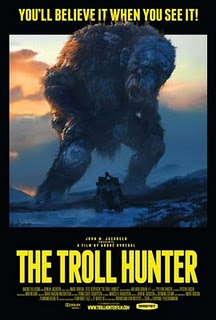 The first film, Trollhunter, is the story of a of students trying to interview a supposed poacher who may have been hunting bear illegally what they find is the only government liscenced Trollhunter who's job is to keep Norway safe from these legendary creatures while making sure they stay "legendary". This is all done in a documentary found footage style which makes the whole premise wonderfully convincing and sometimes even scary.
I'd somehow managed to miss most of the found footage films, despite it being a bit of a fad for the last couple of years,  so this was the first one I've ever seen. For the most part it works provided you ignore all of those niggling questions like why does the camera man keep filming when they're driving (yes I know the arctic landscape is amazing but still….) or why don't they drop the camera and run (having said that the scene where Kalle the cameraman is separated from the group and trying to avoid the three headed forest troll is probably the most intense scene in the film for me.)
All in all the effects are convincing. I like a cryptozoological approach in my fantasy and a lot of the "scientific" explanations about troll behavior and biology were grade A bullshit. All in all there was only one thing that I had a problem with.
Suspension of disbelief is an interesting and fragile thing and it's abasing just what effects it. While you can be willing to accept rubber suits that you can see the zipper on you can paradoxically not be convinced by some of the most sophisticated effects. In Trollhunter the trolls were as convincing as they needed to be (admittedly this is one of the advantages of the found footage style, dim light, infrared and grainy shots forgive much) In this case what drew my attention were the bears. One of the running gags in the film is that after a rouge troll is dealt with the government blames it on a bear attack going so far as leaving a dead bear at the scene. Said bears which the camera lingers on far too long all look like something out of a costume party.
Still Trollhunter does what it set out to do and does not need to worry about me being hypercritical about tiny details .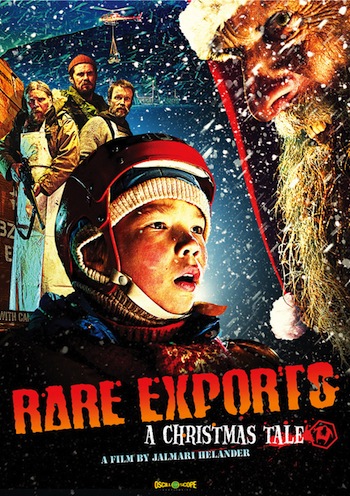 Since I decided to stay on that theme for this week's viewing I went from Norway to Finland to watch Rare Exports: A Christmas Tale. I'd enjoyed the two shorts of Rare Exports and to be honest hadn't heard many good things about the feature length version.
I'm happy to say I was wrong at that front and it was dark fun. There were several genuinely frightening scenes most notably the life sized straw dolls Santa's helpers exchange the children they steal with and the feral predatory look that a captured helper keeps giving the film's child protagonist.
But for the most part I liked how the movie was very character driven focussing on our less than nobel protagonists who find themselves in an impossible situation and use their less than nobel skills to get out.