on
April 26, 2013
at
8:26 am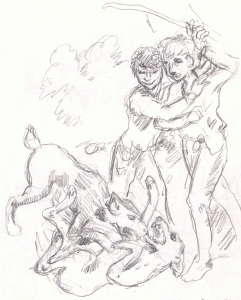 Today's sketch is another from the Seattle Art Museum's Rembrandt, Van Dyck, Gainsborough exhibit, Thomas Gainsborough's Two Shepherd Boys With Dogs Fighting from 1783.
Since the place was pretty crowded on a Sunday afternoon, I took the exhibit tour afterwards. It was described as a picture of human cruelty with the boy raising the stick to hit the dogs is actually the one trying to save the loosing dog and the smiling boy who is restraining him actually wants the fight to continue. The docent also said that apparently Gainsborough planned to do a follow up painting of the two boys wrestling in the dirt as the two dogs watched.
I'm  fascinated how the artist was able to get the pose of the dogs in action like that without a camera. Tons of thumbnail sketches? Taxidermy models? A really good memory? I know I'm impressed.