on
March 2, 2016
at
8:52 am
In an attempt to clean my palette from last weeks material I found myself leaning towards comedy but since the I was feeling just a little snarky I went for the dark cynical kind. Especially the kind of dark humor that the creators of Great Brittain excels in.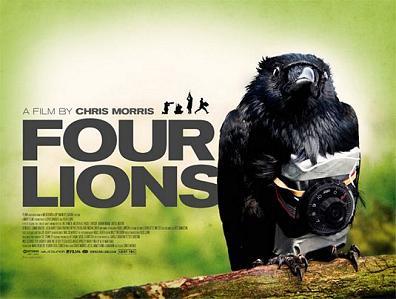 The first of the films on my list, Four Lions, is the story of four ordinary blokes form Sheffield, South Yorkshire who just happens to be Jihadi terrorists. Fortunately they're not very good at this and hilarity ensues. This is a hard film to like. It's cynical view of the world where the only reason our "heroes" are even remotely successful is because the police are nearly as incompetent as they are. Which frequently leads to terrible things including a hostage situation where they can't distinguish the hostage from the terrorist and shoot him, a police sniper being unable to distinguish a bear costume from a Wookie costume (an important distinction when you have both in your sight.) and mistaking the conservative  more devout brother of one of the terrorists for a terrorist simply because he looks the part of a cliche muslim, and shipping him… somewhere, (Omar, the lead terrorist wears western clothes.) 
Despite this it's not completely hopeless. Despite the protagonists going on about western decadence, nearly everybody treats them well but in the end the level of their incompetence is deadly killing all of them, three bystanders and a sheep.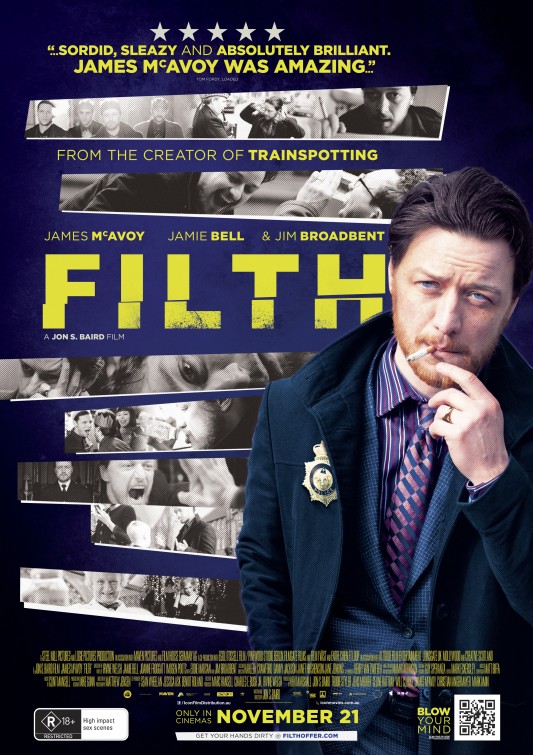 The next on my list, Filth, is based on the book of the same name by Irvine Welsh the author  of Transporting staring James McAvoy as Bruce Robertson, worst Detective in all of Edinburgh. Robertson is a truly terrible person who extorts, drinks and maturbates as he tries to win a promotion to Detective Inspector as his life falls apart around him. I know it's all acting but it's still hard to believe that this is the same guy who plays the young  Charles Xavier and Arthur Christmas.
This was a hard film to watch with it's dark uncompromising look at the human condition I'm sure there was plenty of things in it that I missed as I watched as it goes back and fourth between reality and Robertson's hallucinations and while darkly humorous I'm not sure if I would call it a comedy. Still if you have the endurance it's worth a shot.