on
June 18, 2013
at
7:30 am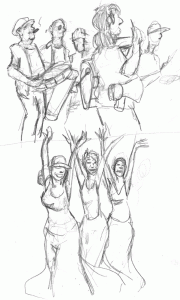 It was just for forty five minutes.
I was spending most of the afternoon doing grunt work for the setup for a memorial service at Meeting and I had an hour off when the memorial actually started. I decided to go to Gasworks Park and chill for a half hour. and then get back to meeting in time to help with the final bit of setup (and access to the potluck). But when I got there there were a group of Cuban dancers rehearsing for their part of the Fremont Solstice Parade. So I sat down to sketch it.
It wasn't my best stuff. When you're drawing dancers it never is. Pretty much you go in knowing it's gesture work with a lot of improv thrown in. If you have something you can work with later on great, if not… you got your artistic pushups for the day in. Much to my surprise it was very well received by several of the people who saw I was drawing them. I'm always surprised how people react. If I had a camera it would be "who said you could take a picture of me, &#$%le?" but here I am with a sketch book and the reaction is "wow that is so cool!" Even if the picture is way subpar.
Just something fun when I was at my favorite comic book store and hangout , The Dreaming, yesterday.
A woman came in with her daughter shopping for a friend's birthday present. Apparently he was a big Doctor Who fan so they were shopping for a Dalek toy. It seemed that the daughter was a fan as well. Because let me tell you there is something amazing about an eight year old girl all in pink with a blond ponytail chanting "exterminate."
She was a bit disappointed that the little Dalek model that they bought couldn't do all the things a "real" Dalek could do… like eat people's brains or commit acts of mass murder.
While they were at the counter Corey, the manager,  tried to get her interested in the Mythos.
Thanks again to I Fucking Love Science.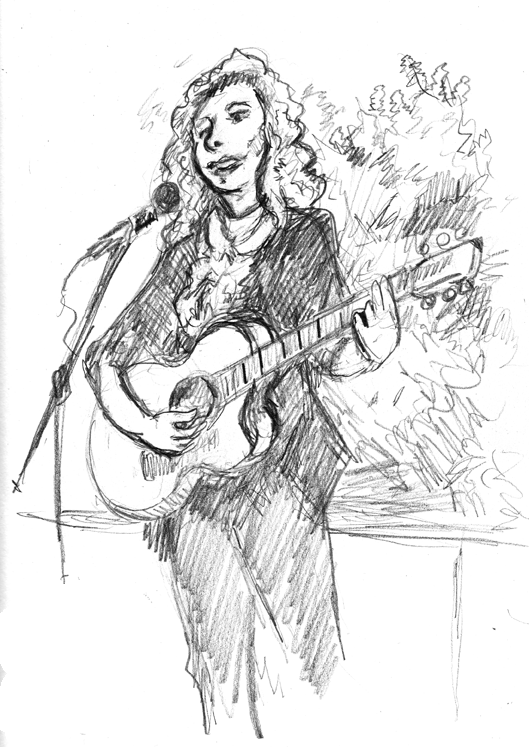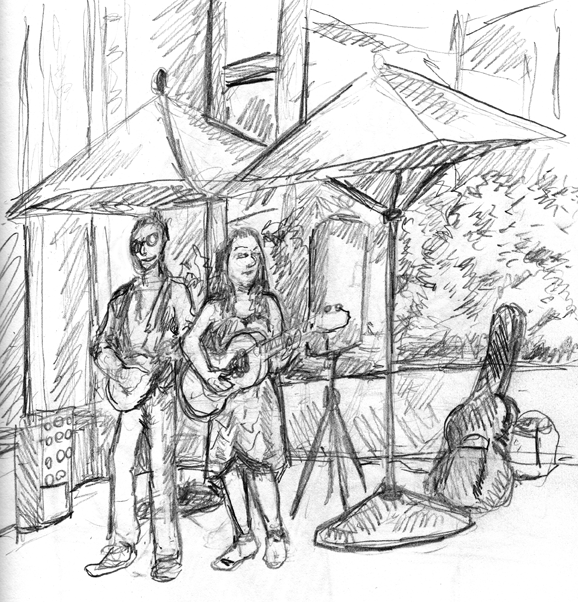 Well I haven't had a chance to get to either of the museums since the last exhibit closed so instead I went and sketched a music performance at the Starbucks on the corner of Terry and Republic.
I'd first met Jessica Lynne at Folklife when I drew a picture of her playing. I was pleasantly surprised to find that the sketch was her Facebook header for a couple of weeks.
So having had me ego stroked I'd been following her page ever since. And this small show was the first event I'd had time to get to.
So here are sketches of Jessica Lynne as well as Fleur Jack and Wesley Williams.
On a side note it was utterly gorgeous going home tonight with spectacular cloud formations with people enjoying themselves on the Burke-Gilman Trail and Gas Works Park.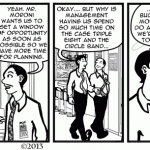 I've been fan of Neil Gaiman since his Black Orchid miniseries, and I've been following his career happily since than from Sandman, to Neverwhere, the novels to whatever project is in the works be it a Doctor Who script or another novel I haven't heard of yet.
One of my favorites is American Gods to the point where the George Guidall reading of the audiobooks is one I go for when I can't find anything else at that given moment. (More on that later) And I can't wait to see what HBO is going to do with it.
Anyway for this weeks Quote here's my favorite from that book. Samantha Black Crow's treatise on belief.
"I can believe things that are true and I can believe things that aren't true and I can believe things where nobody knows if they're true or not. I can believe in Santa Claus and the Easter Bunny and Marilyn Monroe and the Beatles and Elvis and Mr. Ed. Listen – I believe that people are perfectible, that knowledge is infinite, that the world is run by secret banking cartels and is visited by aliens on a regular basis, nice ones that look like wrinkledy lemurs and bad ones who mutilate cattle and want our water and our women. I believe that the future sucks and I believe that the future rocks and I believe that one day White Buffalo Woman is going to come back and kick everyone's ass. I believe that all men are just overgrown boys with deep problems communicating and that the decline in good sex in America is coincident with the decline in drive-in movie theaters from state to state. I believe that all politicians are unprincipled crooks and I still believe that they are better than the alternative. I believe that California is going to sink into the sea when the big one comes, while Florida is going to dissolve into madness and alligators and toxic waste. I believe that antibacterial soap is destroying our resistance to dirt and disease so that one day we'll all be wiped out by the common cold like the Martians in the War of the Worlds. I believe that the greatest poets of the last century were Edith Sitwell and Don Marquis, that jade is dried dragon sperm and that thousand of years ago in a former life I was a one-armed Siberian shaman. I believe that mankind's destiny lies in the stars. I believe that candy really did taste better when I was a kid, that it's aerodynamically impossible for a bumblebee to fly, that light is a wave and a particle, that there's a cat in a box somewhere who's alive and dead at the same time (although if they don't ever open the box to feed it it'll eventually just be two different kinds of dead), and that there are stars in the universe billions of years older than the universe itself. I believe in a personal god who cares about me and worries and oversees everything I do. I believe in a impersonal god who set the universe in motion and went off to hang with her girlfriends and doesn't even know I'm alive. I believe in an empty and godless universe of causal chaos, background noise and sheer blind luck. I believe that anyone who says that sex is overrated just hasn't done it properly. I believe that anyone who claims to know what's going on will lie about the little things too. I believe in absolute honesty and sensible social lies. I believe in a woman's right to choose, a baby's right to live, that while all human life is sacred there's nothing wrong with the death penalty if you can trust the legal system implicitly, and that no one but a moron would ever trust the legal system. I believe that life is a game, that life is a cruel joke, and that life is what happens when you're alive and that you might as well lie back and enjoy it. "
(I'd love to see someone do an illuminated manuscript of this)