Wednesday Double Feature – Not Sherlock Holmes!
on
August 2, 2017
at
9:21 am
For this week's selection, I did films that were explicitly lit about Sherlock Holmes. Or to be more precise, films about reasonable facsimiles of Sherlock Holmes but really aren't fooling anybody.
On a nice side note these were pretty obscure titles and definitely put the breadth of Scarecrow's collection to the test.
Kudos.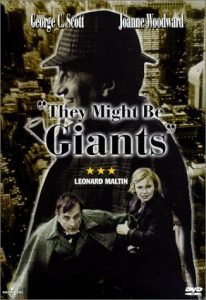 The first film on my list was They Might Be Giants starring George C Scott. (In case anyone is wondering this is the film that the band got their name from) Scott plays Justin Playfair, a former lawyer, who, since his wife died, has become convinced he is Sherlock Holmes. His Brother tries to get him committed, (partially for his own good and partially to get control of his fortune) He is taken into the hands of Dr. Mildred Watson (Joanne Woodward) and now that Holmes has his Watson he can now solve his greatest mystery… Whatever it is.
This was a fun little film based loosely on one of the main premises of Don Quixote. "Sure, we know they're windmills… but they MIGHT be giants". Following a series of strange clues (such as bags of garbage) Justin leads Mildred down the rabbit hole to a different perspective where disenfranchised mad people live in their own world and are quite happy about it, thank you very much.
I enjoyed this film. Sure it was short and mushy, it was a lot of fun. To put this in very geeky gamer terms I kept imagining this to be a story about a VERY benign coterie of Malkavians from the World of Darkness… and Scott and Woodward play off each other very well.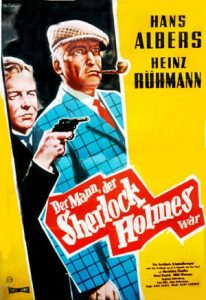 My next film is the German 1933 film, The Man Who Was Sherlock Holmes. Tells the story of two con artists (or at least we think they're con artists) Morris Flynn (Hans Albers) and Macky McMacpherson (Heinz Rühmann) who try to pass themselves off as Holmes and Watson (in their defense they don't SAY they're Holmes and Watson… they just get on the train dressed in a deerstalker smoking a pipe and carrying a violin when they give their real names… they just don't correct anyone who assumes they're Holmes and Watson in disguise.
This gets them free passage on the hotel and free room and board at a fancy hotel. But it also gets them the attention of the police who want their help with a counterfeiting ring.
I'm not sure if I can truly recommend this film, but it was fairly well done, with solid comic performances from the leads, and perfectly enjoyable.
Regarding where and when it was made, the cynic in me kept regarding it as a propaganda film, as if it was trying to tell me "See? All of us Germans are happy people! Nothing to see here!"