Wednesday Double Feature – Pirates
on
January 25, 2017
at
8:26 am
For this week's selection I returned to one of my favorite genres, Swashbucklers, specifically pirates.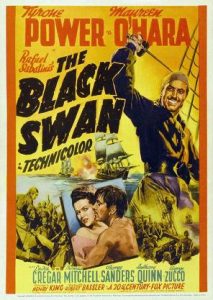 The first film on my list was The Black Swan a story loosely based on actual history with the aftermath of the former pirate, Sir Henry Morgan becoming the governor of Jamaica.
I'm embarrassed to admit that all I knew about Henry Morgan was the brand of Rum though I did know about the mass pardon he provided to all pirates in the Caribbean provided they quit.
Black Swan begins at that point with one of Morgan's former allies Captain James Warring played by Tyrone Power who is sent to hunt down one of the pirates who refused to surrender, Captain of the titular Black Swan, Billy Leech (played by a nearly unrecognizable George Sanders) While doing this he also woo's the beautiful Lady Margaret Denby (played by Maureen O'Hara.)
This was mostly a fun film with a great cast. My only real problem with it is it dates badly. Perhaps it's my own fault being too PC, but the change in cultural values is glaring. The most obvious being that in this case, "Romance" seems to mean "stalking and harassing the love interest until she gives in."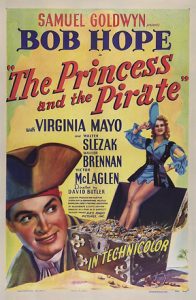 The next film on the list, The Princess & the Pirate, Is a Bob Hope comedy with Hope as a cowardly actor who is thrown together with a beautiful princess played by Virginia Mayo when the ship they are traveling in is attacked by the dreaded pirate, The Hook. They escape with the help of one of the pirate's crewmen who gives them a treasure map and hilarity ensues.
For the most part the plot's just a vehicle for Hope to chew up screen time. When he's not spewing hilariously anachronistic jokes, he's doing some great physical bits like hiding under furniture that the villain happens to be sitting on and a great mirror bit with the Hook, and finishing with a great in-joke cameo!