Wednesday Double Feature – Sherlock Holmes
on
January 10, 2018
at
8:58 am
A couple of months ago I did a group of movies about people who were blatantly and totally not Sherlock Holmes. Even if they claimed or even believed to be. This week I decided to go with films about the great detective himself. To make things more interesting I went with actors who were not particularly associated with the part, having played him only once.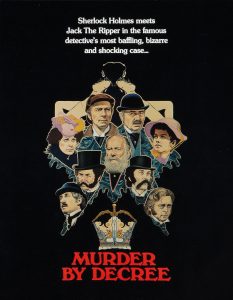 I'd known of Murder By Decree by Bob Clark, starring Christopher Plummer as Sherlock Holmes for some time, though I'm afraid that all I knew about it was that it was "Sherlock Holmes vs Jack the Ripper. "
Our story starts in the middle of the Ripper murders with Holmes finally being contacted by some "concerned citizens" who think the killings are bad for business. (The fact that Holmes has not been contacted by the police already is immediately suspect) Holmes is on the case but as things go on it's clear that things go far beyond a mere serial killer with cover-ups going as far as the Prime Minister… and possibly even higher.
This film was blatantly based on Steven Knight's Jack the Ripper: The Final Solution and having watched and read other Ripper fiction using this material including the 1988 Jack the Ripper starring Micheal Caine, and of course Alan Moore's From Hell, this one felt painfully predictable and by the numbers. The only thing that saves it is that Holmes is functioning just outside of the actual history-making for his own story.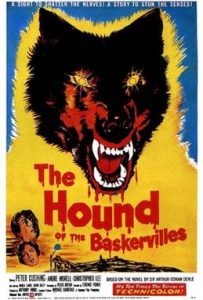 Next on my list was the Hound of the Baskervilles. Now there are lots of different versions of the original novel, and I had an entertaining comedy of errors when many of these were at Scarecrow's Sherlock Holmes shelf in their crime and mystery room except for the one that I was looking for,  the 1959 Hammer Films version. Turns out it was downstairs with its director, Terence Fisher.
This film went through the usual notes of this story. Holmes and Watson are contacted to investigate a legendary ghostly dog in the moors of Dartmoor that apparently is targeting the latest holder of the House of Baskerville.
This was mostly a mediocre effort with only one thing making it worthwhile., in fact, the main reason I picked this in the first place, was Peter Cushing as Sherlock Holmes. As always Cushing owns every scene he's in, making me wish he'd had the opportunity to play the role many more times.