on
January 20, 2016
at
9:17 am
This week was a bit of a bust. My idea for a topic was Western Musicals. I think the reason for this was it seemed to be too genres that clash in an amusing way but seriously, I'd heard of several, Oklahoma of course and what sounded like an amusing one called   Go West Young Lady. But I had two in mind. Unfortunately the reliable classic, that was half of my selection, Seven Brides For Seven Brothers turned out to be unplayable so I was left with watching the one that had piqued my curiosity to do this selection in the first place Paint Your Wagon.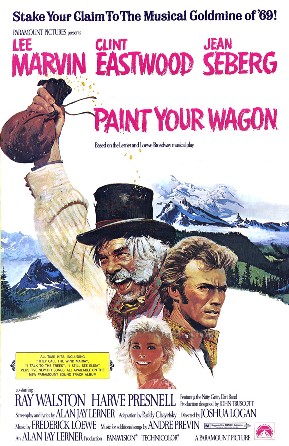 I'd heard all of the stories about it of course but I decided to give it a chance mainly because I liked it's best known song "They Call The Wind Maria"
To put it mildly I set myself up for disappointment.
Paint Your Wagon features Lee Marvin and Clint Eastwood as the drunken prospector Ben Ransom and his partner er… Pardner. It takes place in a boom town during the California gold rush that was built so quickly there are no woman. Naturally the men get.. Frustraed. All of this changes when a Mormon with two wives stops in the town and puts up one of the wives, Elizabeth, for auction. From there hilarity ensues.
The biggest problem with this film Is while they both look like they're having fun, Marvin and Eastwood can't sing and even Ig they could the playlist really isn't that good to begin with. Marvin as Ransom is really the best thing about this as a wonderfully comic character. Regrettably Eastwood's only there to be pretty.
The other thing that got to me was all of the values dissonance. I'm sure if I bothered to look I'd find a number examples of women as commodities and Polyamory in the history of the old west but personally it kept getting to me.
It has it's moments but not enough to save it. In the end it's a relief watching the town collapse into the earth when a bull gets loose in the honeycomb of tunnels Marvin and Eastwood and several others ugh to steal gold dust from all of the casinos, bars and brothels in the town.