on
October 30, 2014
at
10:46 pm
Well today the slip of paper said to do Kaiju. Not any specific kaiju just… kaiju. Since one of the rules of this exercise is to do it in the ballpark of a half hour that means I didn't have any time to design anything. So I went with something vaguely tyrannosaurid fighting a foo dog.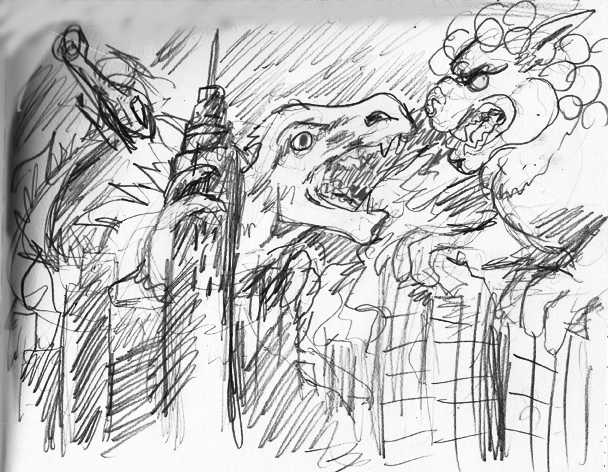 I almost wanted to tear this assignment up and pull another one, but I think that would have broken one of my unwritten rules. But while stories of Will-O'-The-Wisps, Jack-o'-Lantern, Foxfire, or whatever you want to call them, mysterious lights that will lead you to drown in a bog or walk off a cliff, may seem scary, wince again how do you portray that in a single image. And even if you could drawing lights in the dark feels a little bit like cheating.
But I have a busy day before me and have to be out the door for a meeting in a half hour so I'll take it.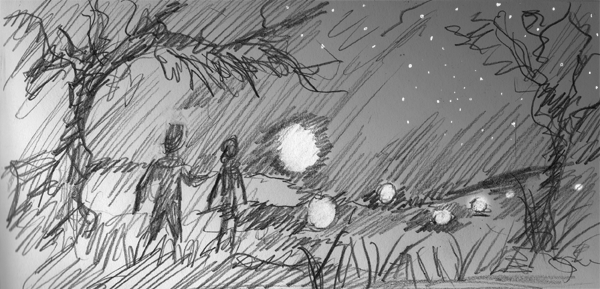 Yes I know I skipped day 14, Sorry, crazy day.
Anyway, I can't believe I never heard of this one before. I love watching Louis Armstrong perform he's so natural and expressive, almost a living cartoon completely drunk on life.
So here he is performing "Skeleton in the Closet"
Today's Halloween sketch was one of the ones I thought I was looking forward too. I've done numerous sketches of the Kappa and am rather fond of my basic design. But when I got around to having to my sketch of it I was a little stumped on what I was going to do. The first couple of ideas seemed a little too much like Andy Serkis. as Gollum, besides I'd already done one of a Ghoul crouching like that and I'd already done a Chupacabra lurking in the brush. Finally it hit me that a lot of the Kappa legends were a lot like the asian version of the Troll under the bridge.
So here we have a Kappa blocking the way of a Monk. Let us hope he has remembered his cucumber… or at least that the Kappa is polite… and whatever you do do not challenge it to a sumo wrestling bout.