on
December 2, 2014
at
8:29 am
This weeks Rhapsody is the Brazilian Rhapsody by Jean Absil.
by wpmorse
on
December 1, 2014
at
10:05 am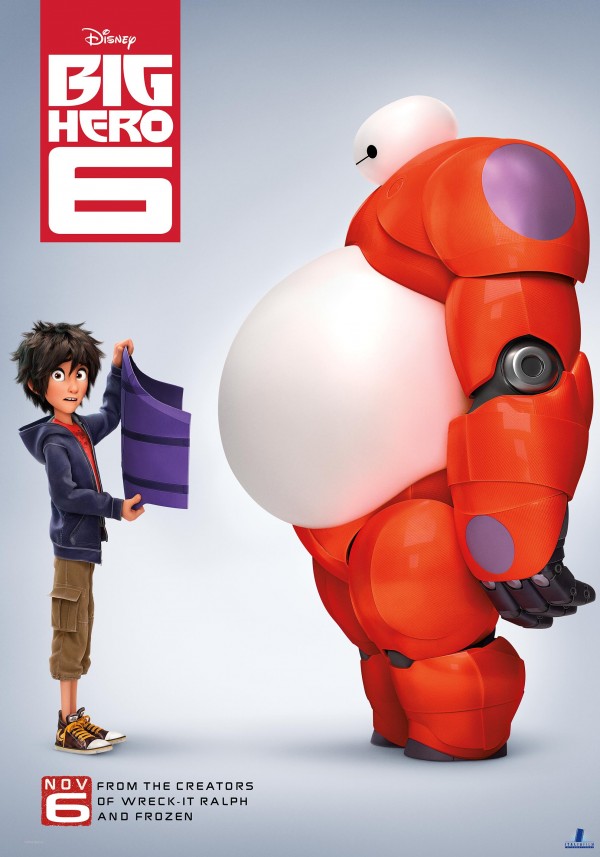 I'd been curious about Big Hero Six since I started seeing concept art nearly a year ago as the first joint Marvel/Disney's joint project since Disney's purchase of Marvel comics. I'd been skeptical about it of course. I especially had mixxed feelings about moving the concept from Japan to this strange fusion of Tokyo and San Francisco the bit that stuck in my mind was reimagining the Golden Gate Bridge with red 
torii
 gates.
To be honest I had no idea what to expect. You have to be a REAL comic book nerd to have even heard of Big Hero 6 they were sort of a Japanese Avengers created to make the Marvel Universe seem more international as well as a way to use existing characters Silver Samurai and Sunfire. They pretty much consisted of a collection of anime cliches and the way the American public perceives Japanese popular culture. It never really impressed me.
So I went in knowing they were going to change everything (they pretty much had to since they didn't have access to Sunfire and Silver Samurai) And pretty much went to see something where everything but the names were changed.
For the most part I really enjoyed it the city of "San Fransokyo" was fairly well realized with the Asian Fusion pervading everything. I liked the concept design and for the most part I enjoyed the voice acting (my favorite was
Maya Rudolph
as the main character's aunt.) and the action and the comedy was right up on the usual level of quality I expect from these kinds of movies.
But despite enjoying it, I'm afraid it didn't hold up very well to the usual nitpicking. As a fan of comic book movies I'm getting very tired of the mandatory origin story. It's getting to the point where I find myself needing these movies to have a sequel not because I want one because the sequel is the real movie with the interesting plot and events. Because of this most of these movies as good as they frequently are suffer. By the time they get though all of the mandatory exposition their really isn't any time for all of the other stuff. Because of this as good as the action scenes were it  wasn't what it could have been. (on a similar note I hate it when there's only one villain in team titles. Even if that villain is more powerful than the whole team put together it still feels like the heroes are ganging up on the villain.
Then there are the plot holes. The biggest one that stuck out for me was as follows. If the villain is using the technology that he stole from the hero to the point he didn't change the frequency of the control why didn't the hero just make a new remote control and shut the whole thing down?
But other than those little things I enjoyed this movie quite a bit.
Just got a great bit of fan art from my friend, Johann Gann
Fran has never looked so cute and I definitely have to use this ensemble for Olive again.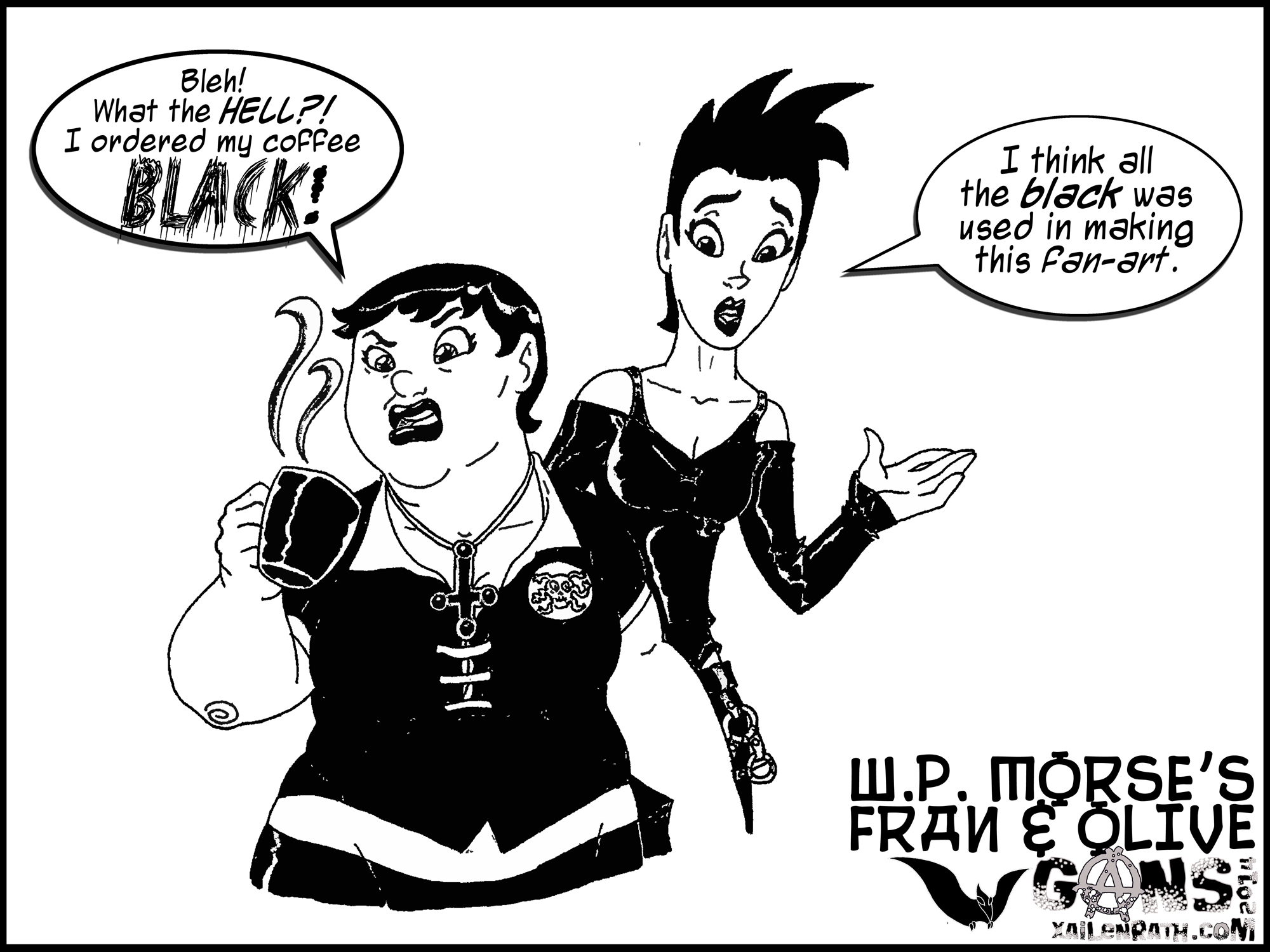 by wpmorse
on
November 28, 2014
at
9:33 am
Well Yesterday was a busy day indeed. Starting with helping with set up and working in the kitchen at University Friend's Meeting in the morning to help prepare for their annual potluck. Afterwards to a friend's in Capitol Hill for their feast. And finally ending it all watching the Seahawks humiliate the San Francisco.
All in all a good holiday and I slept well.
Well my morning biking regime has been going fairly well. For the most part I think I hit a plateau keeping it under 4o minutes but rarely going bellow my average of 38 minutes. To make matters worse there are the occasional extenuating circumstance like being slowed down by heavy wind or traffic or stopped by traffic lights most notably my personal nemesis 65th and Ravenna which is right next to the park and ride and has busy traffic as early as 6:15.
But today was especially frustrating. It was raining (which by itself was unpleasant) and I had no intention of trying to break any speed records on treacherous roads and while I was doing all right the need to watch where I was going and large puddles on the road were definitely slowing me down.
What was the most frustrating was what the rain was doing to my iPhone.  A wet screen is always a nuisance but the way it was effecting the Runkeeper app was especially annoying. It was telling me my progress about every minute (sometimes every thirty seconds) until it finally paused at the home stretch. I managed to get it going again in a way that wouldn't screw up my time too much but that was only the beginning of things. When I finished the loop Runkeeper was congratulating me on my new record of 33 minutes. This I knew was nonsense as according to Runkeeper I'd been ridding 33 minutes for the last five minutes. Reluctantly I deleted the workout. Tempting as keeping it would be I have no desire for my progress to be regarded as irrelevant because Runkeeper was holding something impossible (or at least bloody difficult) over my head. It would be like when it said I burned 666 calories on Halloween.
For this week's selection I went with the theme of hollow earth courtesy of Messer's Edgar Rice Burroughs and Jules Verne.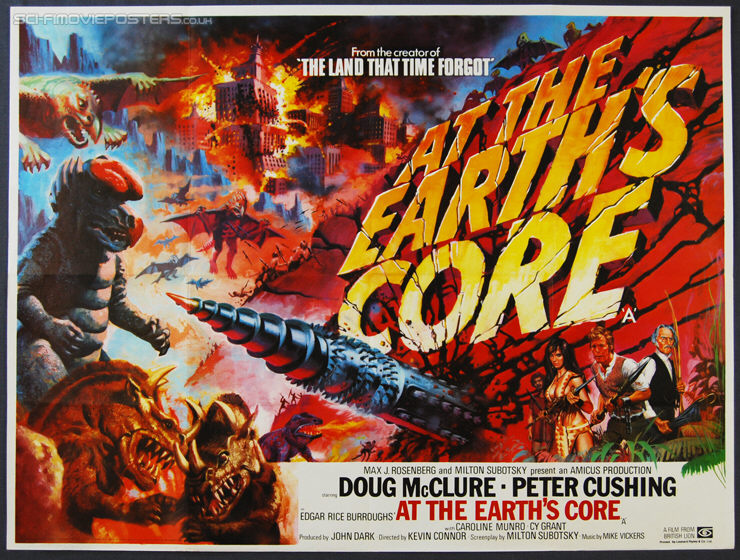 The first, At the Earth's Core, is extremely loosely based on the first of Burroughs' Pellucidar novels of the same name. It is a cheesy piece of fluff that somehow remains entertainng. The plot can be boiled down to "hero and absent minded inventor take a rocket drill to an underground kingdom, get captured by psychic pterodons, rescue a beautiful princess who falls in love with the hero, escape, lead natives in rebellion against the psychic pterodons and go home.
Really. That's it.
But somehow this all stays fun. The effects are completely fake, with split screen, hand puppets and monster suits but strangely while being completely unconvincing I found a lot of this in an aesthetically pleasing in a theatrical sort of way. (Though I seriously doubt this was done on purpose.}
On a side note, Peter Cushing is hilarious playing blatantly against type as the absent-minded inventor.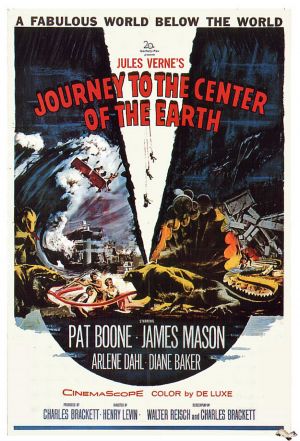 For the second film we the first of many adaptations of Journey to the Center of the Earth. I first remember being aware of the adaption (I was already aware of the book.) from watching the Filmation cartoon based on the film. (I knew it was based on the film and not the book because of the duck.)
For the most part, all it kept from the book was the general outline fleshing things out by adding a villain and a larger cast (and the Gertrude the Duck for comic relief)
I have a sneaking suspicion that this was mad to cash in on the success of Walt Disney's 20,00 Leagues under the Sea, right down to the songs, but even so it was fun with some spectacular sets and matte painting. The main downside was some of the special effects. Near the climax the expedition is attacked by "dimetrodons" which consisted of Rock Iguanas (and I could have sworn I saw one Monitor Lizard) with fins strapped to their backs. I've been aware of this "technique" for years but I'm pretty sure this is the first time I ever actually seen it. And with this week's marathon of cheesy effects I'm at a loss to decide which is more egregious, the costumes or the lizards.