on
March 25, 2015
at
8:48 am
This week I decided to go with fifties science fiction… one was a classic and one… not so much.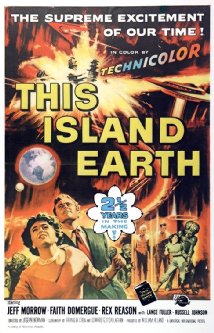 The first on my list, the classic, This Island Earth, was a film I'd known about for years and despite my love of the genre had never gotten around to seeing it and I have to say when I got around to it it was not what I had expected.
The premise, aliens contacting scientists in order to save their war torn planet, while well written, strains your suspension of disbelief for numerous reasons, I found myself filling in the gaps in the story while watching, asking questions like did anyone in the science community know about prominent nuclear physicists disappearing, why didn't the aliens evacuate their world earlier… they already had a network on earth they could have had the beginning of a colony their before they ever told the protagonists that was what their plans were or for that matter why didn't they fight back against their attackers rather than merely focus on their "ion shields" after all their flying saucers were very maneuverable with cannons they should have better luck against their attackers who's only tactic seemed to be dropping asteroids.
Despite this nitpicking as an adventure This Island Earth definitely holds up to it's rep and the effects were excellent for the time though I have to say that the mutant that was on all the posters barely got five minutes of screen time.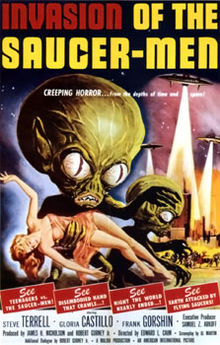 Attack of the Saucer Men is described as a comedy and if that is the case explains away the dumbest parts but even then I found myself wondering just how much of this was intentional. If calling it a comedy was something the advertisers chose at the last minute after the screening. Most of the movie was a bundle of fifties cliché's so blatant I found myself imagining it being specifically designed as a date film designed to get boys and girls to hold each other when the predictable scare scenes came about.
All in all I found myself sympathizing with the stereotypical crusty old farmer with a gun whose house everyone trespassed into to use his phone. And when you discover that the aliens' weakness is light how can you be afraid of the imminent invasion when all you have to do is wait for the sun to rise.