on
August 6, 2014
at
9:35 am
Last week I treated myself to another viewing of Akira Kurosawa's  Throne of Blood so I decided for this week's theme would be interesting Shakespeare adaptations. Following Kurosawa' example I figured I'd just go with Macbeth and Lear.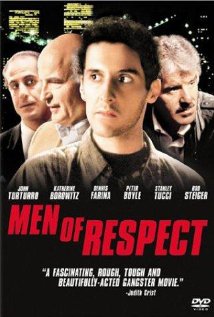 Our first film, Men of Respect transplants Macbeth into the world of the Mafia with John Turturro as Mike Battaglia a Mafia soldier who kills his way to the top after getting his fortune told while he's hiding from his enemies. I enjoyed this one quite a bit and I think they did a very good mob of translating Shakespeare's story into the modern world including the supernatural elements which would have run the risk of turning the story into a straight out fantasy.
I especially liked Katherine Borowitz in the Lady Macbeth role. For me there has to be a certain level of power and assertiveness behind the role to get it right and if Macbeth is merely henpecked it just doesn't work. As Ruth Battaglia, Borowitz gets it just right as her husbands partner and adviser who will not take no for an answer. Even better they took the "Out damn spot" bit a lot farther than the play does and along with the sleepwalking scene we see her gradually disintigrating throughout the third act, pathologically washing and scrubbing everything.
All in all I enjoyed this as a nice crime drama with some good casting including a fun cameo of Steve Wright as the doorman.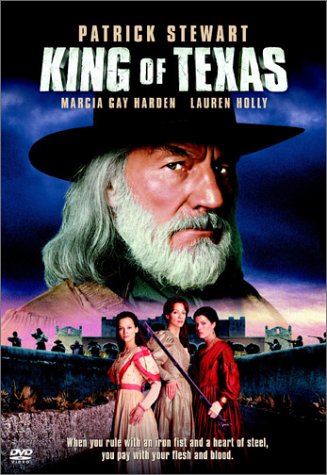 The next on my list, King of Texas,  transplants King Lear to the Republic of Texas right before it's annexation with  Patrick Stewart playing the Lear character.
What I liked about it though was a nice tweaking of the Gloucester subplot doing a nice little bait and switch with Edgar and Edmund making Edmund the clean cut outwardly dutiful son making us fall for his deception along with Gloucester. The other part I liked was David Allen Grier as Rip. At first glance Rip appears to be this film version of the Fool but as you look a little more closely it obvious that he is more of a mix of the Fool and Kent, who is noticibly missing in this production.
All in all this production took as much from Kurosawa's Ran as it did from Lear in that it's theme's dealt with how you eventually have to face the consequences of everything you did to get to your position of power as opposed to merely being about the consequences of pride.
https://www.youtube.com/watch?v=HalJbU1Tb6k
https://www.youtube.com/watch?v=fDIZ9CjZGAE