on
November 9, 2016
at
8:49 am
Because of the election and in a fit of masochism I decided to go with films on the topic (based on this morning's headlines I found this even more painful.)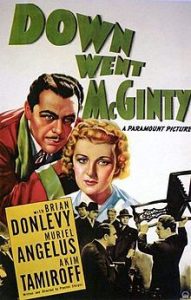 I've been slowly going through Preston Sturges's shelf. Mostly for his screwball comedy and when I heard about one of his earliest directing debuts, The Great McGinty a satire about machine politics and corruption,I had to include it.
Funny side note. I couldn't find The Great McGinty in Sturges's section when I looked and I was afraid I'd have to choose something else. It turned out this was because I wasn't the only one who had gotten the whole election theme film and the reason I hadn't found it was because it had been taken to be played at Scarecrow's film night. Because of this I ended up watching my selection far earlier than normal at the store.
Dan McGinty, played by Brian Donlevy, is a bum who gets the attention of a party boss, played by Akim Tamiroff, after he votes thirty seven times at different precincts in a rigged election. He is quickly promoted to collector and then alderman and finally picked for the next Mayor. ("Who's McGinty? someone asks." "See, he's perfect. Replies the Boss") Of course he needs to be married in order to do this. His secretary, Catherine, played by Muriel Angelus, agrees to do this, strictly as a business arrangement.
Eventually they fall in love which leads her to encourage him to do something with his position. When he gets elected governor he decides to stand up to the boss and that one good deed makes everything fall apart.
This was a fun well done film with a great cast. It's cynical and it is hilarious with Donlevy playing McGinty as a mostly amoral thug who's not afraid to get into a fist fight with the Boss in the back of his limo.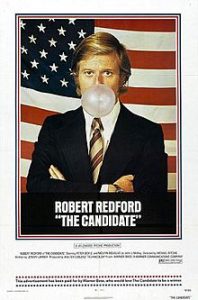 I first heard about  The Candidate a few years ago and all I knew about it was the "what do I do next?" line at the end of the film. At the time this was hitting a little too close to home because this was just when Dubya had won his first election and David Horsey had just done a cartoon with Dubya reenacting that scene. Because of this I wasn't particularly curious about watching it until now.
So anyway, Robert Redford stars as Bill McCay, an activist lawyer and son of the former governor. He's head hunted by Marvin Lucas, a political professional, played by Peter Boyle to run as the democratic candidate for the California Senator. His selling point for the cynical McCay is that since he doesn't stand a chance against the popular Republican candidate he can say anything he wants during the campaign.
This works out for the first couple of months until he wins the primary (he was the only candidate in the primary). But in order to survive the election (not winning is one thing being completely blown out is another thing all together) he is forced to moderate his message. Soon he's left to just quoting sound bites, alienating his friends and family little more than a puppet for his handlers… It ends up working which brings us to the "What do I do next?" scene.
I'm afraid this film really didn't work for me, perhaps the satire wasn't broad or cynical enough for me. But for the most part most of the comedy that is supposedly there was lost on me.
Still it had it's moments I especially liked some of the set choices especially Lucas's office that made him look like a spider in the middle of a large web of information and the predatory grin of Mckay's father when he tells McKay he is a politician now.