on
December 23, 2015
at
8:12 am
Well after two weeks of watching dark cynical films that while taking place in and around Christmas were not in any way shape or form about Christmas I decided to finish the season with some true blue, optimistic, fluffy, troll the cynics, idealistic all American Christmas films!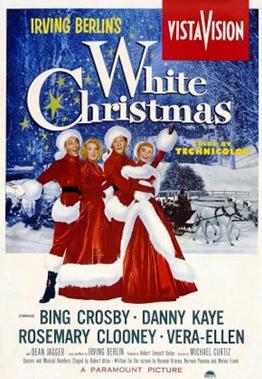 White Christmas is one of those films that whether you saw it or not you find yourself thinking that you did because of all of the little snippets of it and all of the songs of it being played around the holiday season. I have some memories of seeing it but in hindsight it was about the last ten minutes of it (the rest of my memories were from assorted Irving Berlin reviews on PBS)
Bing Crosby and Danny Kaye play two war buddies turned a team of popular song and dance men. When they meet a team of performing sisters played by Rosemary Clooney, and Vera-Ellen. They join them to go to their next gig in a resort in Vermont right before Christmas. When they get their they discover two things… First Vermont is having a warm spell so their are no customers at the resort and Two the resort is owned by Crosby and Kaye's former commanding officer. The rest of the film consists of them trying to help save the resort by putting on a huge show with a little bit of time left over for our two couples to fall in love.
For the most part White Christmas is a 1950s Jukebox film with just enough plot to allow for the ensemble to perform as many Irving Berlin songs as possible… make no mistake there's nothing wrong with this with the talent involved (though for the most part I found myself enjoying the choreography more than the singing. All in all it was an enjoyable bit of fluff.
(On a quick side none for some reason I keep thinking of Danny Kaye as short and keep being surprised when at 5'll" he towers over all of his co stars in any movie I've ever seen him in.)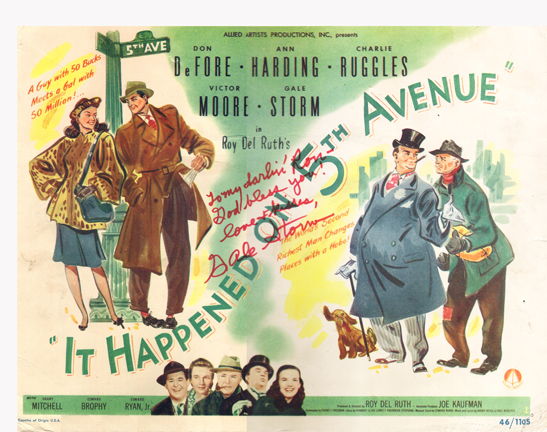 It Happened on Fifth Ave tells the story of Aloysius T. McKeever a hobo played by Victor Moore who spends the winter squatting in a fifth avenue mansion owned by "the second richest man in the world" Micheal J O'Connor, who spends his winters in Virginia.
McKeever runs into Jim, a young veteran down on his luck sleeping on a park bench, and invites him to move in. Then O'Connor's daughter Trudy has run away from her finishing school and arrives home in disguise as well as the some of the veteran's old friend are added to the mix and before you know it, it's one huge happy family.
Meanwhile O'Connor finds out about this but rather than call the cops on the group, is convinced by Trudy to check things out disguised as a homeless man… Hilarity ensues.
This is a sweet little comedy. For the first half hour I found myself wondering if the script was written with W.C. Fields in mind but I quickly found myself  loving Moore's performance. It is never clear whether if he is a complete innocent to all of the things going on around him or if he is intentionally manipulating everybody for their own good but it is he who ultimately conducts everything else going on from the rather by the numbers romance of Jim and Trudy as well as the redemption of Micheal.