on
March 11, 2014
at
8:59 am
I just took down the banner ad for my friend's, Aron and J's, Kickstarter project. It had been going really well with them making their 3000 dollars with 12 days to spare and they were going into their home stretch when someone another author, DR O'Brian, in Scotland who was doing a Shakespeare/Lovecraft as well and found out about it and decided they were infringing on his project and filed DMCA takedown request with Kickstarter. 
This is ridiculous of course. Both the Cthulhu Mythos and the Tempest are public domain but companies like Kickstarter, Youtube and others get very paranoid about copyright issues and will respond to these claims with hardly questions asked.
So Kickstarter put the campaign on hold which has lots of previous donations being revoked as well. This is made even worse that their original plan for the campaign wasn't just about publishing their comic, Prospero's Price, it was about marketing it at the Emerald City Comic convention so this was a hit on their schedule in more ways than one.
The one good thing that's coming from this in a "no such thing as bad publicity" kind of way is they are getting tons of support from everyone so I'm sure things will be all right in the end. But until then they have to make a counterclaim to Kickstarter and jump through lots of other hoops along the way. Not to mention all of the damage control they are going to have to make on their campaign.
Anyway here's hoping everything goes their way and I'll have their ad back up when it does.
I confess that I cheated a little bit this week. I had seen the first film in my selection, John Carter, in the theater but what can I say?  it was one of my favorites of that year. I liked Andrew Stanton's work in WALL-E and I looked forward to see how well he'd do at a live action film.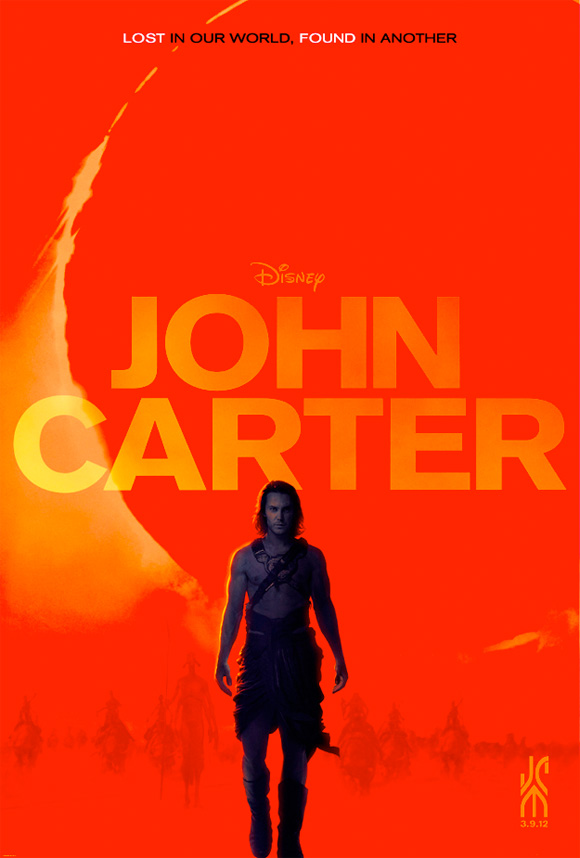 John Carter was a good adaptation of Edgar Rice Burroughs' original material. Which is to say it's a whole lot of fluffy pulp with lots of non stop action . Of course in films like this what I like best is the creation of an alien world and culture for our heros to play in. In this respect they did very well especially with the Tharks (green Martians) who were well designed and animated and I was able to throw my suspension of disbelief to the wind. (Not so much about the "dog" Woola)
The other film on my lineup, The Tempest, was one I'd wanted to see for a long time. I've been a fan of Julie Taymor's work ever since I read an article about her work in a the Smithsonian in the mid eighties and my appreciation has only increased since then.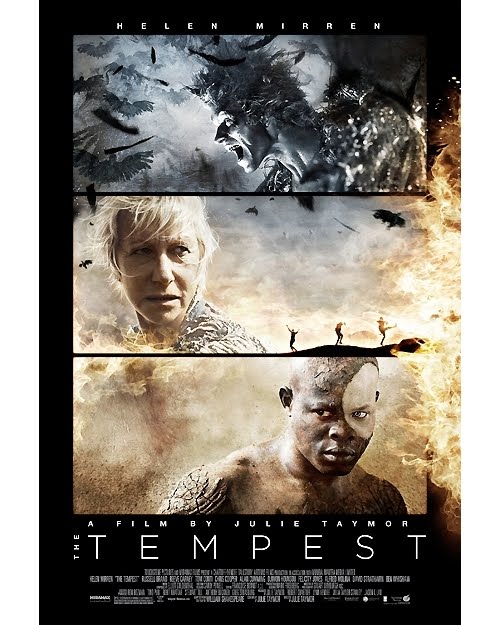 The Tempest is one of my favorite Shakespeare plays .  Along with Midsummer's Night dream it is the play that most opportunities for a creator, and since it has the most theatrical elements the most challenges. I'm always fascinated about how different a production you get with just the slightest change of approach. Having seen multiple productions I've always been fascinated by how different a production can be. For me it all comes down to Prospero and Caliban.
I've seen Caliban done in every possible way from mere brute to brooding and bitter. Djimon Hounsou's went closer to the bitter and sarcastic but with a nice balance of physical humor thrown him making simultaneously the "mooncalf" Shakespeare describes and a tragic victim.
For Prospero though, casting Helen Mirren as was fascinating. It was amazing how much of a difference the change of gender made. The most obvious being the relationship between Prospera and her daughter Miranda but made it all the more fascinating was how it changed the ending. Due to the role of women in the renaissance when Prospera gives up her power at the end of the play she is giving up far more than just her magic.
All in all this was one of the better versions of the Tempest I've seen and well up to Ms. Taymor's high standards.
Today's Rhapsody is the Greek Rhapsody by Gregoria Karides Suchy performed by the Hellenic Symphony Orchestra, Thomas Galanis conducting
Great news Prospero's Price, the Kickstarter Project my friends Aron and J were working on just reached their 3000 dollar target with 12 days to spare! Let's see how far we can pad that number in the next two weeks. so show some love and click the Prospero's Price Banner add on the bottom right side of this page.
Well I had a nice night at an Oscar party last night. (To be honest when I say Oscar party what I really mean is a regular dinner party where the Oscars just happened to be on in the background. The conversation was fascinating and lively.)
Usually I don't bother with the Oscars. For the most part I consider them the industry's night of self congratulation with the old boy's club out in force with the occasional political statement thrown in for good measure. For the most part I usually don't expect the best and most interesting films of the year to be nominated let alone win.
In fact this was the first year in a while I hadn't seen a single film nominated. So I wasn't even rooting for anyone this year.
But still it was fun. Watching all of the expensive gowns being paraded on the red carpet, watching Ellen DeGeneres hamming it up, being very confused when John Travolta got Idina Menzel's name extremely wrong before she performed "Let It Go" (and while we're on the subject of great performances Pink sing "Somewhere Over the Rainbow" was pretty cool too. And most importantly the look of ecstatic glee on the face of someone who wasn't quite expecting to win… PRICELESS.